What a relief the past two cloudy, 70 degree days have been! Last week was a real trial for plants and farmers alike with several days in the 90s and the soil surface completely dried out and often hot to the touch. Nina described kneeling on the ground during the drought and heatwave as similar to dipping your foot into too hot bath water: you retreat and then try again after mentally preparing yourself for some pain. Many, many thanks to the team and volunteers who continued to get the job done under these challenging conditions!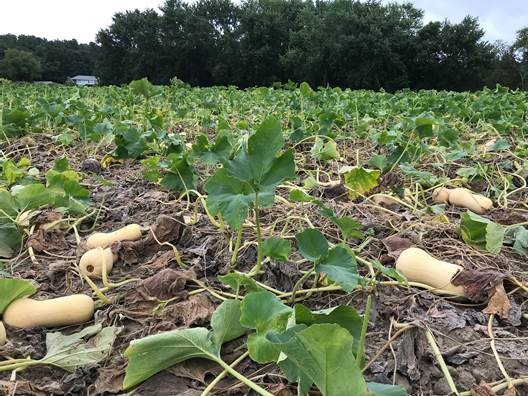 Above, you can see the effects of the drought in the winter squash patch. Despite the early die-back of the vines, it looks like the plants got enough moisture when they needed it, and we have a huge crop. With the vines no longer protecting some of the squash, we'll start bringing them into the greenhouse this week when we're not harvesting tomatoes and melons.
Betting on the forecast finally being accurate, we seeded a half-acre to greens and turnips yesterday afternoon. And, after 13 frustrating days without rain, we got about a quarter-inch last night. Hooray! Last week, we had to skip our weekly seeding of greens and radish, because, given how hot and dry it's been, it would have been a waste of seed and time. The turnips you see germinating above were seeded two days before our last precipitation from Isaias on August 4. It's amazing to witness what the Drumlin soil can do with so little water.
The fall kale and broccoli patch you see above is bordered on the left by the second-to-last succession of summer squash, and all of it was planted by the Appalachian Mountain Club (AMC) on July 18. We've had less than an inch of rain since that day, so it must be the high percentage of organic matter in the soil that's retaining moisture down below and supporting these beautiful plants. Kate from AMC brought another group of volunteers to the farm this past Saturday, and they finally got to work with us on a reasonably cool day. Together, we planted 3,200 lettuce seedlings before harvesting some cherry tomatoes. We donated those to Concord Open Table the following day. Volunteers from Concord Open Table now pick up donations from Drumlin twice per week, and we continue to deliver produce to food for free every Thursday as part of our restaurant route.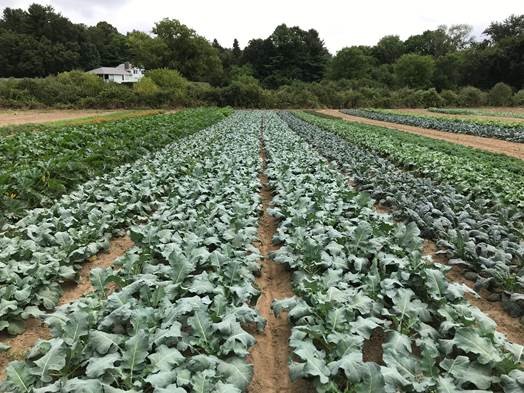 If you've wondered about all the additional fencing in the fields, the berserk deer population is the explanation. In addition to battling the extreme weather, we're fighting the deer for our food. They're trying to eat melons, chard, lettuce, beets, carrots, and sweet potatoes, and we're responding with a combination of electric fences, repellant sprays, and small sections of twine fences. At the farmstand, you may have noticed umbrellas, a black shade cloth, and up in the rafters, an enormous, white, kite-shaped cloth, all put in place by Property Manager Geoff to help keep the sun from baking volunteers and veggies in the CSA farm share boxing area. Geoff also cleared brush from along the back of the farmstand to provide more space for people to spread out on Wednesdays while weighing and bagging produce. Thanks very much Geoff for helping us stay cool and for helping keep the produce as fresh as possible!
Your Farmers