We spotted three new fawns running out of the fields this morning, bringing to 13 the number of individual deer we've counted out there. Our two solar chargers and electric fence set-ups are deployed around carrot patches, and, so far, have been effective. We continue to set up twine fences around ever more crops, three beds at a time—that's the largest area we can effectively protect without electrification; go larger and the deer just hop right in—, but we only seem to be pushing them onto new crops. Deer are now eating cilantro, radish, bachelor buttons, and next year's strawberry crop. Even after last weekend's frost killed the sweet potato vines, we sprayed the beds with repellant just to keep the deer from pawing up the roots over the few days it would take to get them out of the ground. We got a jump on that big job thanks to the helpful work of volunteers from Enterprise Holdings. On Tuesday of last week, seven Enterprise volunteers worked with part of the Crops Team to dig over 1,000 pounds of sweet potatoes, while another seven helped us harvest, shuck, and trim this year's popcorn crop. Thank you, Enterprise!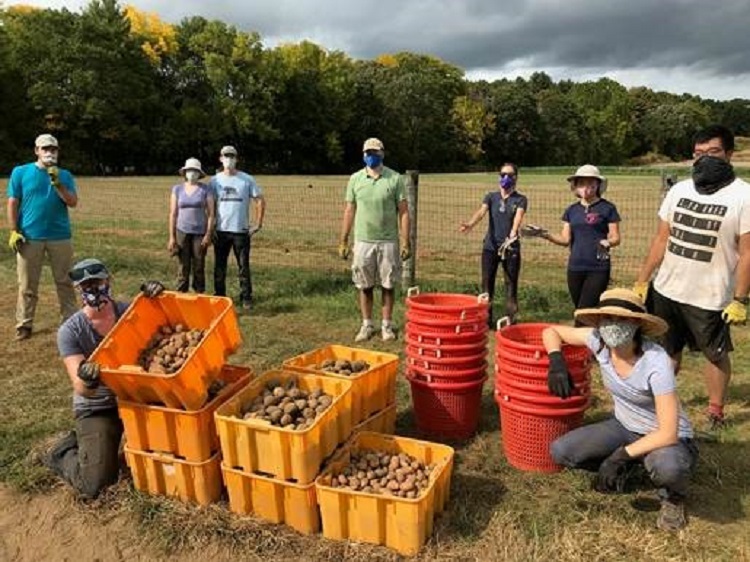 We  finished the sweet potato harvest over the next two days with help from community volunteers. And on Friday, more community volunteers helped us do a final sweep through the tomato, pepper and eggplant patches looking for any last fruit that had escaped the frost. By Saturday, we were cutting down tomato twine in preparation for extracting the hundreds of stakes we pounded in June and July. That day, we also began harvesting storage potatoes into the root cellar.
On Sunday afternoon, volunteer Kate from the Appalachian Mountain Club brought another awesome group of ten hikers to the field, and they cut down the rest of the tomato twine and dug 600 pounds of potatoes. Many thanks to Kate and the AMC! Volunteers from Concord Open Table arrived on Sunday afternoon for the second of their weekly pickups, and they took away lots of greens and winter squash. Jill has been doing a great job tracking our food donations to Food for Free, Concord Open Table and the Lincoln Food Pantry. She let the team know that last week we passed our $50,000 target for donated produce. Nice to start the Friday harvest with good news like that! Our thanks to all who are contributing to Drumlin's efforts to feed those in need through the pandemic.
Your Farmers