Two more downpours Monday, and then the temperature hit 86 degrees when the sun finally came out! Before that, during the cloudy morning, we harvested close to 100 pounds of greens for the Cambridge and Somerville school systems. We're looking forward to Wednesday when we'll be harvesting the first Japanese white turnips of the spring for the second CSA pickup. Now that we've had a few sunny and warm days, spinach, salad mix and head lettuce are ready for picking and the first scallions are not far behind.
This past Saturday, we planted out the first round of summer squash (pictured below), and we plan to put in the majority of our peppers tomorrow with the help of a volunteer group. In other words, we're betting that the danger of frost has passed, though we know that we're not truly safe in Drumlin's frost pocket until the first week of June.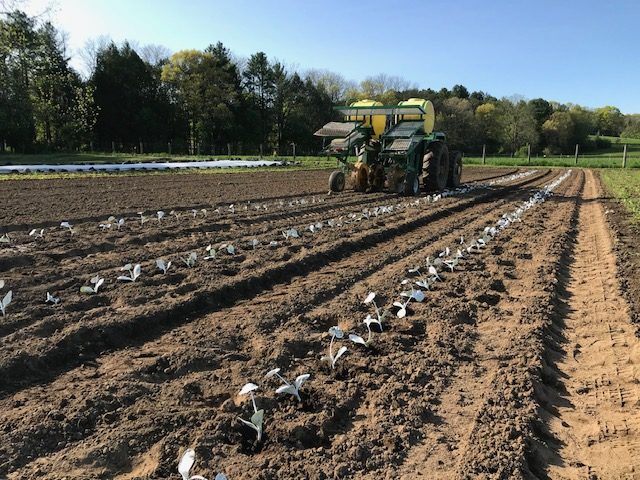 Over the weekend, Veronica, with the help of Maddie and Jill, ran our first farmers' market of the year in Union Square, Somerville. They sold out of all the veggies we brought except for five individual potatoes, and in the process set a new earnings record for opening day! Way to go and thanks to the volunteers who helped fill bags of greens as customers whisked them off the display!
Back at the farm, volunteers from medical device makers Boston Scientific helped us weed rhubarb and plant a round of lettuce and sunflowers this past Thursday (pictured below). It was our first corporate volunteer group of the year after a couple of rain outs, and we were grateful for their assistance.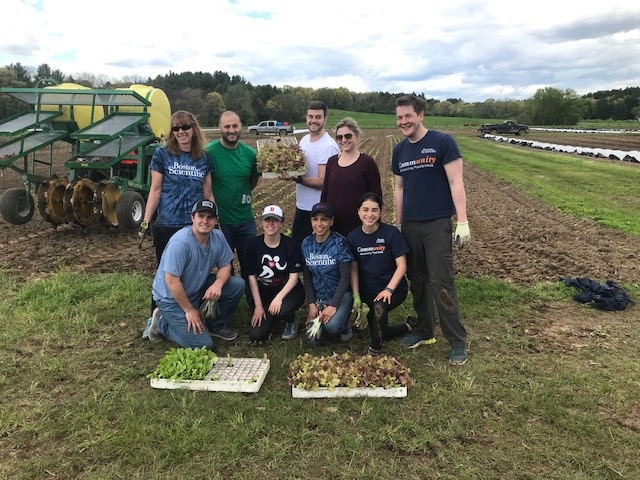 We're well under way with the the construction of the new hoop house and the installers expect to finish by Wednesday. The only hitch in the process so far was on the first day when they ran into hardness driving the posts at an even 18 inches of depth along the entire length of the house. When they went to excavate to a depth of 26 inches for the concrete footers, they discovered the hardness was caused by a gravelly material that Adam (the head installer, pictured) described as what's found beneath a lake.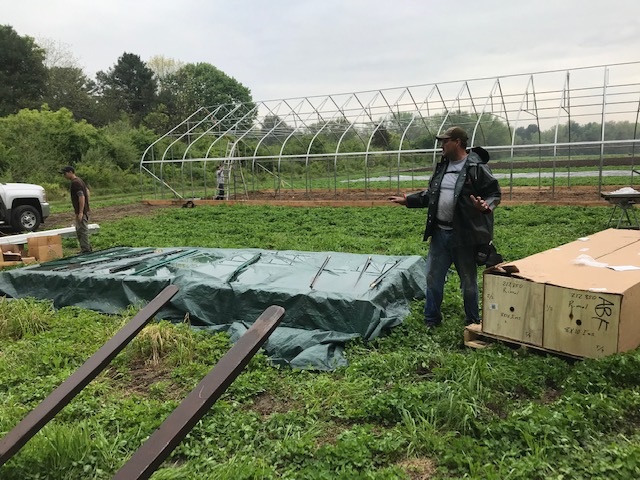 Because of the evenness of the hard pack and the composition of the material, he hypothesized that Boyce was a lake at some point in the distant past–something we often say by way of explanation for how we get by without irrigation: water wants to be there, and by building soil organic matter, we encourage the moisture to linger in the soil's network.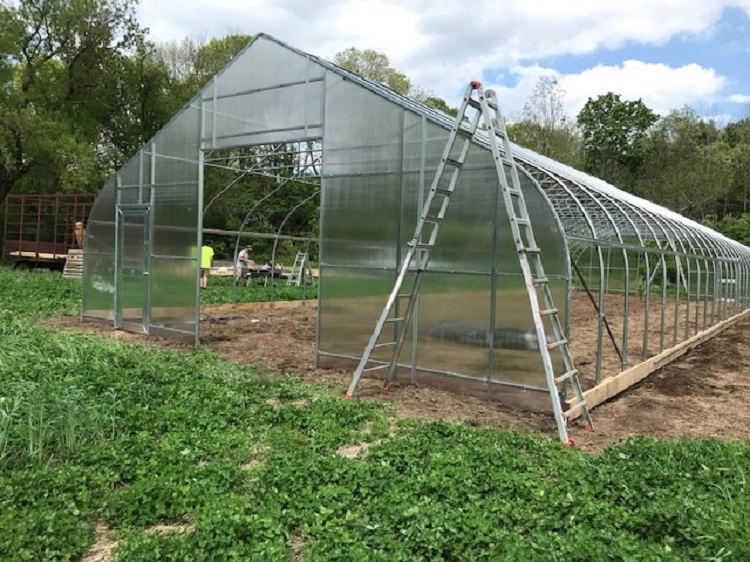 Those interested are encouraged to get their hands a little dirty by volunteering in the field with us–we could always use more help! And if you haven't registered for your Summer CSA yet, shares are still available.
See you in the field,
Your Farmers