A few teasing thunderstorms last week brought a faint double rainbow on Wednesday evening, but little in the way of rain. Then, Sunday afternoon, it finally poured! Peppers, eggplant, cauliflower, and cabbage had been wilting in the drought and not producing much. Hopefully, in a week or so, we'll see an improvement in harvests of these crops. Beans, tomatoes, beets, watermelon, and cantaloupe have been thriving in the drought, and we expect to continue picking lots of each in the week ahead.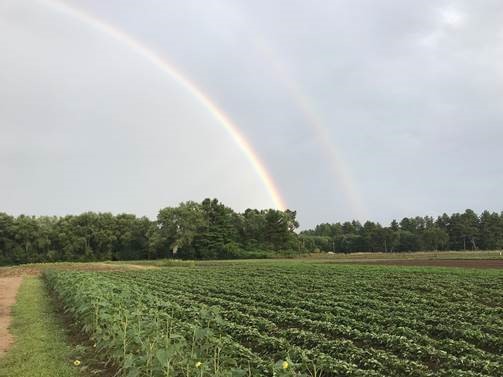 We're now harvesting from the second succession of watermelons, so we get to savor our three favorite varieties all over again starting with the small, round, pink-fleshed Mini Love, moving on to the personal-sized, zeppelin-shaped Dark Belle, and finishing with Shiny Boy, striped, bullet-proof medicine balls. On Saturday morning, Paige (taught by Margot, who was taught by Fred) taught Nina how to move and install electric fencing, and together they protected watermelons #2 from the deer and coyotes that have already started breaking them open and eating them up. Deer continue to be our primary pest problem, and, over the past two days, we've been forced into an early harvest of all pumpkins and most of the winter squash.
The drought caused early die-back of the vines, and the deer have taken advantage of the easy access and visibility to browse the rows, biting hundreds of squash and pumpkins only once or twice, rather than eating all of a few like a respectful pest might. We estimate we've lost 15% of the butternut squash and pumpkin crop to deer, but about 40% of the butternuts have scarring from shallow deer bites. In the foreground, above, you can see piles of bitten squash we had to leave behind this past Saturday afternoon. The team stayed late that day to move the butternut into the greenhouse, and we wouldn't have gotten as much done without the help of volunteers Nathan and Jake. Thanks all for doing the heavy lifting in the heat and humidity! This morning, we finished salvaging the pumpkins and then moved on to some new varieties of winter squash we're trialing this year like the warty Black Futsu you can see in the foreground below.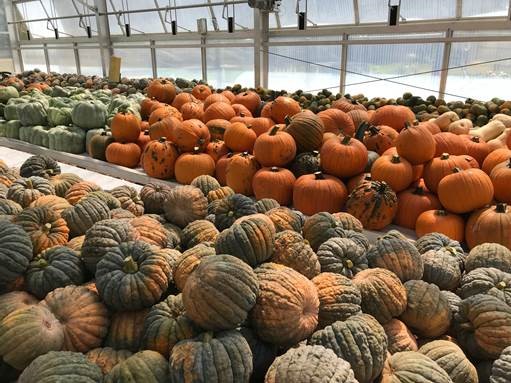 Also on Saturday, we had a successful Somerville market at Union Square thanks to help from some additional volunteers, and a busy day of sales at the Drumlin farmstand. There, the volunteer trio of Basha, Nancy and Richard (from L to R above) are now teaming up on a regular basis. Thanks to help from volunteers Linda and Leah, we were able to open the farmstand for the first time this year on Sunday as well. Both have run the farmstand in years past, so with a little training on the new technology from Visitor Services staffer Marcia, they were prepared to begin selling again putting to good use their familiarity with more unusual crops like ground cherries.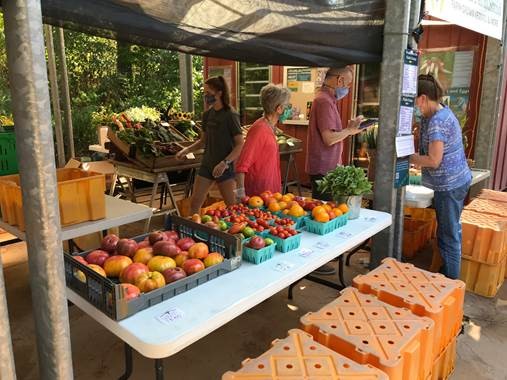 So, visitors now have access to our food on Saturdays and Sundays, and more people are getting involved in the process of selling and producing it. When I farmed for a nonprofit on Long Island, a neighboring large-scale potato producer would object that our CSA didn't "feed the world" like a real farm. Perhaps he meant we didn't put bags of potatoes on shelves in grocery stores the world over. Yes, we are not commodity farmers, but community-based ones who endeavor to promote health, both environmental and individual, through meaningful work and delicious, beautiful food. And we're trying to engage as many people as possible in all parts of the process, from camp kids picking cherry tomatoes (thanks for the one hundred pounds this past Friday!) to volunteers like Jake and Christine whose continuing connection to Drumlin began with a commuter rail ride to Lincoln to help us plant garlic last fall. Check out Christine's wonderful retelling of that experience in her recently published comic.
Your Farmers