In lieu of our usual birding venue, Plum Island, because of the annual deer culling on Parker River National Wildlife Refuge, David Larson and I led today's Wednesday Morning Birding program from Joppa Flats up along the New Hampshire coast, Seabrook to Rye. The sky was overcast to mostly cloudy; temps in low 30s F; winds W/0-5 mph. Due to the falling tide, we drove directly to Seabrook to check out the bathhouse cupola, where oftentimes at this time of year, we will find "the" Glaucous Gull. Instead of the Glaucous Gull, atop the cupola was a Herring Gull. No doubt any chance for the Glaucous was precluded by the already-exposed mudflats and rocks — foraging grounds for this white-winged gull from the Arctic.
From our Seabrook parking area vantage point, we did see a number of gulls — mostly Herring Gulls, a few Ring-billeds, and a Great Black-backed Gull or two. There was also a pretty good number of Red-breasted Mergansers, a few Buffleheads in the distance, and some Common Loons. On the mudflat in front of us, we found a lone, late migrant — a juvenile Black-bellied Plover picking its way across the flat. But, alas, no Glaucous Gull . . . .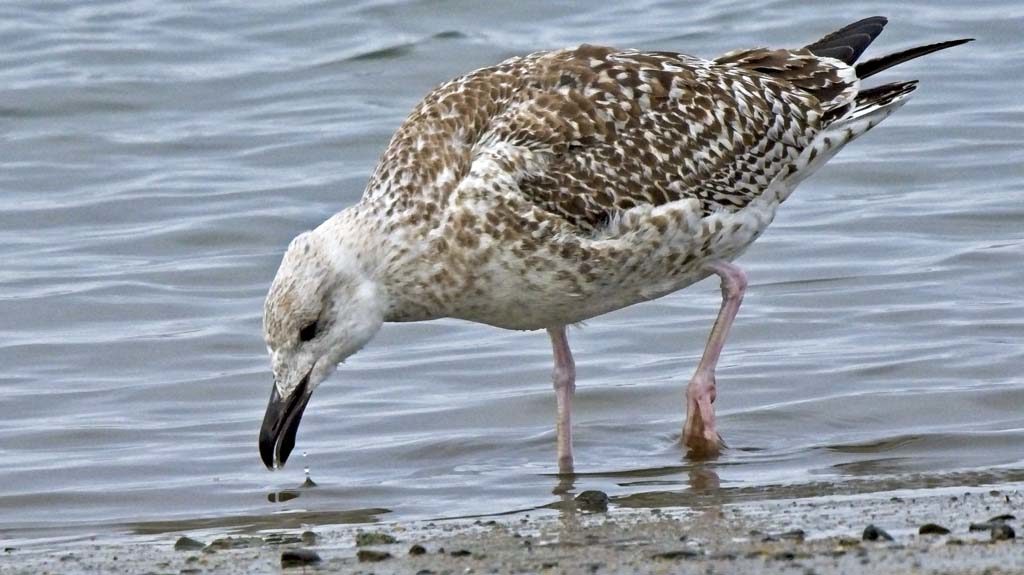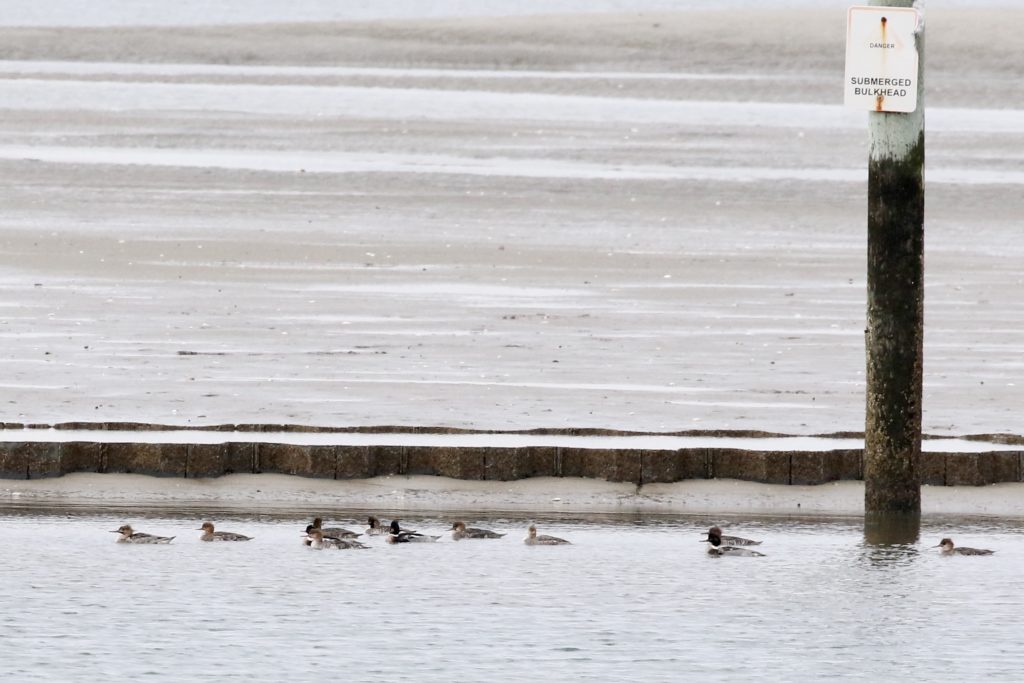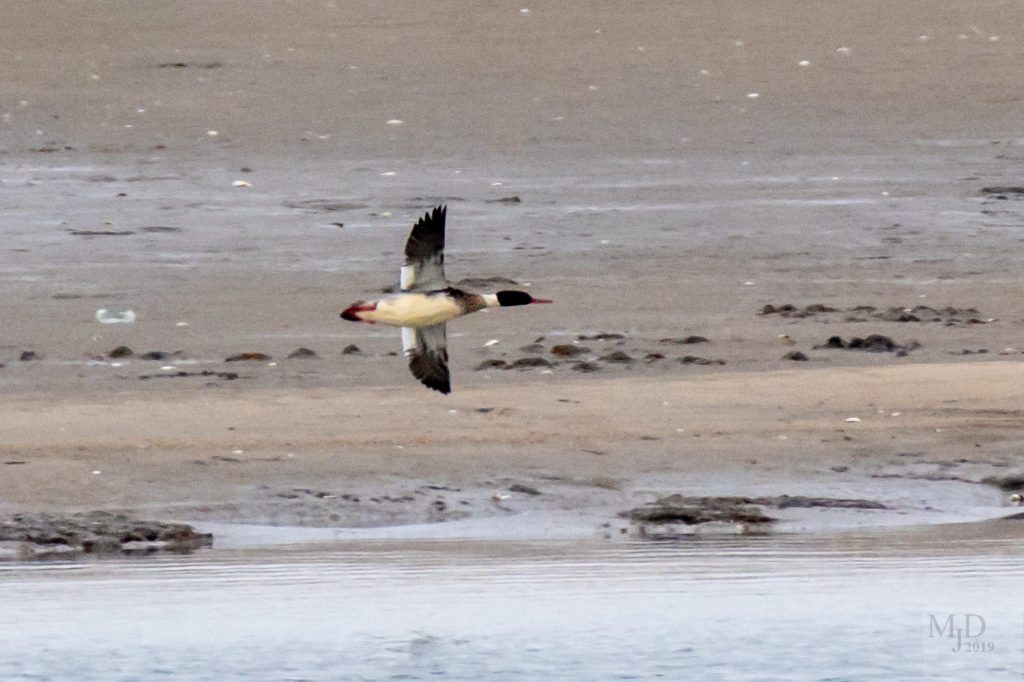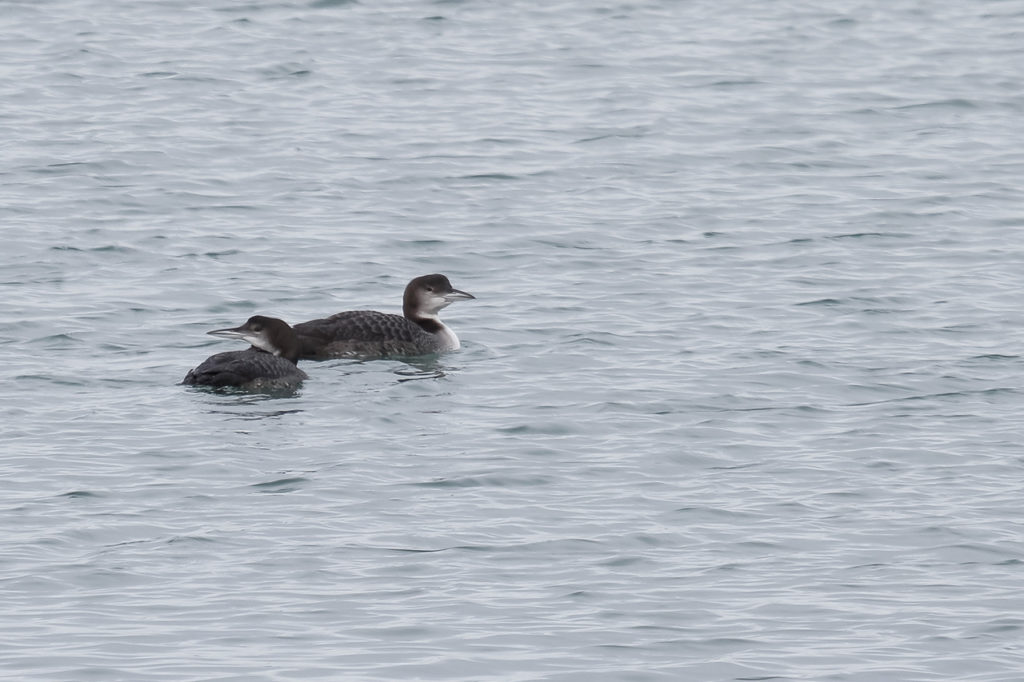 Our next stop was across the bridge at Hampton Beach State Park where we usually find the ground-feeding Horned Larks and Snow Buntings with perhaps a longspur or two.  With the snow cover, there were no larks or longspurs, but we did spot a flock of about 20 Snow Buntings flitting about the park's parking area.  We visited the beach and were rewarded with a small flock of Sanderlings doing their wave-running thing.  This is our most common wintertime shorebird — it's always fun to see them as they chase after the food being left by retreating waves and then to run before the oncoming waves lest they should get wet.  One of our sharp-eyed birders found a Horned Grebe out on the bounding main, and there were a number of Common Eiders near the rocks of the jetty. While exiting the Hampton Beach parking area, David spied an adult Cooper's Hawk perched atop a utility pole.  We had rather good looks at this bird of prey, an Accipiter that oftentimes frequents your bird feeders.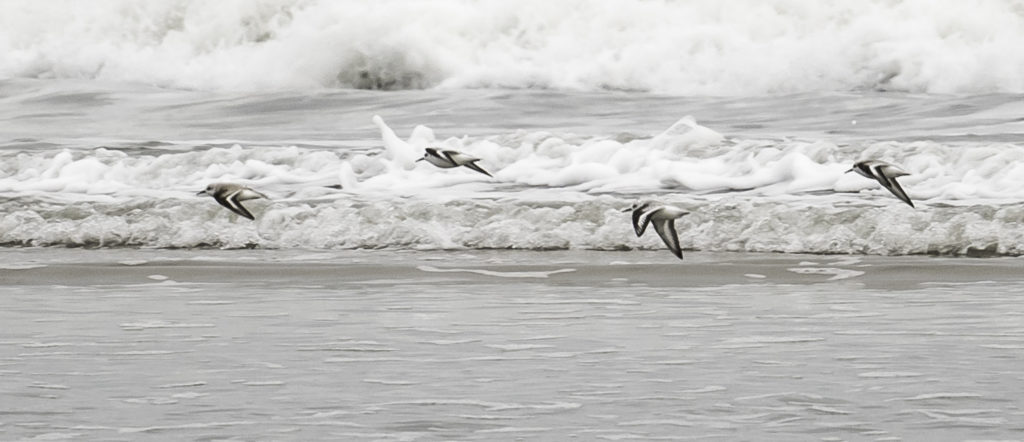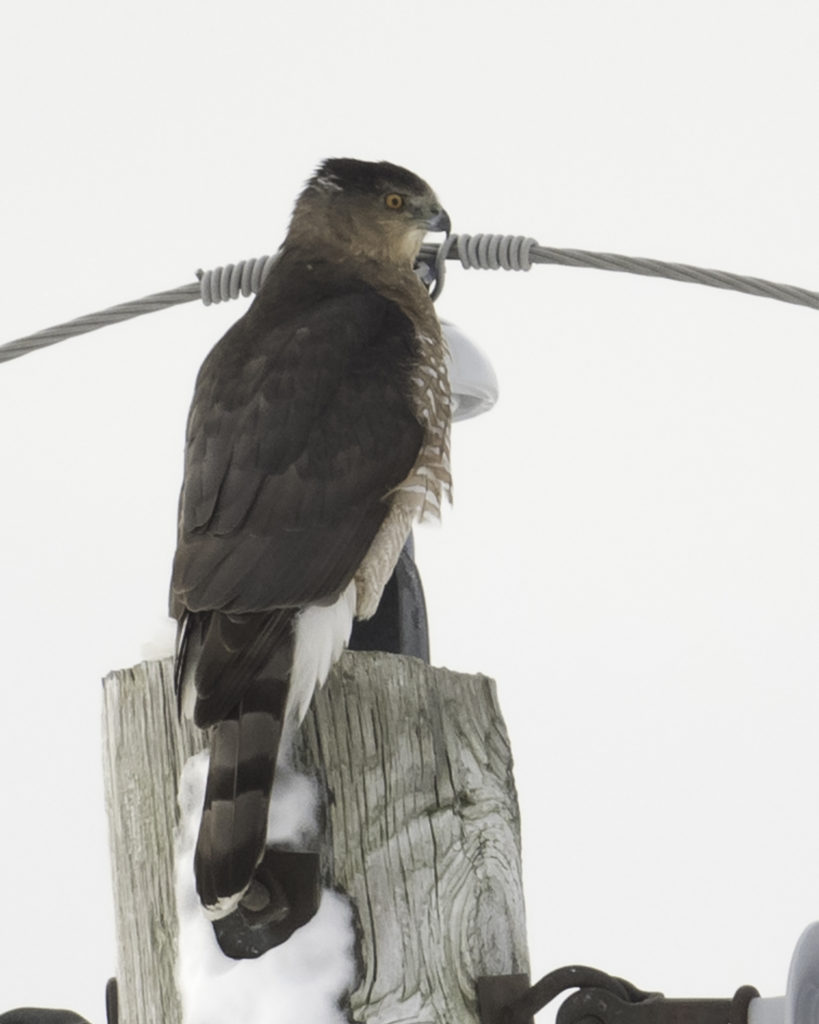 Continuing north along the New Hampshire coastline, from the vicinity of North Hampton State Beach, a flock of 300-400 Canada Geese flew over headed south. Could this be a migrating flock or could these birds have been coaxed south by the recent snow or newly frozen conditions? By the time our Wednesday Morning Birding was concluded, while at Rye Harbor State Park, we saw plus-or-minus 1200 Canada Geese moving south — quite the scene!

Also at Rye Harbor, we had wonderful looks at a couple of drake Surf Scoters and a Long-tailed Duck or two. There was also an adult female White-winged Scoter fairly close by. According to The Crossley ID Guide – Waterfowl, "Adult [female]: uniform dark brown in winter. Most developing pale loral and cheek patches in summer, occasionally in winter." In among the rocks and wrack line, David found an American Pipit. Usually, in winter, pipits are found in small flocks, so having a single was a bit out of the ordinary. Must have been a migrating straggler . . . . Off the Rye Harbor State Park point, we had the pleasure of seeing a flyby of a flock of 11 Black Scoters — such handsome birds!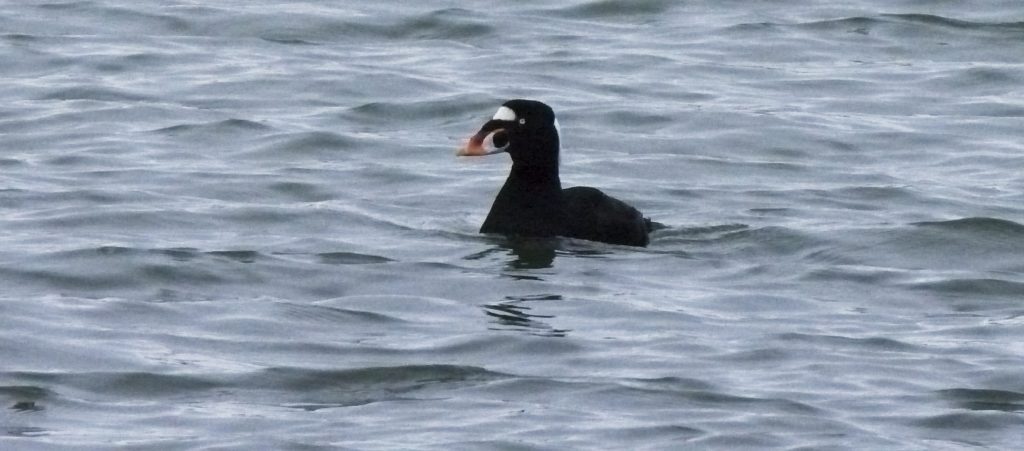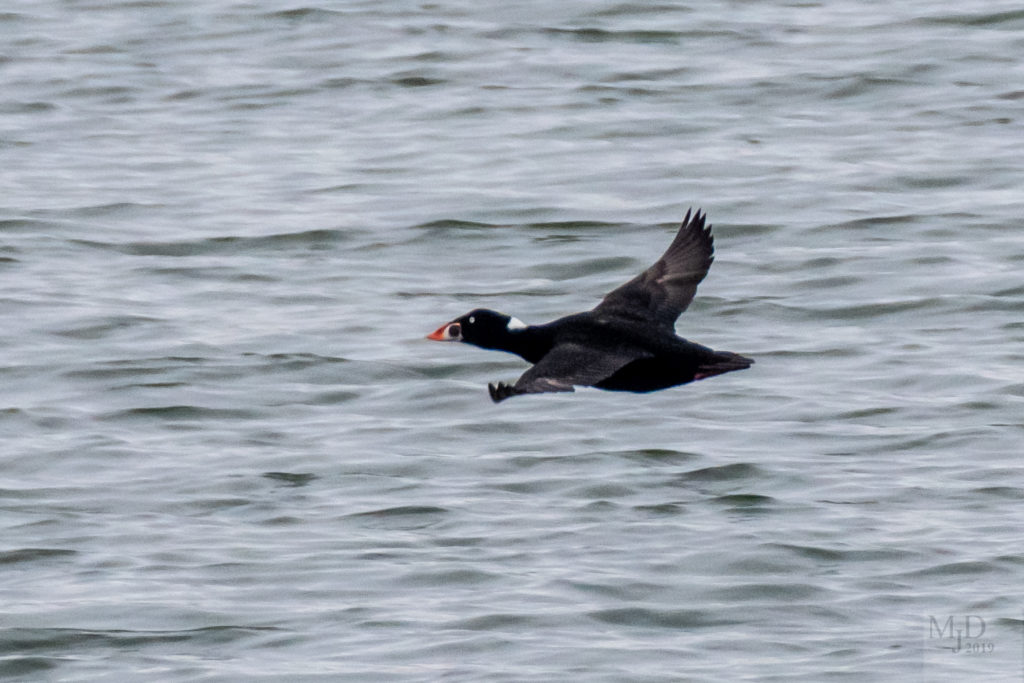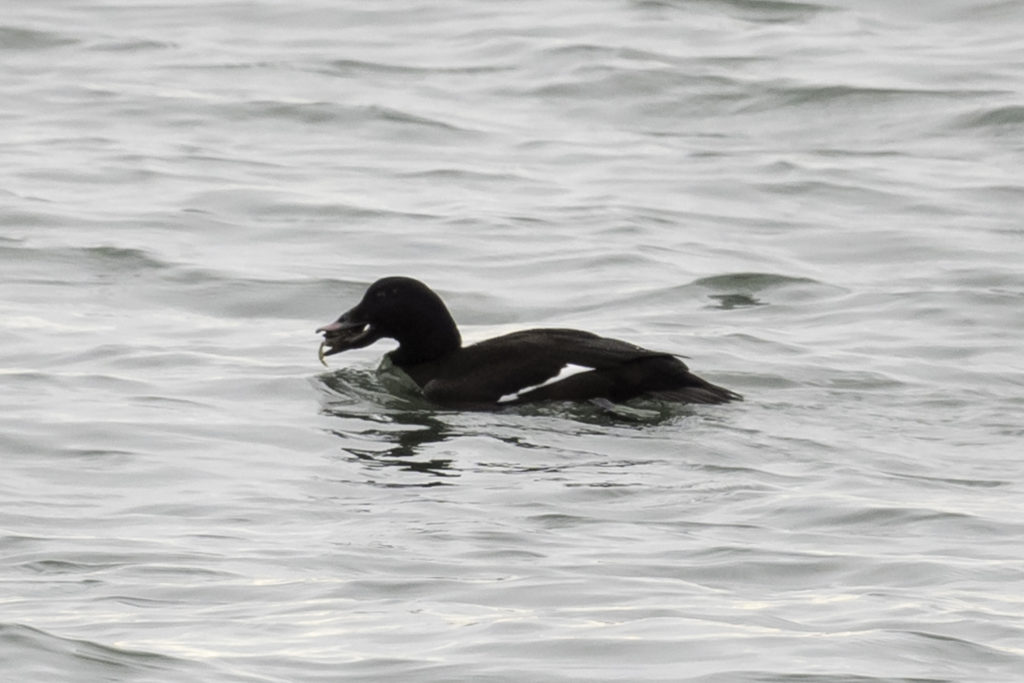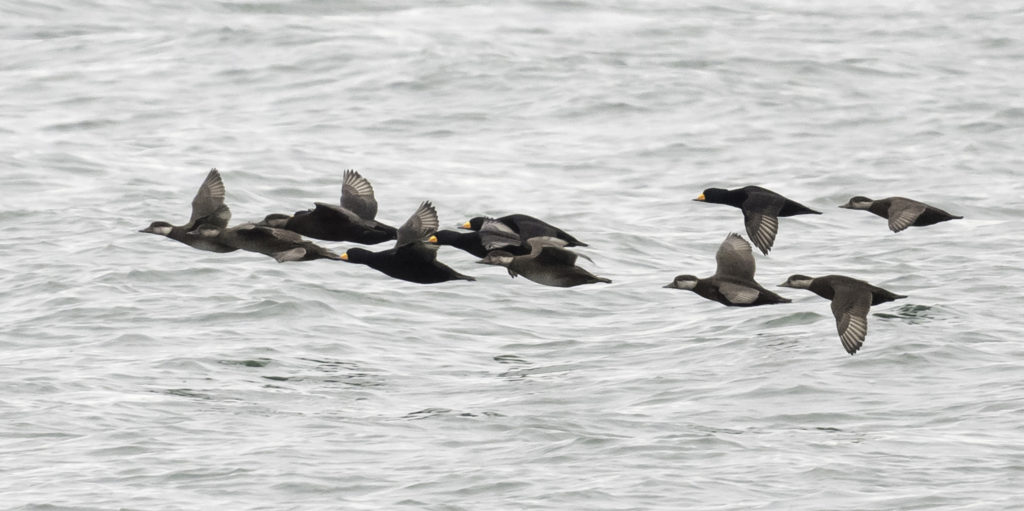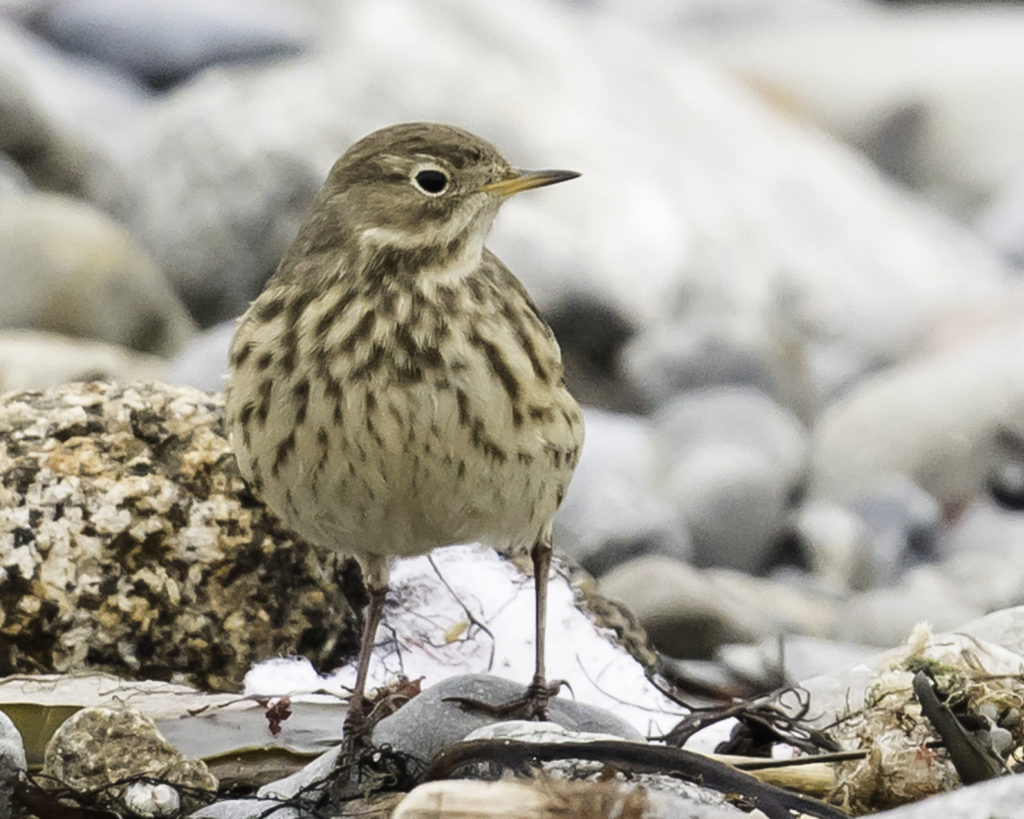 Time was growing short, so we made our way back to Joppa Flats. The morning wasn't overly productive, but pleasurable, nonetheless. Please be reminded that next week's Wednesday Morning Birding will mark our second visit of the season to Cape Ann. Once again, we will gather by 9:30 in the Gloucester Crossing mall parking area near Marshall's. Joppa vans will depart the education center at 8:30. I hope you will join us.
Good birding, and all the best!
Dave Weaver
Our list:
Canada Goose (~ 1200+) – several large flocks moving south along coast (migrating or frozen/snowed out?).
American Black Duck (~ 6)
Common Eider – common.
Surf Scoter (~ 30) – various.
White-winged Scoter (1) – juv. male; Rye Harbor State Park.
Black Scoter (~ 15) – single flock flying north off of Rye Harbor State Park.
Long-tailed Duck (~ 10) – various.
Bufflehead (a few) – Seabrook.
Red-breasted Merganser (~ 100) – Seabrook.
Horned Grebe (1) – off Hampton Beach.
Rock Pigeon
Black-bellied Plover (1) – juv., Seabrook.
Sanderling (~ 30) – Hampton Beach.
Ring-billed Gull (~ 15) – various.
Herring Gull – common.
Great Black-backed Gull (~ 12) – various.
Common Loon – common.
Great Blue Heron (1) – flyby, Hampton Beach.
Cooper's Hawk (1) – utility pole, Hampton Beach State Park parking area.
Red-tailed Hawk (1) – Salisbury en route Joppa.
Blue Jay (2)
American Crow (5)
European Starling
American Pipit (1) – Rye Harbor State Park.
Snow Bunting (~ 20) – Hampton Beach State Park parking area.
Dark-eyed Junco (1)