Now in its third year, the Eastern Meadowlark Project is a great way to support bird conservation by simply going birding.
By checking for meadowlarks at a list of sites and entering observations on our project webpage, citizen scientists help piece together the reasons for this species' decline.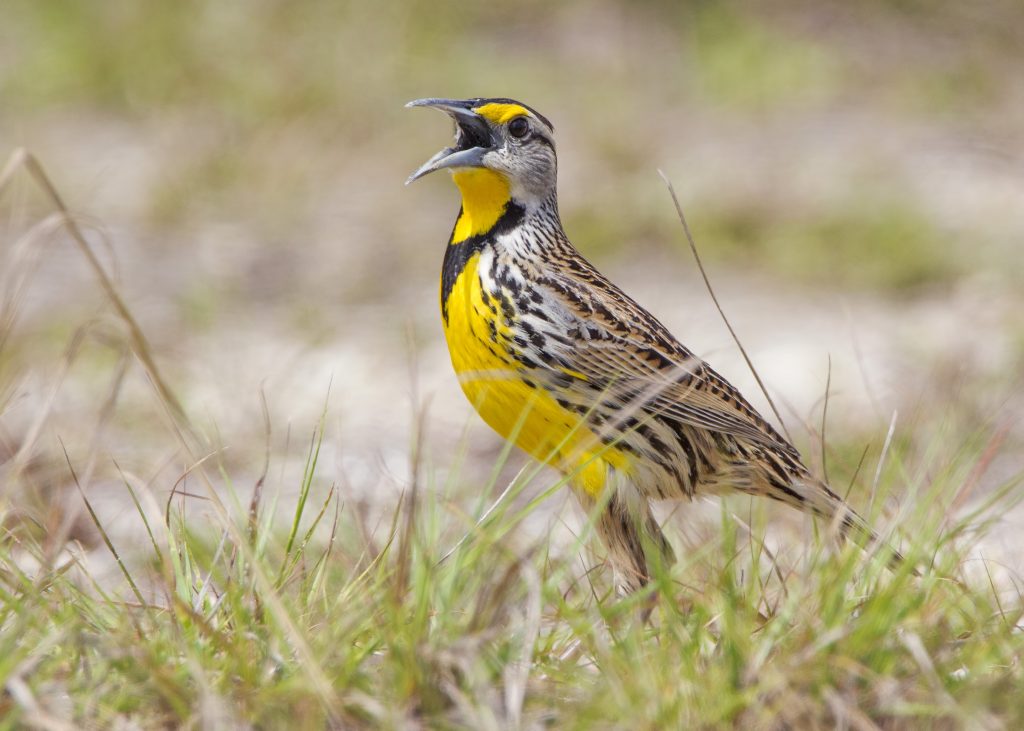 We know that meadowlarks are in trouble. Between 1974-2011, meadowlarks disappeared from over 78% of their Massachusetts breeding sites, according to Mass Audubon's Breeding Bird Atlas.  This decline is only partially explained by meadowlarks' habitat requirements.
Our 2018 volunteers found meadowlarks at just 3 sites out of over 100 protected grasslands across the state. While meadowlarks do persist at a handful of known agricultural sites outside our survey areas, these results suggested they aren't using all of the habitat ostensibly available to them. So, while we know habitat loss is a major factor, we also know that it's not the only part of the meadowlark decline equation.
Our next step is to check sites where meadowlarks were historically seen–including areas that might not be textbook habitat for them. This year, surveys will take place at sites where Eastern Meadowlarks were spotted during the past two Breeding Bird Atlases (1974-1979 and 2007-2011). This will help us both establish where meadowlarks have disappeared from their historical range, and what kinds of habitats meadowlarks are using aside from natural grasslands.
Go Birding—For Science!
First, visit our Anecdata webpage to select sites where you can help look for meadowlarks. You'll need to create an account by clicking "register" in the top right corner and creating a username and password. Then, return to the meadowlark project page and click "join project" (just under the photo of the meadowlark). To view a map of sites, click on "add an observation," then click "use a hotspot" in the upper left, and then click "map." Finally, be sure to sign up for the hotspots you choose on the signup list mentioned in the project description!
To keep our data uniform and reliable, a volunteer should survey a site three times between April 10 and June 15, for any 10-minute period between 5:00 am and 9:30 am. Not all of our sites may have meadowlarks, and that's perfectly fine— knowing where they aren't, and figuring out why, is just important to us as knowing where they are.
Thanks for helping us help grassland birds– and good luck finding meadowlarks!