BY WAYNE PETERSEN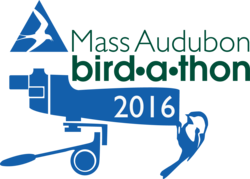 About this time every spring, I'm approached with questions pertaining to when, where, or how to locate certain bird species during Bird-a-thon and requests for Bird-a-thon predictions.  Needless to say: I'm no clairvoyant. Nonetheless, I have seen a lot of Bird-a-thons in my day, so I can at least bring experience to bare on the subject.  Here are a few thoughts:
*Based upon the progression of spring so far this year, it would appear that migration is on track. In fact, a few migrants seem slightly ahead of schedule. This suggests that by Bird-a-thon weekend, most of the expected species should likely be on hand.
*High water in many wetlands right now seems to be limiting the location of certain species that are more dependent on lower water levels or muddy edges for foraging.
*The prevalence this past winter of many more seabirds in inshore waters off Cape Cod (e.g., alcids) than is often the case suggests that there might be a better chance of finding lingering seabirds during Bird-a-thon this year. Also, sooty shearwaters have already arrived offshore, several weeks ahead of their typical arrival.
*From a strategic perspective, play the birding odds (i.e., cover traditionally good birding areas thoroughly), follow last-minute bird reports to take advantage of the known presence of less common species, and tackle varied habitat.
*Make sure your team and its supporters recognize the significant effect funds raised as part of Bird-a-thon have on Mass Audubon's sanctuaries and programs ability to continue their important work.
*You or your team should have specific localities in mind to look for less common or seasonally lingering species (e.g., freshwater ducks and sea ducks, red-necked grebe, great cormorant, cattle egret, American coot, purple sandpiper, Wilson's snipe, northern saw-whet owl, Acadian flycatcher, white-eyed vireo, cliff swallow, golden-crowned kinglet, vesper sparrow). Don't leave the finding of these species to chance!
*Team up your more experienced birders with newer birders to maximize the fun and the effectiveness of the team's effort!
*Be sure to refer to the previously produced Tips for Bird-a-thon Birding and Bird-a-thon Birding in the Rain.
Have a Great Day Birding and Appreciate the Miracle of Spring Migration for What it is- Be a Part of Bird-a-thon!
Bird-a-thon is Mass Audubon's annual birding competition and fundraiser where teams of birders spend 24 hours trying to spot the most species of birds in Massachusetts. Bird-a-thon 2016 begins May 13 at 6 p.m.
Join a team: To bird with a team, contact a team captain. Birding rosters are finalized 4 days before the event, so act quickly. Fundraise in honor of your participation by creating an online fundraising page and/or collecting cash and checks.
Be a Bird-a-thon Booster: Raise money for your favorite team. No birding required (but some Bird-a-thon Boosters bird for fun!). To fundraise, create an online fundraising page and/or collect cash and checks.
Donate: Support a participant, a team, or the event in general. Consider supporting the Bird Conservation Team!