This is a guest post by Nick Tepper. A recent graduate from the University of Vermont, Nick is an up-and-coming expert on New England birds, a lifelong naturalist, and is currently fulfilling an AmeriCorps service year with Mass Audubon.
It was 5:30am on a frigid causeway in the middle of Lake Champlain– technically Colchester, VT, but we may as well have been in the Bering Sea given the arctic wind and cold. I remember stepping out of the car at our first site and walking the first steps of a two-mile icy bike path into the freshwater ocean. This was the inauspicious start to my first-ever Christmas Bird Count (CBC), in the winter of 2017. We could barely see, perhaps because the sun had not yet risen, or perhaps because of the 20mph winds that froze our eyelids shut. I spent the next hour or so shivering and trying to figure out what we were doing out there! Why torture ourselves? Had we no self-respect?
Finally, the sun rose over the trees, and somehow in the –12-degree weather, it was warm. Looking towards the sunrise, we saw birds begin to appear in the dawn. A Snowy Owl was the first species we saw, glowing orange in the early light. What a moment to behold… its yellow eyes opening for seconds at a time to scan the lake for ducks, just as we did with our binoculars. That bird kept us warm all day. We ended up tallying 48 species, and I learned more about birding than I had in all my younger years memorizing plumage patterns, molts, and call notes.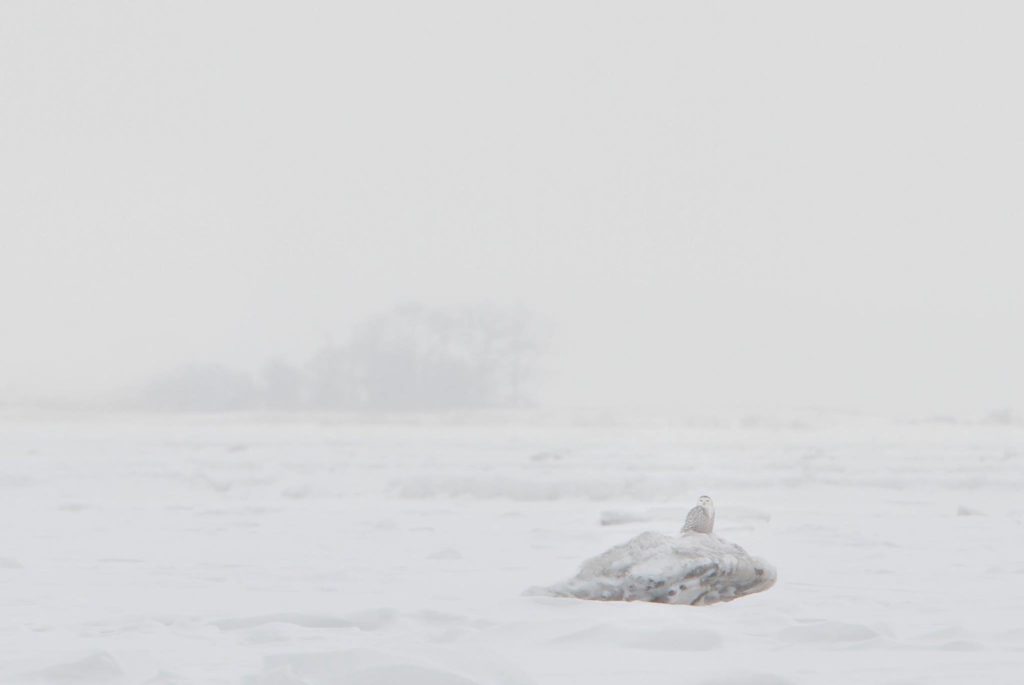 Birding as defined by my first CBC was not a hobby, a job, or a passion— it was a mindset. More importantly, it is a mindset that people could share. If you participate in a CBC, you will inevitably make acquaintances, connections, and very likely some lifelong friends. For me, the best part of the CBC is that you do not need to be a seasoned birder to participate, you need only have an interest in birds and a pair of binoculars.
CBCs, Formerly Known As Christmas Bird Hunts
The Christmas Bird Count, now a grand tradition understood as an all-hands-on-deck census, was borne out of a more grisly 19th-century rite. CBCs were developed by conservation-minded ornithologists as replacements for a tradition known as the Christmas "Side Hunt." Hunters would celebrate the season by taking "sides" after Christmas Day and filling the sky with bullets, with the goal of (quite literally) stacking up as many species as possible.
During the holiday season of 1900, noted ornithologist Frank M. Chapman piloted the idea for a Christmas Bird Census instead of a competitive hunt. On Christmas Day 1900, Chapman and 26 other counters pioneered 25 counts, counting 90 species. The count has since grown. Last year, 76,987 counters completed 2,585 counts internationally, tallying a total of 2,673 species! Even so, the CBC can always use more counters, and the birding community would love to have you along for the jolliest day of the year.
Join Your Local Bird Count!
While some CBCs have already taken place, there are plenty more in Massachusetts before the year is up. Try getting in on one of the following:
The Concord CBC will take place on Sunday, December 30, and includes the towns of Concord,Lincoln, Acton, Maynard, Sudbury, and others.
The Marshfield CBC is scheduled for Sunday, December 30 on the South Shore, and includes Marshfield, Duxbury, Hanover, and Pembroke.
The Newburyport CBC will take place next weekend on Sunday, December 23, and includes an abundance of saltmarsh habitats including Salisbury State Reservation, the famed Plum Island, and several towns on the North Shore.