Well that was a long harvest! In addition to all we've been picking, we're now also harvesting cucumbers, fava beans, summer squash, and new potatoes. And sixteen different restaurants placed orders for yesterday, so it was a maelstrom kind of morning. Off in the distant strawberry patch, we saw the campers weeding-out for the first time this summer. Thanks to Food and Farm Educator Maricela and all the counselors for teaming-up with the kids on this important job.
All crops are thriving thanks to the heat, sun, and Saturday's downpours. Just before the storms arrived, a fantastic group of drop-in volunteers helped us plant brussel sprouts and the second round of cantaloupe and watermelon—11 beds in total! They also had time to do some weeding (pictured below) and eat a few of our very last strawberries before the rain forced us all to run for cover. The electric fences that have been keeping the deer out of the strawberries will now be moved to other crops that are ripening and in need of protection—sweet corn and melons.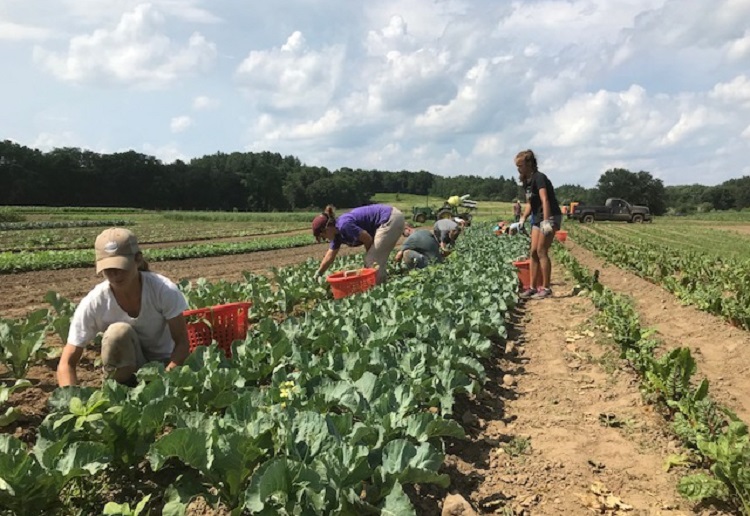 Yesterday, we put the second line of twine on the first planting of tomatoes, one week after stringing the first. Typically, four or five lines brings us to the top of the stakes, then it's usually time to start picking the cherry tomatoes. So I estimate we're about two weeks away from the first cherries, with slicing tomatoes following by the end of the first week of August. The second succession of cucumbers is about ready for harvest, so soon we'll have cukes and summer squash available on a daily basis, alternating harvests between the first and second plantings. Today, at the stand, there's a small amount of cucumbers for a few lucky people.
A big thank you to volunteer Elizabeth for staffing the farmstand this Sunday afternoon. This was the first time this summer we've had a person there to promote the veggies and make on-the-spot sales. Not surprisingly, there were almost no leftovers by the end of day. We love to see those empty boxes. It means lots of people are eating well!
See you in the field,
Your Farmers