We've reached that point in the season when the majority of our time is given over to the harvest. All the garlic will need to be brought into the barn in the next week or so, and some of the storage onions are ready as well. We're picking from three successions of cucumbers and two of summer squash, and digging potatoes twice per week. Peppers and eggplant are starting to produce—especially the tiny shishito peppers, which take a long time to pick, but chefs love them. The flower patch is also cranking out blooms, meaning we're harvesting well into the evening on Fridays in preparation for bouquet-making at Saturday's market.
In the fields, the pea trellises have come down, the old strawberry patch has been mowed, the third line of twine is on the first round of tomatoes, and we're spreading straw mulch in the second tomato succession. It was a hot week punctuated by two soaking storms, but we had lots of help. Last Tuesday, Volunteer Fred and Jill teamed up to move an electric fence from the strawberries to the first round of sweet corn. Pictured below is Fred summarizing Ampere's Law on electrical currents. For all those who've had the privilege of working with Fred on electric fencing, the lecture is part of the pleasure!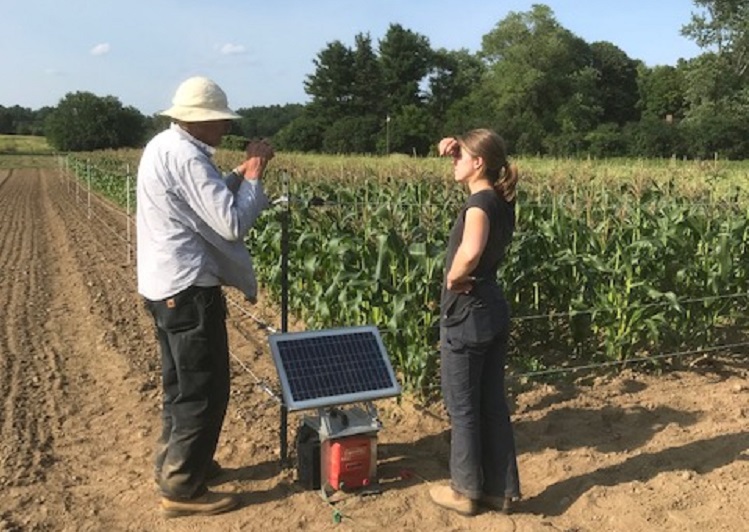 That same day, eighth graders from the Fessenden summer camp helped us pick almost 400 pounds of fava beans for the next day's CSA distribution. On Thursday, another group of campers from Maze Makers in Newton arrived at the farm just as a beautiful thunderstorm hit. We took shelter in the new hoophouse, and then ventured out into the mud to pull down old peas from the trellises and to yank enormous weeds out of the brassica patch. On Saturday, a great group of drop-in volunteers weeded beds of flowers and planted cabbage and broccoli. Throughout all this heat and humidity, Anne, Sheila, and Francesca have miraculously been keeping up with the seeding in the greenhouse. On some of the hottest days, they have been setting up work stations outside the greenhouse to escape the stifling conditions. Thanks all for your good work!
We'll start picking sweet corn in the next few days, hopefully for Wednesday's CSA distribution. Thanks to our marketing team, there's now a new Facebook group where you can go to share your enthusiasm for corn, and all other things related to eating locally! Whether you are a farm-to-table enthusiast, local-vore, Drumlin Farm CSA member, or sustainably minded food shopper in the Boston Metro/Metro West area, this group is for you. Request to join "Drumlin Farm's Eat Local Community" to share recipes, tips, and ideas on going local!
See you in the field,
Your Farmers