Spend the day at a Folk Fest, look for hawks, climb a mountain, learn how to bird, practice yoga, enjoy the foliage by paddle, and more at a wildlife sanctuary this weekend.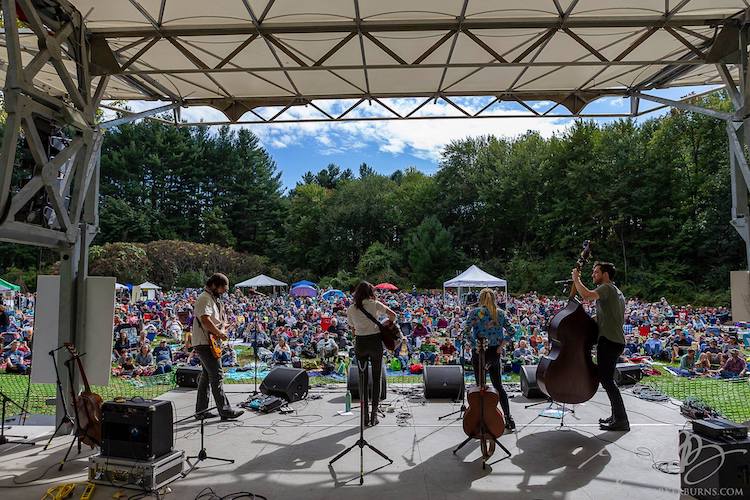 Connecticut River Valley
Enjoy a day of family-friendly activities and live music performances by Anaïs Mitchell, Martin Sexton, Dar Williams, The Mammals, and more during the Arcadia Folk Fest in Northampton. (tickets required)
More in the Connecticut River Valley
Berkshires
Enjoy a Hawk Watch Picnic at Old Baldy Mountain in Otis. Bring your own lunch and learn about birds of prey while watching their spectacular migration. (adults, registration required)
As part of the Berkshire Views series at Pleasant Valley in Lenox, ascend Lenox Mountain with an experienced guide. Hike via Trail of the Ledges and/or Overbrook Trail on a three-mile round-trip trek through northern hardwood and hemlock forest for an elevation gain of 840 feet. (adults, registration required)
Greater Boston
New to birding, or looking to sharpen your skills? Head to Habitat in Belmont for Birding for Beginners. (adults, registration required)
Enjoy both a morning and afternoon Fall Foliage Canoe on the Charles with Broadmoor in Natick. Starting from the Medfield marshes, enjoy the many colors along the bank and the smell of wild grapes. Relax and watch for the many animals found in and around the river. (adults, registration required)
Celebrating all things raptor at Boston Nature Center's Rockin with Raptors festival! Get up close with live animals, enjoy lots of nature activities, laugh along with kid-friendly entertainment, and much more.
Join Trailside Director Norman Smith for a day of Hawk Watching on Chickatawbut Hill in Milton. Norman will share stories and natural history knowledge accumulated during his 40 years of research. If the weather conditions are right, you may see a hawk or falcon up-close.
Saturday marks the opening reception for the Museum of American Bird Art's newest exhibition, "The Peace of Wild Things: Herons and Egrets Through the lens of B.A (Tony) King." Admission is free and light refreshments will be served.
North Shore
Go Saturday Morning Birding in the Newburyport/Plum Island are — one of the best year-round birding locations in the country. Beginners and birders of all levels are welcome. (adults)
Take part in Sunday Morning Yoga at Ipswich River in Topsfield. Bring your mat, and together we will create a comfortable balance to calm your mind, energize your body, and nurture your soul by practicing breathing, movement, and meditation. (adults, registration required)
South of Boston
Take a Long Scenic Hike at Allens Pond in South Dartmouth. Covers at least 2 miles of uneven terrain and opens up the senses to the wonders of the sanctuary! (adults, registration required)
Cape Cod & Islands
During Bird Research in Action! at Wellfleet Bay, meet James and the rest of the bird banding team to learn about banding methods and the information gathered from this research. You will likely get to see live birds up-close and observe the banding process. (adults and children ages 8+, registration required)
Hear Felix Neck Sanctuary Director Suzan Bellincampi talk about her new book, The Nature of Martha's Vineyard, at the Carnegie in Edgartown.
Central Massachusetts
Learn How to Identify Sparrows at Wachusett Meadow Princeton. Discuss how best to approach sparrow identification and review field marks. Then, head outside to search for sparrows in the field and practice the techniques learned in class. (adults, registration required)