Capture the beginnings of  a beautiful season with photography, exploration, and harvest celebrations this weekend.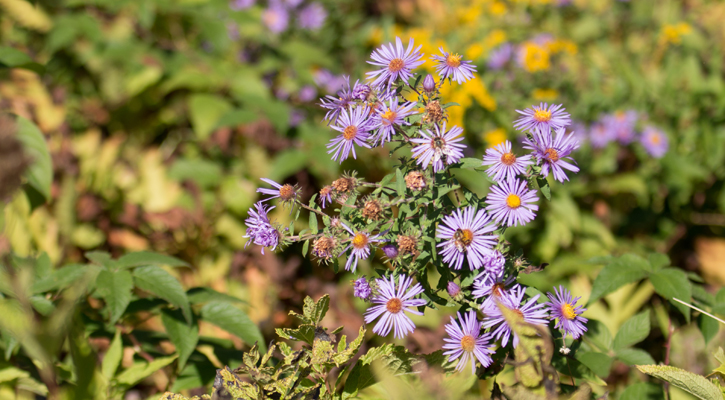 Cape Cod and the Islands
Have you ever wondered how researchers catch and monitor birds for their studies? You can hear from experts about songbird migration first-hand at Wellfleet Bay's bird banding station in Bird Research in Action. (adults and children ages 8+, registration required)
Witness the the treacherous journey made by terrapin hatchlings from their sandy dune nests to the safety of the marsh. These quarter-sized newborns are on the move this weekend at Hiking for Terrapin Hatchlings on Sandy Neck. (all ages)
More in Cape Cod and the Islands
Greater Boston
The Audubon Shop at Drumlin Farm is hosting its annual Optics Fair on Saturday. Meet professionals from top optics manufacturers and Mass Audubon members will receive exceptional discounts on binoculars, spotting scopes, and tripods.
Enjoy the sweet reward of spinning honey comb as we reach the end of beekeeping season. You'll find out why bees collect honey, where it's stored, personally extract honey, and enjoy a small take home jar for yourself at Boston Nature Center's Honey Harvest. (adults and children ages 5, registration required)
Learn how the geology of Moose Hill in Sharon is helpful to the growth of some plant species, yet discourages the presence of others. Can invasives really grow anywhere or are they selective about their soil type? Come find out at Wildflowers, Invasive Plants, and the Geology of Moose Hill. (adults, registration required)
Drumlin Farm has been alive with growth and activity this summer and it's time to enjoy all the hard work at Fall Harvest Day. Come and enjoy cooking demonstrations, tastings, a tour of our fields, garden activities, and up-close encounters with the animals of Drumlin. (all ages)
As New England relaxes into autumn, beautiful fields of flowers and colorful leaf topped trees are just ramping up. Capture the "golden hour" soft lighting of a sunset in the great outdoors at Autumn Photography: Colors and Landscapes at Broadmoor in Natick. (adults, registration required)
Bring your child to Stony Brook in Norfolk this weekend to enjoy crafts, activities, and trails, while learning about Monarch Butterflies and Fall Bird Migration in Tiny Trekkers. (families, registration required)
North Shore
Can you find the hidden natural treasures at Ipswich River with just a compass and a map? Find out how to find north, count paces, and hunt for treasure at this weekend's Map and Compass Treasure Hunt in Topsfield. (adults and children ages 7+ registration required)
Summer may have ended but Joppa Flat's 110 gallon tide pool touch tank is still filled with exciting marine life. Come visit and Meet Beach Creatures in the Fall to see for yourself, special features included for children. (adults, children ages 2+)
Central Massachusetts
Hey Day at Wachusett Meadow in Princeton is sure to be your favorite fall event of the season. Enjoy cider pressing, hayrides, farm animals, pumpkin painting, and free pony rides. In addition, there will be fresh and delicious cider, baked goods, and produce, (all ages)
Fall fungi, aka mushrooms, are among the most diverse organisms we know of. Learn About Fall Fungi in Worcester and the unique quirks that this organism contains. Seek out different species and add them to the Broad Meadow Brook fungi inventory. (adults, registration required)
Connecticut River Valley
Late summer fields and roadsides are dominated by yellow-colored goldenrods and pastel-colored asters. These beautiful wildflowers are a staple in New England flora. You'll find out how to identify features of these composites and enjoy a walk at the sanctuary at Asters and Goldenrods at Arcadia in Easthampton and Northampton. (adults, registration required)
Get the basics of nature photography just in time to photograph the beauty of fall in the Connecticut River Valley Intro To Digital Photography at Laughing Brook in Hampden. Here, naturalist and photographer Kevin Kopchynski discusses the best practices for exposure, focus, and technique so you leave with a wealth of knowledge and beautiful photographs. (adults, registration required)
More in the Connecticut River Valley
Berkshires
From Iron Ore to Orioles at Pleasant Valley in Lenox offers a fascinating ecological history of the Berkshires landscape – a story of massive change and recovery. Visit various landscapes to see how charcoal, lime, glass and iron industries impacted native forests and wildlife. (adults, registration required)
Fall Birding at Lime Kiln Farm in Sheffield will explore the trails and watch for warblers, sparrows, thrushes, and other birds. We're currently in the height of fall migration so these birding opportunities are ones you won't want to miss. (adults)