Look for hawks, learn about fall flowers, attend a fall festival, take part in the honey harvest, clean up a beach, take photos, practice yoga, and more at a wildlife sanctuary this weekend.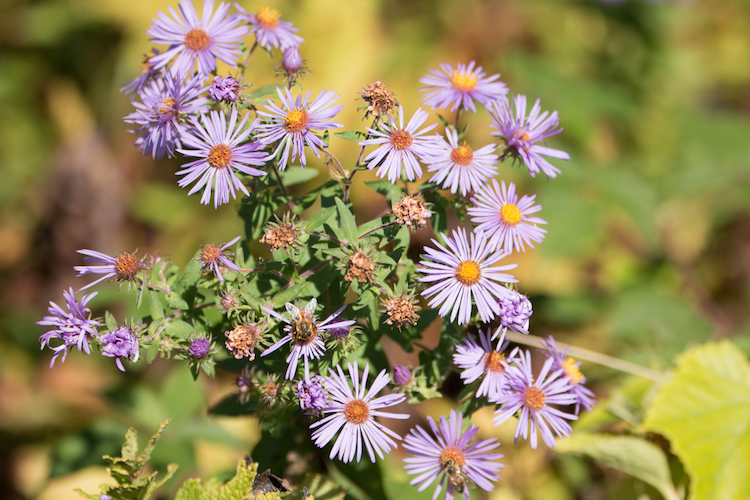 Berkshires
Canoe the Housatonic River in Lenox. During this leisurely paddle watch for swallows, herons, kingfishers, muskrats, and signs of beavers and learn about why the waterway is the natural heart of the Berkshires. (adults and children ages 10+, registration required)
Enjoy a Hawk Watch Picnic on Blueberry Hill in Granville. Bring your own lunch and learn about birds of prey while watching their spectacular migration. (adults, registration required)
Connecticut River Valley
Look for Asters and Goldenrods at Arcadia in Easthampton and Northampton. Learn identifying features of these composites and enjoy a walk at the sanctuary. (adults, registration required)
Take a Saturday Morning Bird Walk around Arcadia in Easthampton and Northampton. Focus on field identification techniques, flight patterns, field marks, habitat preferences, and songs and calls. (adults, registration required)
More in the Connecticut River Valley
Central Massachusetts
Celebrate harvest time with the whole family during Hey Day at Wachusett Meadow in Princeton. You won't want to miss this annual festival featuring farm-related demonstrations, exhibits, and hands-on activities for all ages. 
Head to the top of Wachusett Mountain for a Hawk Watch. Look up as thousands of raptors migrate through our region and find out how to identify raptors in flight. (adults, registration required)
North Shore
Help clean up the beaches of Plum Island! Volunteers of all ages can assist in removing trash and debris from Parker River National Wildlife Refuge, Sandy Point State Reservation, and the north end of the island as part of COASTSWEEP.
During Butterflies & Dragonflies in Watercolor at Ipswich River, take a quick walk around the sanctuary to observe butterflies, dragonflies, and damselflies, and then return to the barn to learn different watercolor painting techniques. (adults, registration required)
Greater Boston
Make your way to Drumlin Farm in Lincoln for a Fall Harvest Celebration. Watch cooking demos, enjoy tastings, make herb butter, explore the garden, and meet some of our farm animals. (Free with admission)
Bring the whole family to celebrate Blue Hills Trailside Museum's 60th Anniversary with free admission, live animal demonstrations, special exhibits, and engaging programs for all ages!
Practice your Autumn Photography skills at Broadmoor in Natick. Learn tips for the upcoming season of gorgeous colors and to take advantage of golden hour as you make the most of your fall landscape images. (adults, registration required)
Enjoy the Honey Harvest at Boston Nature Center. Find out why bees collect honey, where and how it is stored in the hive, and then watch as we uncap the honeycomb, extract the honey in a hand-crank spinner, and enjoy some "liquid gold." (adults and children, registration required)
Watch a Bird Banding Demonstration at the historic Foxfire Farm in Uxbridge. See warblers, vireos, thrushes, flycatchers, and sparrows up close, watch the banding process, and learn field ID skills. (adults and teens ages 14+, registration required)
Experience Yoga and Mindfulness at Habitat in Belmont. After a 45-minute slow and gentle yoga class indoors, head outside to explore the trails. (adults, registration required)
South of Boston
Practice Yoga in the Stone Barn at Allens Pond in South Dartmouth with nothing but the sounds of birds and nature serving as the backdrop to your practice. Taught by a certified instructor from School of Yoga New Bedford, this program is suitable for yogis of all levels. (adults)
Cape Cod
Go In Search of Diamondback Terrapins at Wellfleet Bay. Start off inside with an introduction to this fascinating species then head outside for a walk along sanctuary trails to look for hatchlings. (adults, registration required)