Enjoy the foliage, take a photography workshop, go birding, be a citizen scientist, attend a fall festival, learn about saw-whet owl banding, and more at a wildlife sanctuary this weekend.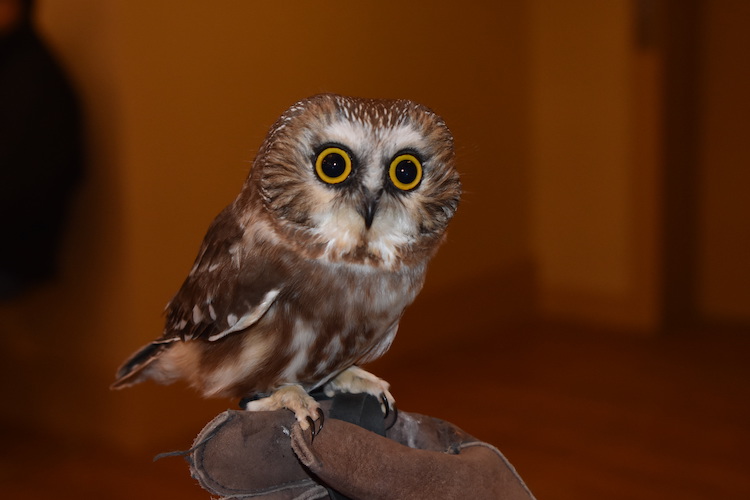 Greater Boston
Start the weekend off with a Fall Foliage Paddle down the Charles River with Broadmoor in Natick. Relax and watch for the many animals found in and around the river. (adults and children ages 12+, registration required)
Enjoy a Saturday Morning Family Nature Walk at Drumlin Farm in Lincoln. Develop your skills of observation and understanding of and connection to the natural world. (families, registration required)
Take your photography skills to the next level by attending a one-day Bird Photography Master Class at the Museum of American Bird Art in Canton. Topics including composition, minimizing noise, camera setup, flight photography, bird behavior, hot spot locations, and more. (adults, registration required).
It's Pumpkinfest at the Boston Nature Center! Celebrate the fall harvest by creating your own carved pumpkin, playing pumpkin games, and enjoying some fine fall food. (families, registration required)
Take part in the Stony Brook Bio-Blitz in Norfolk to search the wetlands and fields documenting the wild animals and plants inhabiting the sanctuary. Bring your smartphone and curiosity. (adults, registration required)
New to birding, or looking to sharpen your skills? All skill levels are invited Birding for Beginners at Rock Meadow in Belmont. (adults, registration required)
During Bird Banding at Moose Hill in Sharon, learn about the saw-whet owl banding at Moose Hill. If we're lucky, we will have a chance to see a saw-whet owl up close and watch the whole process — capture, weigh, measure, examine, and release. (adults, registration required)
South of Boston
Head to Daniel Webster Marshfield for Farm Day, our biggest South Shore celebration of the year. The sanctuary's grasslands are transformed into a festival of fall farm fun perfect for the whole family.
Go on a Fall Foliage Exploration at Attleboro Springs in Attleboro to explore the colors of fall and learn about the science of dendrology (trees). (adults and children, registration required)
North Shore
Go Saturday Morning Birding in the Newburyport/Plum Island are — one of the best year-round birding locations in the country. Beginners and birders of all levels are welcome. (adults)
Learn the technique of full-twist or "wrapped" twining during the Wrapped Twined Basket Workshop at Ipswich River in Topsfield. Use traditional Red Cedar spokes and raffia to weave the base and complete several rows up the side of the basket.
Central Massachusetts
Head to Worcester for Boo Meadow Brook, when the sanctuary turns into a magical, non-scary haunted forest at sundown! Take a gentle, guided walk through the woods on trails lit by softly glowing luminaria and enjoy face painting and snacks after your tour. (registration required)
Connecticut River Valley
Celebrate the wonders of nature at the Laughing Brook Nature Festival in Hampden. Expect walks, stories, live animals, crafts, and games.
During the BioBlitz at Arcadia in Easthampton and Northampton, learn how to use iNaturalist, and then with phones in hand, explore different areas of the sanctuary documenting species we find. (adults, registration required)
More in the Connecticut River Valley
Berkshires
Take part in the Pleasant Valley Volunteer Day in Lenox to help care for the native gardens, trails/boardwalks, and education spaces. (adults and children ages 6+, registration required)
Cape Cod & Islands
During Bird Research in Action! at Wellfleet Bay, meet James and the rest of the bird banding team to learn about banding methods and the information gathered from this research. You will likely get to see live birds up-close and observe the banding process. (adults and children ages 8+, registration required)
Attend a Climate Cafe at the Waterside Market in Vineyard Haven to have a conversation about recycling. Don't forget to bring your mug! (adults and children ages 10+)
New Hampshire
All Mass Audubon campers and their families (and prospective camper families!) are invited to a fun-filled Family Fun Day at Wildwood, Mass Audubon's overnight camp in Rindge, NH. Activities include snacks, ropes course, archery, canoeing, and more! (registration required(