There are so many ways to Opt Outside this weekend, starting on Black Friday. Go for a walk, attend a festival, or join a program.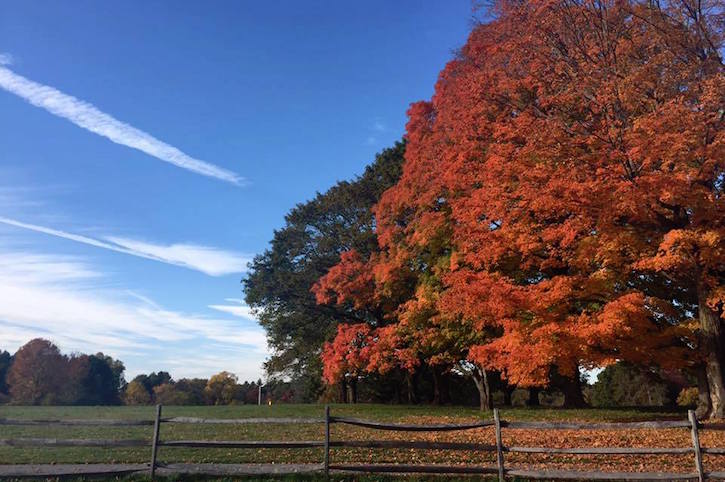 Greater Boston
Spend your Black Friday away from the malls and outside in nature! During Drumlin Farm's Giving Thanks for Nature in Lincoln, take a walk through the sanctuary as local artists give trailside performances, then contribute your own expressions of thanks with family-friendly crafts and activities.
Head to the Museum of American Bird Art in Canton for a Free Black Friday Hike and Art Activity. During a guided hike, be creative by constructing landscape art with natural materials. After the hike, head indoors to create Eric Carle-inspired art in our studio space. (families, registration required)
As the natural world turns into shades of browns and tans, odd shaped objects begin to take center stage. During Galls, Burs, Pods, and More at Boston Nature Center, discover surprises in a meadow that is filled with fantastic seed shapes. Collect a bouquet of dried flowers and learn about the variety of flower structures and shapes. (adults, registration required)
South of Boston
After a filling Thanksgiving dinner, join Allens Pond for their Great, BIG "Walk it Off" Hike in South Dartmouth and Westport. Travel from the Allens Pond field station along the beach and onto the Quansett Trail—a scenic, calorie-burning blitz of approximately 6 miles. (adults, registration required)
Go on a Friday Morning Bird Walk at North River in Marshfield. Birders of all levels will enjoy spending the morning searching for birds in a variety of habitats year-round. (adults)
Oak Knoll is Attleboro is hosting a Teen Conservation Club series. During it, teens will delve into environmental science with activities like monitoring local amphibian populations, exploring the health of local wetlands, creating enrichment for our nature center's animal collection, and investigating local conservation topics. (ages 13-17, registration required)
North Shore
Go Birding from Nahant to East Boston with Joppa Flats. Look for sea ducks, loons, grebes, and winter shorebirds such as purple sandpipers. Other possible sightings include black-headed and mew gulls, king eiders, and Barrow's goldeneyes. (adults, registration required)
Cape Cod and Islands
Felix Neck is hosting its annual Fall Festival in Edgartown on Friday. This celebration of fall is a Vineyard tradition featuring hayrides, face painting, live music, food, wreath making, a weather station and crafts for kids, live animals, and trail walk. (all ages, registration required)
Drop in anytime on Saturday at Wellfleet Bay for their Sea Turtle Open House. Learn more about sea turtles and why they strand on the beaches of Cape Cod in the fall. Get a behind-the-scenes look at rescue efforts.