Look for wildflowers, meet goats, go on bird walks, gaze at the stars, build a fairy house, volunteer, and more at a wildlife sanctuary this weekend.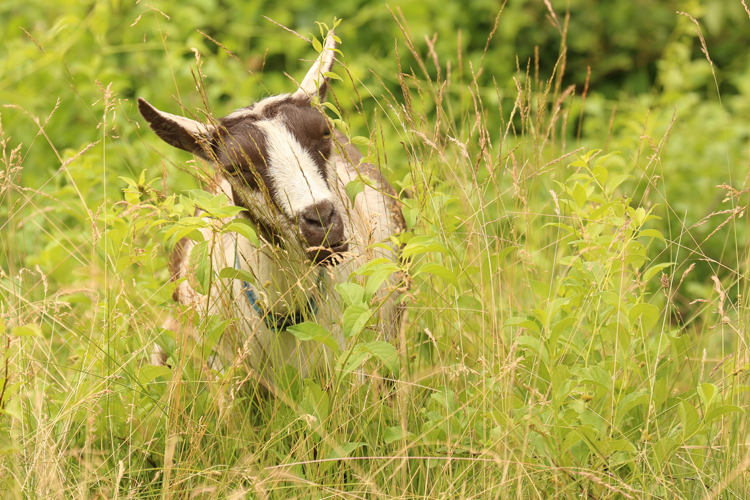 Greater Boston
Go on a Spring Bird Walk at Boston Nature Center. Local bird enthusiasts will help us find and identify birds through field marks, sounds, and behaviors. Birders of all levels will enjoy these guided walks.

Enjoy a Herb Sale & Goat Gala at Habitat in Belmont. Get a season's worth of herbs in the morning and then in the afternoon get a chance to interact with our friendly herd of Nigerian Dwarf Goats.
Saturday is Pollinator Day at Drumlin Farm in Lincoln. See a live beehive opening and beekeeping demonstrations, shop vendors with pollinator-related products, and learn about gardening for pollinators. Children will keep busy and have fun with hands-on activities.
Become a citizen scientist by Learning to Study Fireflies at Moose Hill in Sharon. Find out what to observe and how to submit your observations. (families, registration required)
Head to Blue Hills for Spring Stargazing and a Campfire. After enjoying the sunset from the top of the hill, we'll check out the moons of Jupiter. With some luck, we may catch sight of some early Eta Aquarid meteors. (adults and children ages 6+, registration required)
Celebrate spring with a little food, fun, and birdsong on as part of Birds & Breakfast at Broadmoor in Natick. Explore the sanctuary on a naturalist-led bird walk, then enjoy a homemade breakfast at the Nature Center. (adults and children, registration required)
Take a free Sunday Bird and Plant Walk at Stony Brook in Norfolk to look for any warblers, waterfowl, and wildflowers. (adults, registration required)
North Shore
Get to know Amazing Animal Families at Ipswich River in Topsfield. Walk through different habitats and investigate which young animals stay with their families and which go it alone. (families, registration required)
Go Saturday Morning Birding in the Newburyport/Plum Island are — one of the best year-round birding locations in the country. Beginners and birders of all levels are welcome. (adults)
South of Boston
Attend a Fairy House Workshop at Oak Knoll in Attleboro to take a hike and learn about the legends of the fairies and trolls that live at Oak Knoll. After, build your very own fairy house. (adults and children, registration required)
Cape Cod and Islands
During Bird Research in Action! at Wellfleet Bay, meet James and the rest of the bird banding team to learn about banding methods and the information gathered from this research. You will likely get to see live birds up-close and observe the banding process. (adults and children ages 8+, registration required)
Attend a Climate Cafe at the Rosewater Cafe in Edgartown to have a conversation about recycling. Don't forget to bring your mug! (adults and children ages 10+)
Central Massachusetts
Find out if Woodpeckers Get Headaches at Broad Meadow Brook in Worcester. Learn how these amazing birds jackhammer trees for their dinner, then walk the trails to search for five different species of woodpeckers. (adults and children ages 6+, registration required)
Go on a Spring Bird Walk at Wachusett Meadow in Princeton and practice identification based on sight and sound. Especially suitable for backyard birders, and beginner and intermediate birders. (adults, registration required)
Connecticut River Valley
Attend the Valley Bird Festival at Arcadia in Easthampton and Northampton. This day of learning features bird walks, games, activities, and live bird of prey programs.
More in the Connecticut River Valley
Berkshires
Take a Spring Wildflower Walk at Lime Kiln Farm in Sheffield. Enjoy a leisurely walk and observe early blooming flowers. (adults, registration required)
Lend a hand as part of a Pleasant Valley Volunteer Day in Lenox. Help care for beautiful native gardens, trails/boardwalks, and education spaces.