Go maple sugaring, attend the Birders Meeting, learn how to raise chickens, go birding, look for animal tracks, and more at a wildlife sanctuary this weekend.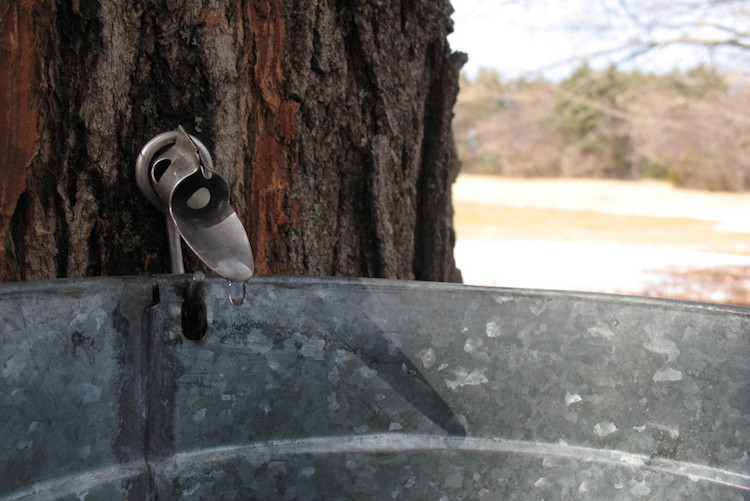 Greater Boston
Get a Behind the Scenes Look at Maple Sugaring at Moose Hill in Sharon Friday night. Try maple syrup, Mead made with our own honey and maple syrup, see our reverse osmosis machine, and get an up close tour of the evaporator in action. (adults, registration required)
As part of Magnificent Mysterious Mammals at Blue Hills Trailside Museum in Milton, have a close encounter mysterious and sometimes misunderstood resident mammals, the Striped Skunk. There will also be a story and a craft. (families, registration required)
Find out how to raise Backyard Chickens at Drumlin Farm in Lincoln. Topics covered in this hands-on workshop include feeding, checking for egg laying, and any other chicken questions that come up. (adults and children ages 12+, registration required)
Winter is a great time to look for signs of animals as they forage for food and shelter at Broadmoor in Natick. During an Adult and Family program, learn to identify the tracks, chews, scat, burrows and other clues left by many creatures including deer, otter, and coyote.
Go Backyard Birding at Boston Nature Center. Learn how to use binoculars, go on a bird hike, and create some seed and fruit art for the birds to enjoy. (families, registration required)
Central Massachusetts
The Birders Meeting is this Sunday in Worcester and the theme is The Beauty of Birds. Among the speakers: Pulitzer Prize-nominated evolutionary biologist and ornithologist Richard Prum. (registration required)
Go on a Saturday Morning Bird Walk at Broad Meadow Brook in Worcester to discover the immense variety of birdlife as you explore its trails with an expert guide. (adults, registration required)
Connect with the natural world in a healing, calming, grounding, and replenishing way through a guided and gentle Forest Breathing Walk at Wachusett Meadow in Princeton. (adults and children, registration required)
North Shore
Attend a Sugaring Off Tour on Saturday or Sunday at Ipswich River in Topsfield. Observe tapping and sap collection methods, watch the sap being boiled down in the sugarhouse, and get a sweet taste of the final product. (registration required)
Go Saturday Morning Birding in the Newburyport/Plum Island are — one of the best year-round birding locations in the country. Beginners and birders of all levels are welcome. (adults)
Connecticut River Valley
Get an Ecological Update at Arcadia in Easthampton and Northampton to find out what Mass Audubon is doing to protect habitat and how local wildlife populations are affected by our efforts. (adults, registration required)
More in the Connecticut River Valley
South of Boston
Head to Oak Knoll for a Family Habitat Day and explore the different habitats found around the sanctuary. Look for interesting animals, plants, and see what has visited the sanctuary. (families, registration required)
Discover the beauty of tree Buds and Bark in the Winter. Guided by local experts learn to identify local trees by their winter characteristics. (adults, registration required)