Enjoy a weekend paddle, celebrate Father's Day, look for fireflies, pick strawberries, go on a scavenger hunt, and more at a wildlife sanctuary this weekend.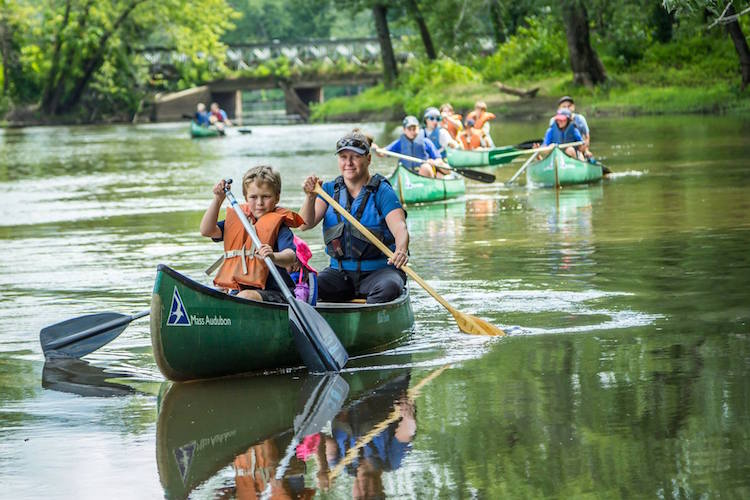 Cape Cod
Go In Search of Horseshoe Crabs and Shorebirds at Wellfleet Bay to learn about the connection between the two and the sanctuary's research on horseshoe crab populations. (adults, registration required)
South of Boston
Find out if you have what it takes to compete with the woodpeckers, eagles, and owls of the world as part of Avian Avengers at Tidmarsh in Plymouth. Learn about the superpowers of the feathered friends you can find right in your backyard. (adults, registration required)
Practice Yoga at Allens Pond in South Dartmouth with nothing but the sounds of birds and nature serving as the backdrop to your practice. (adults, registration required)
Using dip nets, microscopes, and other tools explore all things aquatic as part of a free Ponding Program at Luddard's Ford Park in Hanover. (all ages, registration required)
Greater Boston
Head to Drumlin Farm in Lincoln to dig in the dirt, meet some berry-loving animals, and pick your own strawberries to take home as part of Strawberry Day. Events are planned all day, while strawberry picking will be 10-noon (or until they're gone).
Celebrate Father's Day early with a relaxing Canoe Trip on the Charles at Broadmoor in Natick. Watch the morning mist rising off the river while we keep an eye out for Great Blue Herons and other birds gliding over the water. (adults and children ages 12+, registration required)
Go on a Dad and Me Scavenger Hunt at Moose Hill in Sharon. Once you decipher your first clue, head out on the trail to get to your new destination and find the next clue while enjoying the sights and sounds of the sanctuary.
Enjoy a free Coastal Bird Walk at Belle Isle Marsh in East Boston. Belle Isle Marsh offers a unique birding experience as it is close to urban life, but also has a highly productive coastal ecosystem. (adults, registration required)
Take walk around the field at Stony Brook in Norfolk to explore the lives of the Tree Swallows and Purple Martins that travel thousands of miles annually to nest in those boxes in our field home. (adults, registration required)
Enjoy Breakfast at Great Blue (with Dad). Meet at Trailside Museum in Milton for a light breakfast. Afterwards, go on a guided hike to the top of Great Blue Hill with a naturalist. (adults and children ages 3+, registration required)
During Natural Engineering at Boston Nature Center, find out what animals can carry 100 times their own weight or burrow into the ground to make a house with wood and spit. (families, registration suggested)
Spend part of your Saturday morning at the Museum of American Bird Art in Canton having fun, exploring and discovering nature, listening to engaging stories, and creating art during their weekly Nature and Art Discovery Program. (families, registration required)
North Shore
During Wildflowers & Watercolors with Joppa Flats, you'll learn about wildflowers as you walk through their natural habitats. Back at Joppa Flats in Newburport, sketch what you've found, then paint them with watercolors. (adults, registration required)
Central Massachusetts
Look for Fireflies at Pierpont Meadow in Dudley. On this beautiful night hike, spend an evening in appreciation of these remarkable insects, learn about some of the challenges they face, and find out what you can do to help. (adults, registration required)
Connecticut River Valley
As part of Turtles at Laughing Brook in Hampden, meet a live turtle, learn amazing facts about turtles, and take a walk to the pond to quietly search the shore for basking turtles. (adults and children, registration required)
Celebrate the coming of summer and Father's Day with a leisurely Canoe Trip. Watch for wildlife (Great Blue Herons, beavers, dragonflies, and songbirds) and learn how to identify wetland plants (pickerel weed, buttonbush, and royal fern). (adults and children ages 8+, registration required)