Help hummingbirds, go on a sunrise hike, paddle in the Berkshires, meet beach creatures, learn about insects, and more at a wildlife sanctuary this weekend.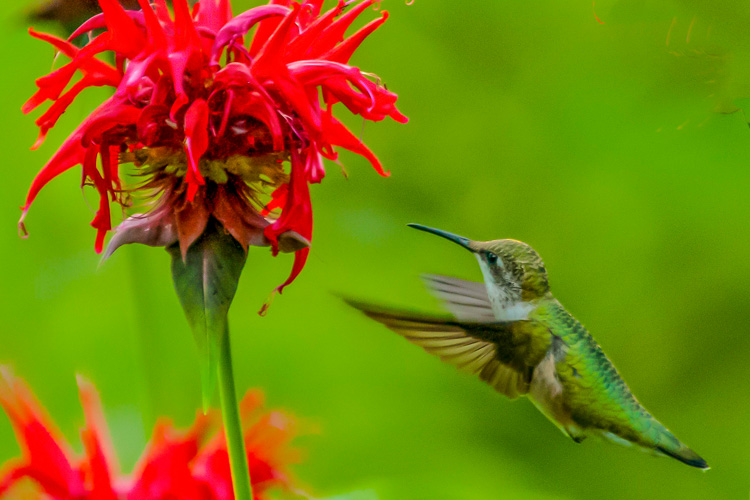 South of Boston
Start your day with a Sunrise Hike at Tidmarsh in Plymouth. This two mile hike will traverse mostly flat terrain and give us a glimpse into the lives of creatures like owls and coyotes whose day is coming to an end, as well as the stirring of the songbirds whose day is just beginning. (adults, registration required)
This event has been cancelled Celebrate fireflies the Fantastic Firefly Festival at North River in Marshfield, an evening of family-friendly games, activities, crafts, demonstrations, and more—plus, learn how you can participate in Firefly Watch! (registration required)
Attend a free Family Habitat Day at Oak Knoll in Attleboro to look for interesting animals, plants, and see what has visited the sanctuary. (families, registration required)
Practice Yoga in the Stone Barn at Allens Pond in South Dartmouth with nothing but the sounds of birds and nature serving as the backdrop to your practice. Taught by a certified instructor from School of Yoga New Bedford, this program is suitable for yogis of all levels. (adults)
Martha's Vineyard
During Examining the Evidence: A Climate Change Walk and Talk at Felix Neck in Edgartown, walk the sanctuary to see areas that have been impacted by climate and weather events. Also see two ongoing projects that aim to address the changes that are occurring and learn what Mass Audubon is doing to address climate change. (adults, registration required)
Greater Boston
Take a free Coastal Bird Walk at Belle Isle Marsh to learn more about Boston's coastal birds. Belle Isle Marsh offers a unique birding experience as it is close to urban life, but also has a highly productive coastal ecosystem. (adults, registration required)
Go on a Saturday Morning Hike at Moose Hill in Sharon to find out about the changing seasons, local geology, conservation at Moose Hill, and Mass Audubon Quests. (adults and children, registration required)
Have Fun with Butterflies and Dragonflies at Broadmoor in Natick. Learn all about these beautiful winged creatures and how to help our local butterflies this summer. (families, registration required)
As part of Digging in the Garden at Boston Nature Center get gardening techniques to make the most out of your garden, as well as dealing with insect pests and water levels. Our education plots in the Clark Cooper Community Gardens provide a perfect setting for some hands-on garden lessons. (families, registration required)
During Insects for Beginners at Drumlin Farm learn about the 6 common insect orders: their unique characteristics and how to recognize them. Then walk through various habitats of the sanctuary with tips on how and where to find insects that inhabit ponds, fields, and forest. (adults, registration required)
North Shore
Drop in to Joppa Flats in Newburyport before the beach, after the beach, or instead of the beach to Meet Beach Creatures in a 110-gallon tide pool touch tank. Volunteers interpret the amazing animals you may or may not have seen on your own beach visits and answer all the "why, what, how" questions you want to know.
Central Massachusetts
As part of Helping Wildlife for Families: Hummingbirds at Wachusett Meadow in Princeton get a hands-on introduction to Ruby-throated Hummingbirds, then take a couple of short hikes to some of our monitoring sites. (families, registration required)
Go on a Saturday Morning Bird Walk for Adults at Broad Meadow Brook in Worcester. We'll teach you the basics of birding and bird identification during an easy-to-moderate walk along the trails. (adults, registration required)
Berkshires
Canoe the Housatonic River in Lenox. During this leisurely paddle watch for swallows, herons, kingfishers, muskrats, and signs of beavers and learn about why the waterway is the natural heart of the Berkshires. (adults and children ages 10+, registration required)
Find out about Animals A to Z at Pleasant Valley in Lenox. Search for all the critters, from ants to zooplankton. Bring a picnic to enjoy the evening. (families, registration required)