Go for a bird walk, look for butterflies, take a night hike, practice yoga, enjoy a science cruise, paddle around, and more with a wildlife sanctuary this weekend.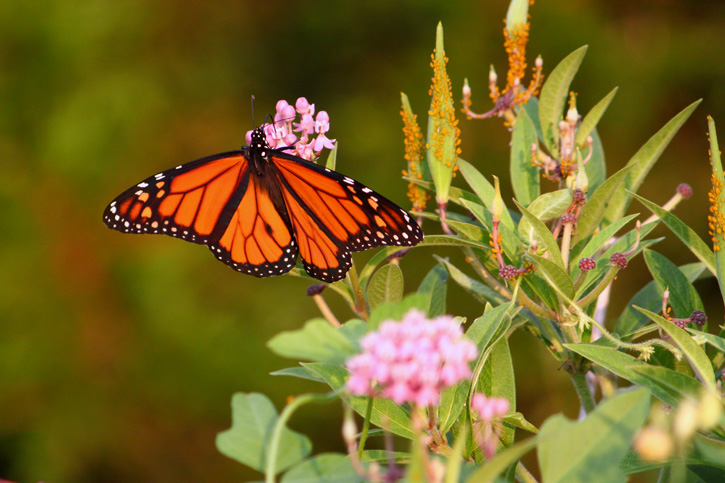 Greater Boston
Take a free Coastal Bird Walk at Belle Isle Marsh to learn more about Boston's coastal birds. Belle Isle Marsh offers a unique birding experience as it is close to urban life, but also has a highly productive coastal ecosystem. (adults, registration required)
Go on a Naturalist Walk at Drumlin Farm in Lincoln to explore the many habitats of the wildlife sanctuary while building an understanding of ecological communities and our mutual interdependence. (adults and children ages 13+, registration required)
Enjoy a night of camping under the stars as part of Moose Hill's Family Camp-Out in Sharon. Make s'mores over a campfire before you drift off to sleep to the sounds of crickets and owls. (families, registration required)
During Boston Nature Center's Pollination Station, see the magic of butterflies take wing. Go for a walk to learn how to identify butterflies and make a take home butterfly craft. (families, registration recommended)
Go on a Family Night Hike at Blue Hills Trailside Museum. Test your senses, look and listen for animals, and gaze at the stars. (families, registration required)
South of Boston
Head to Duxbury Beach for a Family Fun Day all about Piping Plovers. Make a craft to help illustrate the unique adaptations of this pint size dynamo.
Practice Yoga in the Stone Barn at Allens Pond in South Dartmouth with nothing but the sounds of birds and nature serving as the backdrop to your practice. Taught by a certified instructor from School of Yoga New Bedford, this program is suitable for yogis of all levels. (adults)
During Oak Knoll's Family Exploration in Attleboro, grab a bug net and explore the field and forest to see what cool insects we can find. (families, registration required)
Cape Cod and Islands
Enjoy an Early Bird Walk at Wellfleet Bay. From pine woodlands and freshwater pond to salt marsh and beach, the sanctuary's diverse natural communities offer diverse bird sightings. (adults, registration required)
North Shore
Go on a River Ecology Science Cruise on the Merrimack River with Joppa Flats. Practice hands-on science and look for seabirds, seals, and waterfowl on every trip. (families, registration required)
Enjoy Nature Walks & Journaling with Joppa Flats in Newbury. Discover seasonal vegetation and blooms on short walks then create memorable journals using writing, drawing, watercolor painting, and photos. (adults, registration required)
Central Massachusetts
Head to Broad Meadow Brook in Worcester for a butterfly-themed Preschool Story Hour. Listen to a story, make a craft, and then go for a walk. (families, registration required)
Connecticut River Valley
Look for Dragonflies and Damselflies by Canoe with Arcadia. Start indoors learning how to identify each group, then head outdoors in canoes for field experience. (adults, registration required)
Visit Laughing Brook to explore Insects of the Field and Forest. Watch as a bee pollinates a flower, see how many different types of butterflies you can count, and learn what lives within all that white spittle on the field plants. (families, registration required)
More in the Connecticut River Valley
Berkshires
Canoe the Housatonic River in Lenox. During this leisurely paddle watch for swallows, herons, kingfishers, muskrats, and signs of beavers and learn about why the waterway is the natural heart of the Berkshires. (adults and children ages 10+, registration required)
Find out about Animals A to Z at Pleasant Valley in Lenox. Search for all the critters, from ants to zooplankton. Bring a picnic to enjoy the evening. (families, registration required)