From a morning canoe to a night hike (and walks, talks, and rambles in between), fill your weekend days with outdoor adventures at a wildlife sanctuary.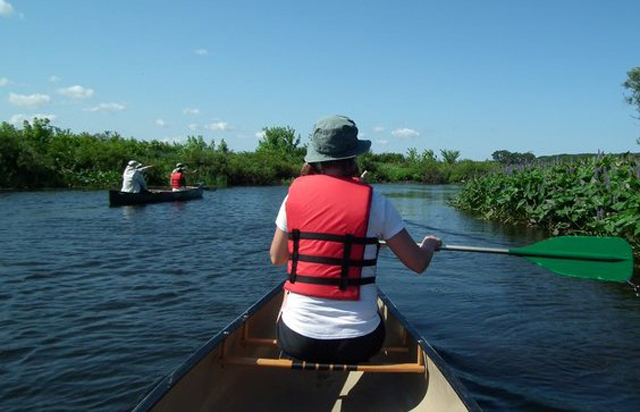 Greater Boston
Go on a Night Hike with Blue Hills Trailside Museum in Milton. Test your senses, look and listen for animals, and (conditions permitting) gaze at the stars. The evening begins with a brief orientation, followed by a walk on some of the easier paths near the museum. (adults and children ages 8+, registration required)
Enjoy a Summer Morning Canoe on the Charles with Broadmoor in Natick. Listen to bird songs and watch for great blue herons, turtles, and dragonflies as you paddle during the quiet morning hours. (adults, registration required)
During a Naturalist Walk at Drumlin Farm in Lincoln, explore the habitats across the sanctuary from wetlands to uplands as you look for amphibians, reptiles, mammals, flowering plants, trees, shrubs, lichens, fungi, insects, and birds. (adults and children 12+)
Head to Boston Nature Center for a Nature Story Hour. After listening to the story, head outside to take a walk on the trails to learn about the resident animals and plants that call the sanctuary home. (families, registration recommended)
South of Boston
Get the Most Out of Your Smartphone Camera at Stony Brook in Norfolk. Learn how to compose, crop, edit, and share photos and then head out to put those camera phones through their paces. (adults, registration required)
Enjoy a free Beach Ramble along the Beach Loop trail at the Allens Pond in South Dartmouth/Westport. Explore many different habitats and their inhabitants as you meander through grassland meadow before walking by the salt pond onto a sandy beach. (adults and children ages 5+)
Head to Duxbury Beach for Family Fun Day. This week's theme: mollusks. Find out how the razor clam's can create its own quicksand in order to escape predation and the many specialized capacities of mollusks.
Cape Cod and Islands
Go to State Beach for Saturdays at Sengekontacket, a one-hour program run by a Felix Neck naturalist that explores the nature of Sengekontacket Pond on Martha's Vineyard. (All ages)
Take an Early Morning Bird Walk at Wellfleet Bay. From pine woodlands and freshwater pond to salt marsh and beach, Goose Pond Trail's diverse natural communities offer diverse bird sightings. (adults, registration required)
During Life in the Reeds: A Chase Garden Creek Kayak Odyssey learn how fish, birds, mollusks and crustaceans have adapted to live in the tidal zone by paddling through their waters with knowledgeable naturalist. (adults, registration required)
Central Massachusetts
Are you counting steps or miles as part of your daily health and wellness? Step into Nature at Wachusett Meadow in Princeton will help you reach your goals. (adults, registration required)
Learn to Identify Groundcover at Broad Meadow Brook in Worcester by looking at plant structures, using field guides, exploring habitats, and discovering awesome adaptations of our local flora.
Connecticut River Valley
Explore the world of dragonflies and damselflies during Dragonflies for Beginners at Arcadia in Easthampton and Northampton. Get tips on how to identify the common species in our area and go for a walk to find them. (adults and children ages 8+, registration required)
Go on a Forest Discovery Hike at Laughing Brook in Hampden. Search for signs of wildlife as well as clues to where they live. For the young ones in the group, play a game of camouflage and discover how animals use this as protection. (families, registration required)
More in the Connecticut River Valley
Berkshires
Explore the coves and marshes of one of the Berkshires' most beautiful lakes during a Canoe Trip to Upper and Lower Goose Ponds. Along the way search of ravens, hawks, herons, and a variety of songbirds. (Ages 10+, registration required)
North Shore
Drop in to Joppa Flats before the beach, after the beach, or instead of the beach to Meet Beach Creatures in a 110-gallon tide pool touch tank. Volunteers interpret the amazing animals you may or may not have seen on your own beach visits and answer all the "why, what, how" questions you want to know.