See live birds of prey, go on a winter nature walk, find out how to track animals, build a fairy house, look for owls, and more at a wildlife sanctuary this weekend.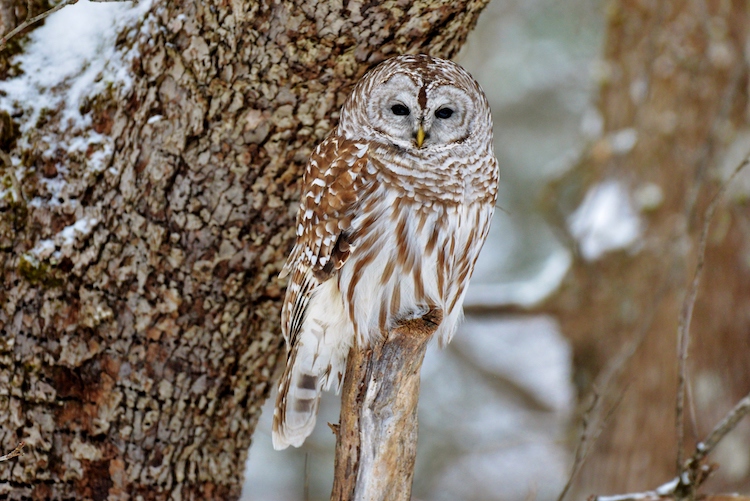 North Shore
See live birds of prey up-close like never before with Wingmasters at Ipswich River in Topsfield. You'll be introduced to different types of raptors including eagles, hawks, falcons, and owls during this exciting indoor presentation. (adults and children, registration required)
Meet Backyard Birds at Joppa Flats in Newburyport. Bird Banding Station Manager Ben Flemer presents demonstrations on bird research and banding. You'll learn about your own backyard birds and why they're here while watching scientific research in action.
Greater Boston
Go on a Family Bird Walk at Boston Nature Center. Learn how to use binoculars to search for the most common birds found in Boston and learn how to identify them! Sing like a bird and get a closer look at feathers, nests, and other bird related artifacts. (families with children, registration required)
During Busy Bees' Wax at Drumlin Farm in Lincoln, meet our beekeeper, find out why bees make wax, and learn how we've used it throughout history. You'll make candles and decorations to take home! (families with children, registration required)
Whooo is making all that noise in your backyard at night? Head to Stony Brook for On the Prowl for Owls. Start inside to learn about owls and the dissect an owl pellet. Afterwards head out under the moon and stars to see if we can hear or see any owls. (families with children, registration required)
As part of Animal Tracking at Broadmoor in Natick, learn to identify the tracks, chews, scat, burrows and other clues left by many creatures including deer, fisher, and coyote. (adults and families with children, registration required)
Search for the many animals that call Moose Hill in Sharon home during Tracks and Traces. Start with the basics of animal track patterns and then head outside to look for evidence of our resident winter wildlife. (families with children, registration required)
South of Boston
Go on a Seaside Seal Stroll with Allens Pond in South Dartmouth and Westport. Learn about the lives of harbor and grey seals, what brings them to our area, and proper etiquette for viewing these protected species. (adults and children ages 6+, registration required)
Take a hike to learn about the legends of the Fairies and Trolls that live at Oak Knoll in Attleboro. Then head indoors to build your very own fairy house. (adults and children, registration required)
Central Massachusetts
Connect with the natural world in a healing, calming, grounding, and replenishing way through a Shinrin-Yoku "Forest Breathing" Guided Sanctuary Walk at Wachusett Meadow in Princeton. (adults, registration required)
During Snow Tracking and Winter Animal Activities at Broad Meadow Brook in Worcester learn to use snow tracks and other clues to explore the winter landscape. (adults, registration required)
Berkshires
Strap on snowshoes (or microspikes, depending upon conditions) and embark on a winter Snowshoe Hike at Pleasant Valley in Lenox. Watch for wildlife activity around ponds, streams, meadows, and woodlands. (adults, registration required)
Search for tracks, scat, and other Signs of Wildlife that stay active through winter at Lime Kiln Farm in Sheffield. Discover new "whodunit" mysteries that take place out in nature while we're typically warm inside our homes. (adults and children, registration required)
Connecticut River Valley
Arcadia in Easthampton and Northampton is proud to be home to one of the several dozen nesting pairs of Bald Eagles in our state. Learn about these birds and their reintroduction and take a walk into the meadows to look for eagles. (adults, registration required)
Go on a Winter Nature Walk at the Quabbin Reservoir in Belchertown. Along the way, search of winter songbirds, bald eagles, animal tracks, and more. (adults, registration required)