It's all about owls at our wildlife sanctuaries this weekend, with lots of owl prowls, owl encounters, and even an Owl Festival, but if owls aren't your "thing", you can also find a wine tasting, animal tracking programs for all ages, shinrin yoku "forest breathing", and more at a sanctuary near you.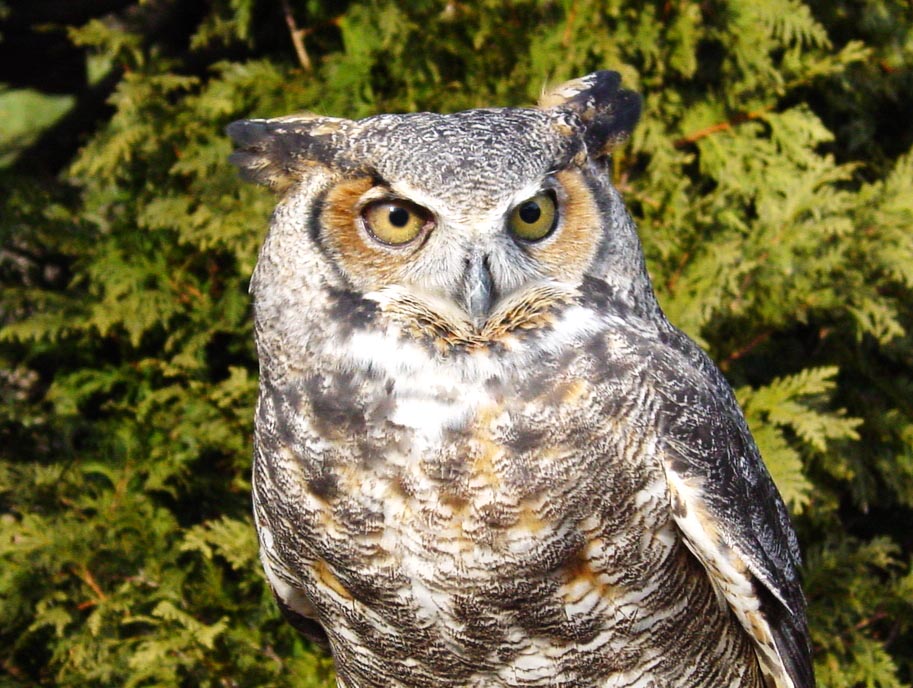 Berkshires
Search for tracks, scat, and other signs of animals that stay active through the winter during a free Winter Wildlife Tracking program at beautiful Notchview preserve in Windsor. Begin with a discussion indoors then head outside to learn about how animals move and behave through the tracks they leave behind. (families, registration required)
Cape & Islands
Explore the beaches, dunes, and waters of the Outer Cape in search of winter birds including snow buntings, horned larks, sea ducks, loons, and snowy owls during a Birding the Winter Beach program sponsored by Wellfleet Bay in Wellfleet. (adults, registration required)
Gather as a community at the Rosewater Cafe for coffee and conversations about food justice and other local environmental issues during another Climate Cafe hosted by Felix Neck in Vineyard Haven.
Central Massachusetts
Learn to connect with the natural world in a healing, calming, grounding, and replenishing way during a Shinrin-Yoku/Forest Breathing Guided Sanctuary Walk at Broad Meadow Brook in Worcester. (all ages, registration required)
Beginner Wildlife Tracking for Adults at Wachusett Meadow in Princeton starts indoors with a one-hour introduction to tracking techniques followed by an outdoor hike to practice putting your new skills to use. (adults, registration required)
North Shore
Celebrate the seasonal return of bald eagles to the region with the annual Merrimack Valley Eagle Festival at Joppa Flats Education Center. Visit eagle hot spots on your own or with an expert guide, then head indoors for nature activities and an up-close view of rehabilitated hawks and owls. (all ages)
Valentine's Day is just around the corner and love is in the air at Wine & Lovebirds: A Valentine's Social at Ipswich River in Topsfield. Enjoy a wine tasting from Mill River Winery of Rowley along with sweet treats and appetizers while taking a lighthearted peek into the beautiful and bizarre truth behind bird courtship and mating. (adults 21+, registration required)
Greater Boston
Explore the wonders of owls with an owl prowl for adults, a full moon owl prowl for families, or an up-close and personal owl encounter at Broadmoor in Natick at this weekend's two-day Owl Festival. (audience age varies by program, registration required)
At Boston Nature Center in Mattapan, learn how you can enjoy honey, beeswax, pollen, and the miracle of bees right in your backyard during the Boston Area Beekeepers Association's Introduction to Beekeeping program. (adults, registration required)
Join a Family Animal Tracking Adventure at Blue Hills Trailside Museum in Milton to become a "Nature Detective" and learn about "stories in the snow" and many other signs that wildlife leave behind as clues to how and where they travel to find food, water, and shelter. (families, registration required)
Take a Sunday Saunter with an expert naturalist through Moose Hill Wildlife Sanctuary in Sharon to look for winter birds and other natural curiosities, then warm up with hot cocoa and coffee back at the nature center. (adults)
South of Boston
During Desserts and Destinations: Trinidad at North River in Marshfield, discover the fascinating bird life and other natural wonders of Trinidad over dessert and learn about the fascinating history of the island's Asa Wright Nature Centre. (adults, registration required)
Explore Oak Knoll after dark on a Family Owl Prowl at the sanctuary in Attleboro. Start off indoors with an interactive presentation, then head outside for a night hike to listen for evidence of our feathery friends.