Go snowshoeing, find nature-inspired gifts, look for owls, search for sea turtles, learn about coyotes, attend a potluck, and more at a wildlife sanctuary this weekend.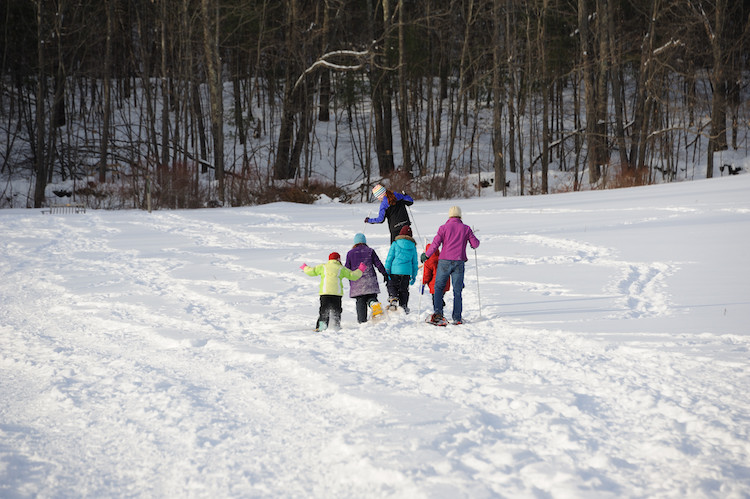 Connecticut River Valley
Attend a Holiday Craft Workshop at Arcadia in Easthampton and Northampton to make nature crafts using recycled, non-plastic materials. Bring your imagination and we'll supply the rest! (families, registration required)
More in the Connecticut River Valley
Central Massachusetts
The snow is here! Head to Broad Meadow Brook in Worcester or Wachusett Meadow in Princeton for a Pop-up Snowshoe Adventure. (adults and children, registration required)
Enjoy a Saturday Morning Bird Walk at Broad Meadow Brook. Discover the immense variety of birdlife that exists at our large urban sanctuary as you explore its trails with an expert guide. (adults, registration required)
North Shore
Shop nature-inspired gifts crafted by local artisans and find something unique for everyone on your list at Ipswich River's Pop-up Holiday Market in Topsfield. Enjoy live music and purchase food from the Sacred Cod food truck and Pure Pastry.
During Joppa Flats' Seabirds of Cape Ann field trip, visit Halibut, Andrews, and Eastern points as well as Brace Cove, Niles Pond, and the Gloucester Harbor area. Target species will include Red-throated Loon, Red-necked Grebe, Harlequin Duck, Black Guillemot, and three species of scoters. (adults, registration required)
Greater Boston
Draw Owls from Life at the Museum of American Bird Art in Canton. This hands-on workshop will help you explore methods for developing your owl sketches, as well as techniques for capturing depth, volume, and texture. (adults and children 15+, registration required)
Take part in Afternoon Chores at Drumlin Farm in Lincoln. Feed chickens and collect eggs, then bring hay to the sheep, goats, and cows. After we finish up we'll treat ourselves to a farm fresh snack. (families, registration required)
Go on an Owl Prowl Adventure at Broadmoor. Under the moon and stars, search and listen for our resident Screech, Barred and Great Horned owls. (families, registration required)
Learn about the behaviors and life history of the coyote, and to look for their signs and tracks as part of Wildlife in the City: Coyotes at Boston Nature Center. Leave with helpful hints on how to coexist with these new city neighbors safely and peacefully. (adults, registration required)
During Stories in Stone at Stony Brook in Norfolk, hike the sanctuary to see and identify various distinctive glacial landforms as well as the evidence of how those stones were put to use in developing New England. (adults, registration required)
South of Boston
Take a Sunset Owl Prowl at Tidmarsh in Plymouth to look our resident owls and those who may just be passing through. (adults, registration required)
Head to North River in Marshfield for a Holiday Open House, where you can shop for unique and locally handmade gifts in a relaxed atmosphere. Enjoy free admission, cider, snacks, craft demonstrations, a Discovery Room for the kids, and more.
Cape Cod and Islands
Join the Sea Turtle Patrol and search for cold-stunned juvenile sea turtles stranded on Cape Cod Bay beaches on the high tide. Learn about sea turtle biology, behavior, and conservation. (adults and children ages 6+, registration required)
Come one, come all to a special Community Potluck that's kicking off a year-long celebration honoring Felix Neck's 50th anniversary! Warm your heart by the fire, make new friends, and reflect on the sanctuary's five decades of inspiring nature heroes.