Practice yoga, search for owls, try science experiments, go on nature walks, look for winter birds, and more at a wildlife sanctuary this weekend.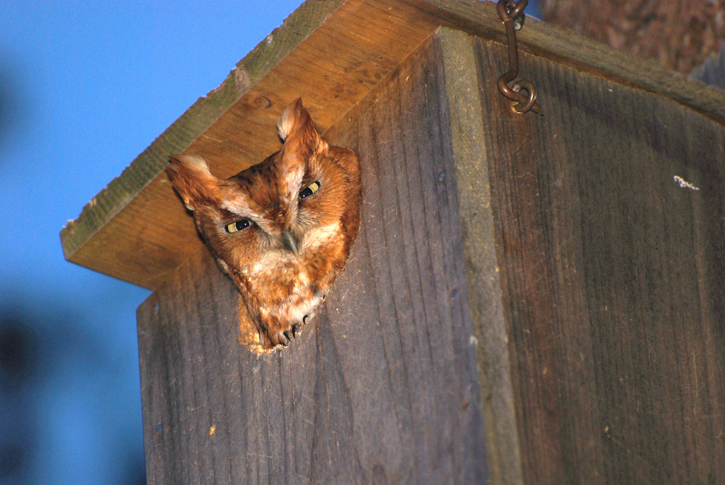 Greater Boston
As part of Yoga and Mindfulness in Nature at Habitat in Belmont, enjoy a 45-minute slow and gentle yoga class indoors and then head outside to explore the trails. (adults, registration required)
During Science Experiments at Boston Nature Center, explore natural wonders. From egg drops to clouds in jars, we have it all. (families, registration required)
Go on an Owl Prowl Adventure under the Moon and Meteors for families and adults at Broadmoor in Natick. Learn about owl calls, behavior, and habitat as we search and listen for resident screech, barred and great horned owls. (families, registration required)
Take a Naturalist Walk at Drumlin Farm in Lincoln to explore and appreciate the world around you. Cover the habitats across the sanctuary from wetlands to uplands as you look for wildlife, trees, and fungi. (adults and children ages 12+)
Join a Sunday Saunter at Moose Hill in Sharon and stroll along the trails to experience nature through the seasons. (adults, registration required)
North Shore
Get an Intro to Tracking Mammals at Ipswich River in Topsfield. Following the indoor introduction, hike the sanctuary to search for tracks, chews, and scat. (adults, registration required)
Search out avian activity in the Newburyport/Plum Island area, one of the best year-round birding locations in the country, as part of Saturday Morning Birding. Beginners and birders of all levels are welcome. (adults)
South of Boston
Go on a Winter Wonder Walk at Tidmarsh in Plymouth to search of scat and tracks, look to the trees for roosting owls, and scour the streams for winter water fowl.

Experience a Twilight Owl Prowl Allens Pond in South Dartmouth by walking 1 mile without flashlights in order to hear the three species of owls that nest on the sanctuary. (adults, registration required)

Explore Oak Knoll in Attleboro after dark by going on an Owl Prowl. Start off indoors with an interactive presentation and owl pellet dissection. Then head outside for a night hike to listen for evidence of our feathery friends. (adults and children ages 7+, registration required)
Cape Cod
Go Birding on a Winter Beach in Eastham to search for snow buntings, horned larks, sea ducks, loons, and snowy owls. (adults, registration required)