Paddle by day or night, take a full moon hike, camp under the stars, go beachcombing, learn to identify woodland mushrooms, and more at a wildlife sanctuary this weekend.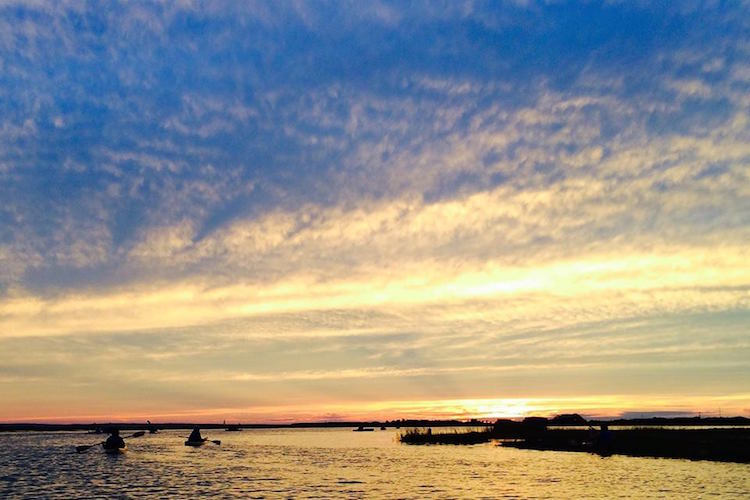 Cape Cod and Islands
Go on a Shorebird Kayak Expedition with Long Pasture to see Cape Cod's elusive shorebirds before they begin to migrate south. (adults, registration required)
See Sengekontacket Pond on the Vineyard via a Moonrise Kayak as we celebrate the different full moons of summer. With a guide, kayak on the pond as the sun sets, stars twinkle, and the moon rises. (adults and children ages 11+, registration required)
South of Boston
Once dusk has settled over the marsh take a Full Moon Hike at Tidmarsh in Plymouth. Stop, look, and listen for creatures that awaken with the setting of the sun. (adults and children ages 8+, registration required)
Head to Duxbury Beach for a Free Family Fun Day to build a few simple kites as we explore the science of flight.
Practice Yoga at Allens Pond in South Dartmouth with nothing but the sounds of birds and nature serving as the backdrop to your practice. (adults, registration required)
Greater Boston
Go Beachcombing at Carson Beach with the Boston Nature Center. Walk the beach looking for shells, driftwood, interesting rocks, and much more! (registration recommended)
Enjoy a night of camping under the stars as part of Moose Hill's Family Camp-Out in Sharon. Make s'mores over a campfire before you drift off to sleep to the sounds of crickets and owls. (families, registration required)
During Boston Nature Center's Pollination Station, see the magic of butterflies take wing. Go for a walk to learn how to identify butterflies and make a take home butterfly craft. (families, registration recommended)
North Shore
Drop in to Joppa Flats before the beach, after the beach, or instead of the beach to Meet Beach Creatures in a 110-gallon tide pool touch tank. Volunteers interpret the amazing animals you may or may not have seen on your own beach visits and answer all the "why, what, how" questions you want to know.
Search out avian activity in the Newburyport/Plum Island area, one of the best year-round birding locations in the country, as part of Saturday Morning Birding. Beginners and birders of all levels are welcome. (adults)
Central Massachusetts
Learn to connect with the natural world in a healing, calming, grounding, and replenishing way through a Shinrin-Yoku "Forest Breathing" Guided Sanctuary Walk at Wachusett Meadow in Princeton. Slow down and breathe in the "medicine" of nature. (adults, registration required)
Connecticut River Valley
Learn about the Secret Life of Woodland Mushrooms at Arcadia in Easthampton and Northampton. After a presentation indoors, members of the Pioneer Valley Mycological Association will lead walks to find and identify mushrooms in the Arcadia woods. (adults, registration required)
More in the Connecticut River Valley
Berkshires
You have three opportunities to canoe in the Berkshires. Canoe the October Mountain State Forest by day, enjoy a Moonlight Canoe at dusk, or Canoe the Housatonic River on Sunday morning. (adults and children ages 10+, registration required)