Go canoeing, learn about beavers, look for butterflies, save on binoculars, practice yoga, and more at a wildlife sanctuary this weekend.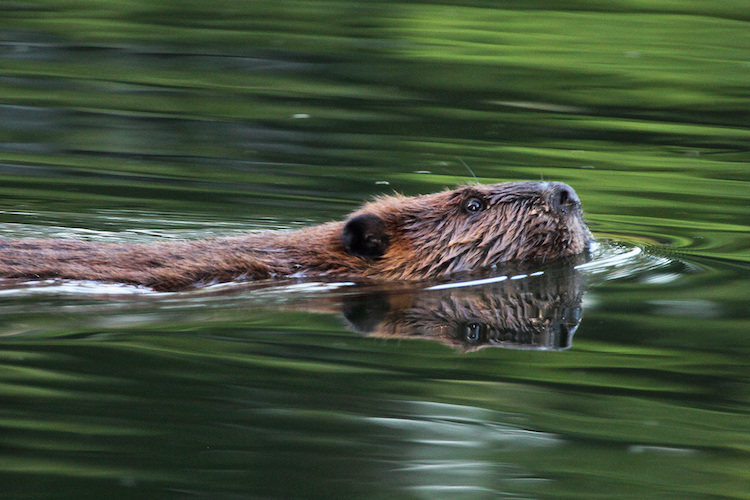 Berkshires
Canoe the Housatonic River in Lenox. During this leisurely paddle watch for swallows, herons, kingfishers, muskrats, and signs of beavers and learn about why the waterway is the natural heart of the Berkshires. (adults and children ages 10+, registration required)
Find out about Animals A to Z at Pleasant Valley in Lenox. Search for all the critters, from ants to zooplankton. Bring a picnic to enjoy the evening. (families, registration required)
Connecticut River Valley
During Beavers at Laughing Brook in Hampden, learn about these unique mammals and then head out on the trails looking for beaver dams, lodges, trees, and other signs that beavers have been busy! (adults and children, registration required)
Canoe the Arcadia Marsh along with the Connecticut River oxbow and the Mill River on this leisurely canoe trip in Easthampton and Northampton. Learn about the wildlife that inhabits these areas and the ever changing landscape. (adults, registration required)
North Shore
Enjoy Nature Walks & Journaling with Joppa Flats in Newbury. Discover seasonal vegetation and blooms on short walks then create memorable journals using writing, drawing, watercolor painting, and photos. (adults, registration required)
Drop in to Joppa Flats in Newburyport before the beach, after the beach, or instead of the beach to Meet Beach Creatures in a 110-gallon tide pool touch tank. Volunteers interpret the amazing animals you may or may not have seen on your own beach visits and answer all the "why, what, how" questions you want to know.
Greater Boston
Take a free Coastal Bird Walk at Belle Isle Marsh to learn more about Boston's coastal birds. Belle Isle Marsh offers a unique birding experience as it is close to urban life, but also has a highly productive coastal ecosystem. (adults, registration required)
It's Turtle Time at Blue Hills Trailside Museum in Milton. Start inside with a hands-on investigation of turtle artifacts, an up-close visit with our resident turtles, a story, and a turtle craft. Then visit Trailside's pond to watch turtles in their natural habitat. (families, registration required)
The gardens are in full swing, and producing some great, fresh, seasonal food. Head to Boston Nature Center in Mattapan for Garden Harvest to survey the garden, learn tasty recipes, and make a garden salad and fresh tea. (adults and children, registration required)
Go on a Naturalist Walk at Drumlin Farm in Lincoln to explore the many habitats of the wildlife sanctuary while building an understanding of ecological communities and our mutual interdependence. (adults and children ages 13+, registration required)
Visit the Mass Audubon Shop in Lincoln for Tax-Free Weekend savings and get 20% off Zeiss and Swarovski binoculars and spotting scopes! 
South of Boston
Head to Duxbury Beach for a Family Fun Day all about Shorebird Feeding Adaptations. Learn how shorebirds all eat at the same table and compete with each other for the shoreline's bounty.
Practice Yoga in the Stone Barn at Allens Pond in South Dartmouth with nothing but the sounds of birds and nature serving as the backdrop to your practice. Taught by a certified instructor from School of Yoga New Bedford, this program is suitable for yogis of all levels. (adults)
It's All About Bees and Butterflies at Tidmarsh in Plymouth. Take a short walk, explore, and learn new things about different plants, animals, and other parts of nature. (families, registration required)
During Oak Knoll's Family Exploration in Attleboro, dive into our worm bin and discover the secret lives of these wiggly creatures and other hard working insects. (families, registration required)
Cape Cod and Islands
Enjoy an Early Bird Walk at Wellfleet Bay. From pine woodlands and freshwater pond to salt marsh and beach, the sanctuary's diverse natural communities offer diverse bird sightings. (adults, registration required)
Kayak the Herring River in Harwich, one of the most wild and scenic rivers on Cape Cod. Wildlife abound along the peaceful banks and expansive marsh. (adults, registration required)