Take part in an egg hunt, check for osprey, clean up a beach, go birding, search for salamanders, look for wildflowers, and more at a wildlife sanctuary this weekend.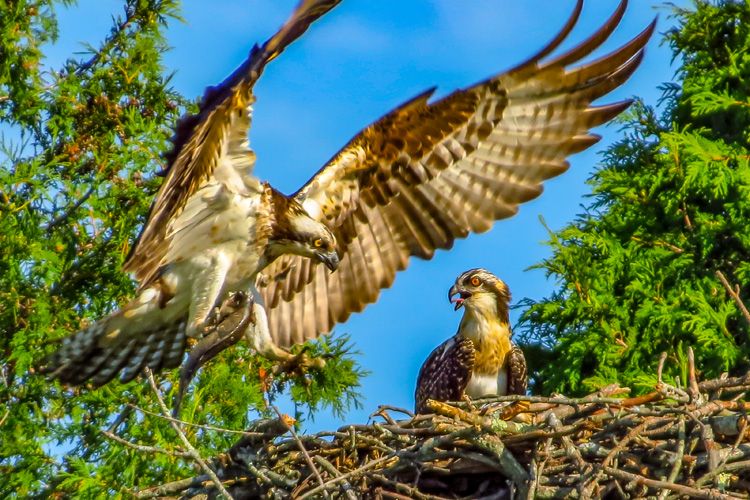 South of Boston
Go on an Egg Hunt at Oak Knoll in Attleboro. Dye eggs with natural dyes, create a bird nest, match different eggs to the animals that laid them, meet live rabbits, and search the sanctuary for hidden eggs! (families, registration required)
Help Allens Pond in South Dartmouth conduct Osprey Nest Checks along the Westport River. Along the way, learn valuable insight into the lives of osprey. (all ages, registration required)
Cape Cod and Islands
During Bird Research in Action! at Wellfleet Bay, meet James and the rest of the bird banding team to learn about banding methods and the information gathered from this research. You will likely get to see live birds up-close and observe the banding process. (adults and children ages 8+, registration required)
Take part in an Earth Day Beach Clean Up at Felix Neck in Edgartown. Walk along our shoreline collecting trash along the way. Afterwards head on over to the after-party at Sailing Camp Park in Oak Bluffs.

Central Massachusetts
Get to know Spring Wildflowers during one of Broad Meadow Brook's Essential Nature classes in Worcester. (adults, registration required)
North Shore
Go Saturday Morning Birding in the Newburyport/Plum Island are — one of the best year-round birding locations in the country. Beginners and birders of all levels are welcome. (adults)
Make a Cedar Bark Basket at Ipswich River in Topsfield. While working, discuss the harvest and preparation of materials, as well as the history behind the discovery and replication of these very old baskets. (adults, registration required)
Greater Boston
Birders and non-birders of all ages and skill levels are invited for a Morning Bird Walk at Habitat in Belmont. Look for signs of migrating species, mating behaviors, and nest building.
During Salamanders and Citizen Science at Moose Hill in Sharon, hike to a vernal pool, look for egg masses, determine if they are yellow spotted salamander or wood frog, and count how many egg masses of each type we find. (families, registration required)
Become a Neighborhood Naturalist at Boston Nature Center. Using the iNaturalist app, identify the wildlife we find and help scientists collect valuable information on species populations and distributions. (families, registration required)