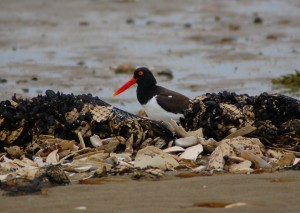 Still got some energy after the July 4th celebrations? Then join us for an outdoor adventure! Here's a preview of what we have planned for the weekend.
Join a teacher-naturalist from Joppa Flats and the crew of the Yankee Clipper for a morning Harbor Seal Cruise on Saturday and Sunday. (registration required by 4 pm the day before the cruise.)
Wellfleet Bay's Scenic Nauset Marsh Discovery Cruise travels through Nauset Marsh in a pontoon boat in search of shorebirds and other wildlife. Learn about salt marsh ecology and the cultural history of the area. (registration required)
Spending time on the Vineyard? Walk the beach with our shorebird biologist to search for American Oystercatchers and Piping Plovers, and identify bird and mammal tracks in the sand during Felix Neck's free Beach Tracking program.
On the South Shore, spend Saturday morning with your family at Duxbury Beach learning about the creatures that live there and their special adaptations during the free Duxbury Beach 2012: Family Fun at the Beach program, funded by Duxbury Beach Reservation.
Back on the Cape, learn to read the signs of the tidal flats, such as twisting trails, holes, and mud piles, that reveal how creatures live, walk, eat, and burrow down under during Long Pasture's Tidal Flat Explorations.
Join the Connecticut River Valley Sanctuaries on Sunday to look for blooming orchids such as grass pink and fringed orchid, all three native insectivorous plants, and the many members of the heath family that make the Hawley Bog their home. (registration required)
For a full listing of programs happening this weekend, visit our online program catalog, where you can now register online for many of our programs.