As more and more people discover the power of spending time outdoors, we're doing everything we can to offer more opportunities to experience nature. In fact, one of the main goals in our new five-year Action Agenda is creating inclusive and equitable access to nature by opening more than 50 miles trails, creating three new urban sanctuaries, and protecting and restoring 17 urban green spaces. And three recent openings are prime examples of how we are accomplishing this goal.
New Pathways in Natick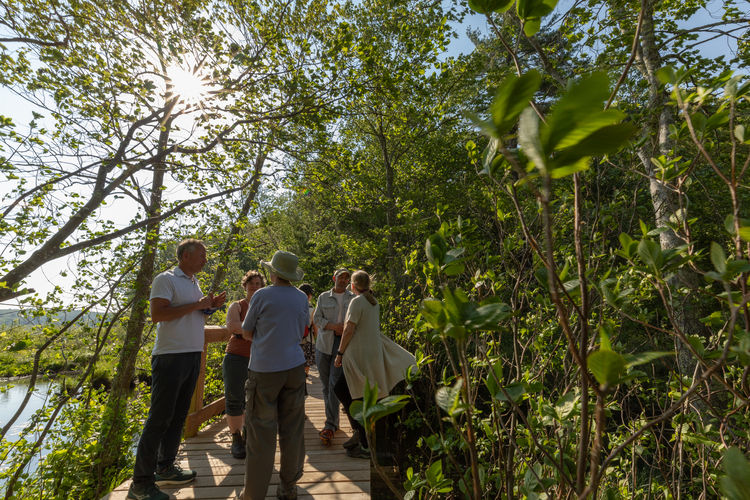 Over the years, Broadmoor Wildlife Sanctuary's well-loved trail system has been compromised by heavy use, flooding, and erosion. Many trails were old cart paths, not designed for large numbers of visitors, and others have been impacted by beaver activity. Heavy storms due to climate change have also affected many locations.
To ensure safe, accessible, and enjoyable connections to nature for all people, while protecting the habitats for the plants and animals, we launched an effort to improve our trail system following a comprehensive study completed by Peter Jensen, a nationally recognized trail-development expert. The plan addresses all nine miles of trails making reroutes, creating scenic viewpoints, adding puncheon and bog bridges, and much more. Improvements began in 2019 engaging volunteers, school groups, Mass Audubon campers, and others in the process.
In May 2021, we untied the ribbon on the first phase of the project, which included the opening of a new trail and scenic bridge overlooking Little Farm Pond, replacing an unsafe and often flooded plank walkway. The event, which welcomed Mass Audubon President David O'Neill, Mass Audubon Board Chair Beth Kressley Goldstein, Metro West Director Renata Pomponi, Project Lead Elissa Landre, Mass Audubon staff, Board members, volunteers, and partners, also served as a wonderful opportunity to launch the Action Agenda.
Easier Access in Attleboro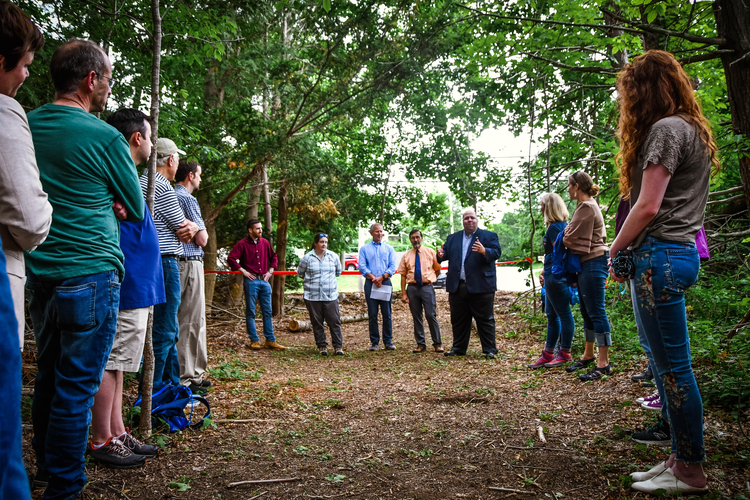 Oak Knoll Wildlife Sanctuary in Attleboro, located right on Park Street, has long been a center for the community. Now, with the opening of the new Knoll Stroll Trail, the sanctuary is accessible via public transportation, reducing a barrier to enjoying this nature oasis in the city.
Connecting to the GATRA bus has long been a priority for the sanctuary. Thanks to the acquisition of the 26-acre Dorrance property in 2019, the vision became a reality. Now, visitors can walk 50 feet from the bus stop and be immediately immersed in nature via the new "Knoll Stroll" and the almost two miles of trails including a loop around Lake Talaquega.
To celebrate the trail opening, David O'Neill joined South East Director Lauren Kras, Attleboro Mayor Paul Heroux, State Representative Jim Hawkins, State Senator Paul Feeney, longtime sanctuary supporter Ted Leach, and Brian Hatch of Hike Attleboro.
An Accessible Barn in Lenox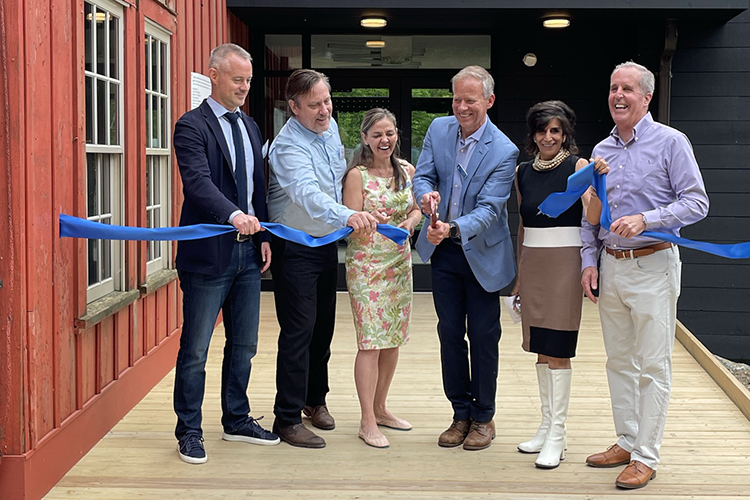 For more than 90 years Pleasant Valley Wildlife Sanctuary has welcomed visitors and served the community as a vibrant hub of conservation, environmental education, and outdoor recreation in the Berkshires.
Our creative nature-based programming is seen as a vital community resource that supports curiosity, scientific exploration, and self-discovery. But the sanctuary's aged facilities lacked the accessibility and amenities needed to support collaboration, creativity, and expansion.
In order to welcome and accommodate the diverse needs of modern visitors, the sanctuary launched and completed the $1.125 million Opening Doors to Nature campaign. The centerpiece of this effort, an energy-efficient and universally accessible addition to its 18th-century barn, is now open for all to enjoy.
The opening celebration was an opportunity to thank donors and supporters, including Mass Cultural Council for their generous $300,000 in support. Also joining West Director Becky Cushing Gop and President David O'Neill to cut the ribbon were Lenox selectboard chair Neal Maxymillian and State Rep. William "Smitty" Pignatelli.