On May 15, we lost a member of our family, someone whose work embodied the integration of education, science, conservation, and community-based advocacy.
Liz Duff worked for Mass Audubon for more than 20 years and contributed greatly to our education and engagement efforts on the North Shore, working with partners throughout New England.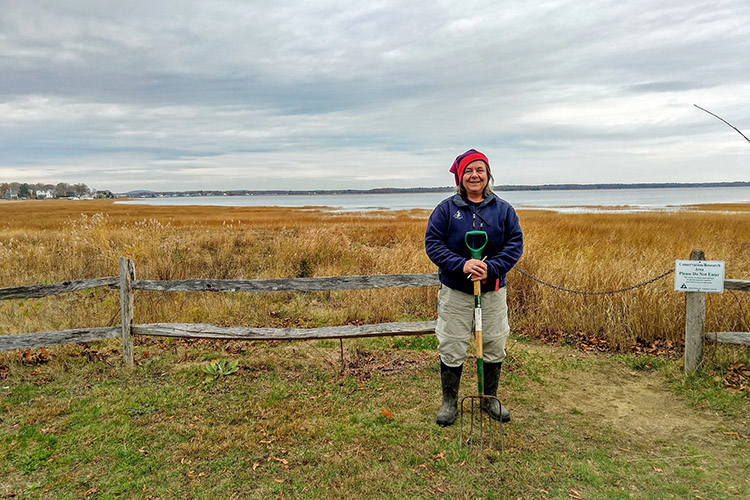 She leaves our community with a strong and lasting legacy of meaningful environmental education and activism that has transformed the land and people that she so dearly stewarded and loved. Her contribution to students and teachers across the region and her collaboration with colleagues — across Mass Audubon and beyond — will influence how we connect youth to their local ecosystems for years to come.
Whether in the field with classroom teachers, helping connect students with authentic environmental research, or showcasing youth research at the annual Coastal Science Conference that she hosted with Plum Island Long Term Ecological Research, her commitment to her students of all ages was profound. It is incredible to imagine how many students and educators she influenced over the decades.
Liz's programs, the conference, and community events all demonstrated what an agent of change she was in this region. The number of schools, individuals, government agencies, and community-based organizations that Liz worked with are too many to mention, but each and every one of them was part of the strong network of webs that Liz helped to weave over the years.
Most of all, Liz was a conservationist who cared deeply about her work and the health of the planet. She will be deeply missed here at Mass Audubon and in the greater conservation community.
At Mass Audubon, we are pleased to announce a new award in Liz's honor. The Liz Duff Excellence in Environmental Education Award will be presented annually to recognize a professional who has developed and implemented field-based environmental education program that combines scientific investigation and civic engagement with the goal of having a positive impact of one's community.
While we all wish Liz was still in the field, in her waders with a group of enthusiastic and engaged students, we hope that this award will allow her life's work to continue to inspire others who also aim to connect people to nature and protect our planet.