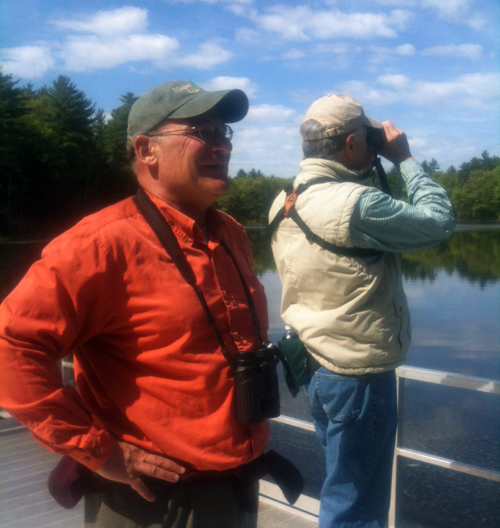 During the second week in May, arguably the peak of the spring season for eastern migratory birds, I had the enormous pleasure of going birding in different locations with different groups of staff, volunteers, and supporters. It was a tough assignment, but somebody had to do it!
It started Wednesday when I joined an enthusiastic group of more than 30 participants at Parker River National Wildlife Refuge for Wednesday Morning Birding, led by our knowledgeable, patient, and indefatigable Joppa Flats sanctuary director, Bill Gette. The day was perfect, bursting with sunlight streaming over the magnificent coastal landscape.
On our right we scanned the tidal marshes and salt pannes for egrets, shorebirds, gadwalls, ospreys, and eagles—seeing them all. On our left, the low trees and shrubs were exploding with hungry warblers. At one point we gathered under an oak tree that looked like it was literally blossoming with migrants: blackpoll, black-and white, blackburnian (in full flaming orange, truly one of the most beautiful birds in North America), black-throated blue, black-throated green, northern parula, and yellow-rumped warblers, along with a blue-headed vireo. In just three hours, we ended up seeing more than 60 species.
Early the next morning, I was invited to join a reunion of loyal participants in Mass Audubon's Natural History Travel Program organized and led by Chris Leahy, Mass Audubon's Bertrand Chair of Ornithology, and Karen O'Neill, the director of our travel program. The group was informal and worldly, and they had formed strong bonds of friendship and affection during their international adventures. We walked through the iconic landscapes of Mount Auburn Cemetery and saw species like scarlet tanager, greatcrested flycatcher, and of course more warblers.
Finally, on Saturday, it was time for my first Bird-a-thon, Mass Audubon's premiere fundraising birding event, which is celebrating its 30th Anniversary this year. Teams of birders, ranging from nationally recognized experts to eager beginners, form teams and try to see (and hear) as many species as they can during a 24-hour period, taking pledges for the number of species recorded, and donating the proceeds to Mass Audubon. This is a fun, mission-driven event, and it raises substantial support for our organization.
I determined my own pledge and joined Jeff Collins, our Director of Ecological Management, and Gary Clayton, Vice President of Conservation on Saturday morning. We took a long walk at the Assabet National Wildlife Refuge in Sudbury, carefully making our way through expanses of woodland, wetlands, and grasslands. We saw or heard swamp and field sparrows, scarlet tanagers, and a group of common nighthawks, flying high and incongruously in the sun-filled sky. Beyond the birding, I learned from Gary and Jeff about the fascinating land-use history of the former military base and current refuge.
And if that wasn't enough, I also visited Mass Audubon's Stony Brook Wildlife Sanctuary in Norfolk and Allens Pond Wildlife Sanctuary in South Dartmouth, meeting with staff and advisory committees. All in all, it was a packed and delightful week of birding, a continuation of my orientation, and time exceptionally well-spent with Mass Audubon's committed supporters and staff.  I hope I'll have many more weeks just like this one!
– Henry Tepper, president Mass Audubon