Distinguishing a moth from a butterfly should be easy, right? Well, it may be harder than you think. Butterflies are renowned for their bright colors, and moths have a reputation for drabness and nighttime flight—but many don't fit this pattern.
Butterflies and moths are very closely related, and belong to the scientific order Lepidoptera. Though butterflies may steal the show in your garden, there are far more moth species than butterfly species. Here are four things to keep in mind when trying to tell them apart.
1. Color isn't everything: Some butterflies are dull and some moths are colorful.
There are plenty of bright, showy butterflies, but many of our local species have subdued hues. This common ringlet (Coenonympha tullia) is a good example.
And while it's true that most moths aren't as colorful as butterflies (bright colors aren't as visible at night when many moths are active), there are plenty of exceptions. Here in Massachusetts you'll find moths in a rainbow of hues. Just look at the rosy maple moth (Dryocampa rubicunda).
2. Most moths fly only at night—but some fly during the day.
You'll usually see butterflies flying during the day, and moths at night. But beware—some moths are active in the daytime. A few, such as this snowberry clearwing (Hemaris diffinis), will even visit flowers alongside butterflies and hummingbirds. Learn more about these hummingbird moths.
3. Many butterflies hold their wings together vertically, whereas most moths don't.
This mourning cloak (Nymphalis antiopa) is holding its wings together above its back in a pose more typical of butterflies.
Moths, on the other hand, tend to assume one of two poses. They'll either rest with their wings held to the sides, as in this common lytrosis (Lytrosis unitaria)…
…or with their wings laid against their backs, as in this banded tussock moth (Lophocampa tessellaris).
But there are exceptions. Some butterflies will even hold their wings in a confusing mix of horizontal and upright, as in this dun skipper (Euphyes vestris).
4. One of the best ways to tell them apart is to look at their antennae.
All butterflies and moths have antennae—a pair of long sensory organs between their eyes. In most butterflies there's either a thickened club or hook shape at the end. Check out the black blobs on the antennae on this silver-bordered fritillary (Boloria selene).
The antennae of moths lack these thickened tips. Also, some are covered with little projections, making them look like combs or feathers, as in this non-native gypsy moth (Lymantria dispar dispar).
Now it's time to test yourself. Can you tell if this is a moth or a butterfly?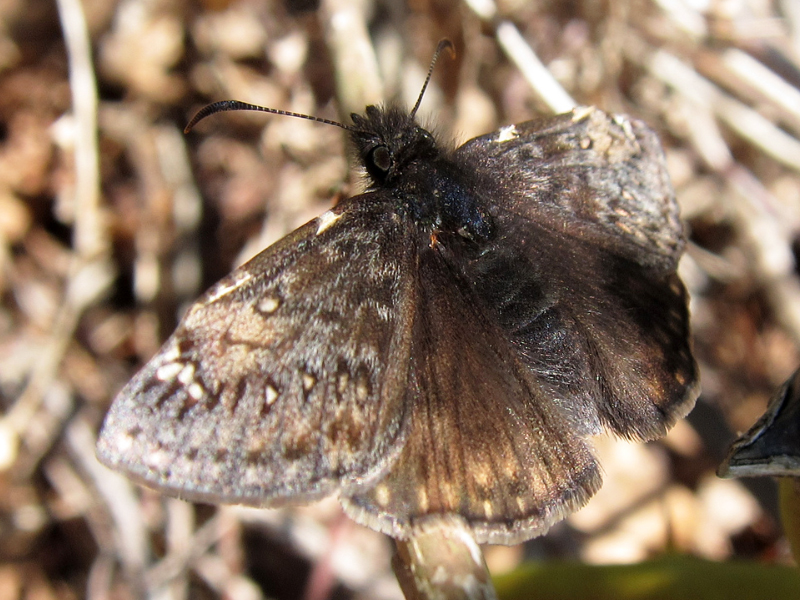 If you guessed butterfly, you're right. This Juvenal's duskywing (Erynnis juvenalis) isn't the most colorful insect, and it tends to lay its wings flat. However, the ends of its antennae are thickened (in this case, they're hook-shaped).
For more on the amazing members of Lepidoptera, join one of our butterfly and moth programs.