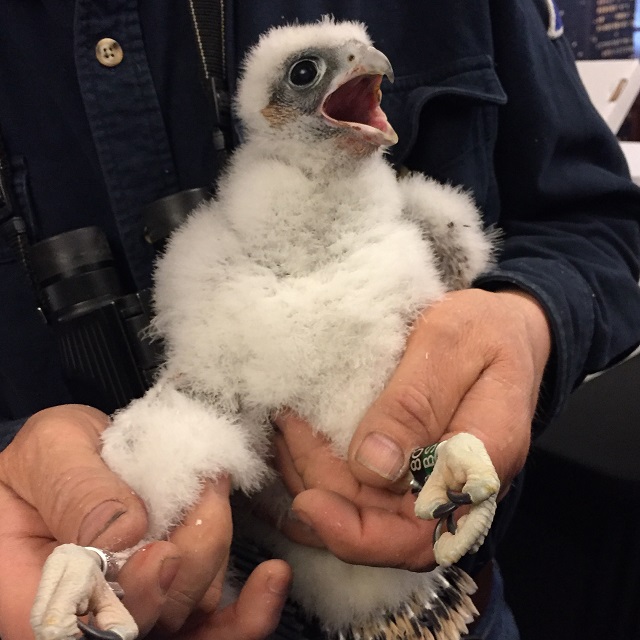 Norman Smith, Director of Mass Audubon's Blue Hills Trailside Museum, and Tom French, Director of Mass Wildlife's Natural Heritage and Endangered Species program, completed another successful banding of Peregrine Falcon chicks in the clock tower of the Marriott Vacation Club Pulse at Custom House in Boston. The duo has been banding falcon chicks in this location since 1987.
The bands provide researchers like Smith and French valuable information about the behavior of these endangered birds. For example, we know that the female "mom" was banded in Providence in 2009 and has been at the Custom House since 2011.
Check out photos from the banding >
About Peregrine Falcons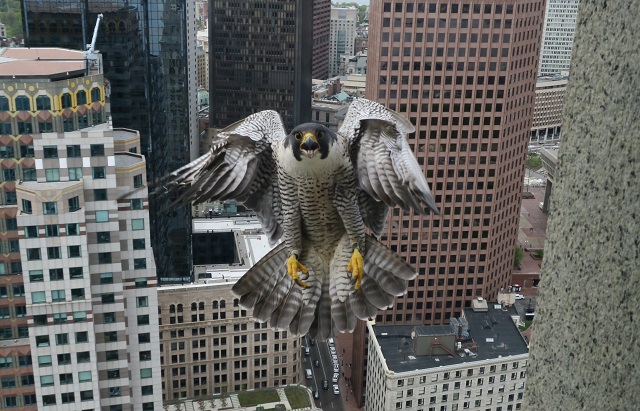 Peregrine Falcons are the fastest birds on earth, capable of flying up to 242 miles per hour. Their speed and wicked sharp talons make them incredible hunters. They have the unique ability to capture and kill other birds in flight, everything from blue jays to American woodcocks, before returning to the nest.
Upon examining the nesting platform at the Custom House, French found feathers and bones from blue jays, a parrot, a brown creeper among others. Learn more about Peregrine Falcons in Mass Audubon's Breeding Bird Atlas and MassWildlife's fact sheet.
A Success Story
Once an abundant breeder in the eastern United States, with a recorded 375 nesting pairs in the 1930s and 1940s, these falcons fell prey to the effects of DDT. The last historical active nest in Massachusetts was in 1955 on Monument Mountain in Great Barrington. According to MassWildlife, the pesticide caused the falcon's eggs to be too thin and unable to withstand the weight of incubation.
By 1966, not a single nesting pair could be found in the eastern US. After the banning of DDT, an effort to restore the Peregrine population ensued. Dubbed "hacking," young falcons were raised in captivity in a special way to avoid imprinting (this is when they become used to humans).
After a few attempts of releasing these captive-breed young falcons (including a release at Mass Audubon's Drumlin Farm Wildlife Sanctuary in Lincoln), the first modern falcon nest in Massachusetts was deemed successful in 1987.
Today, there are approximately 30 nesting pairs of Peregrines in Massachusetts. They are found on top of buildings and bridges—the closest thing to the rocky cliffs they once preferred. This year's Custom House brood will head out on their own, bands intact, in approximately three-to-six weeks. In another two years, they will hopefully breed and thereby ensure the Peregrine population continues to grow.
Watch the Chicks Grow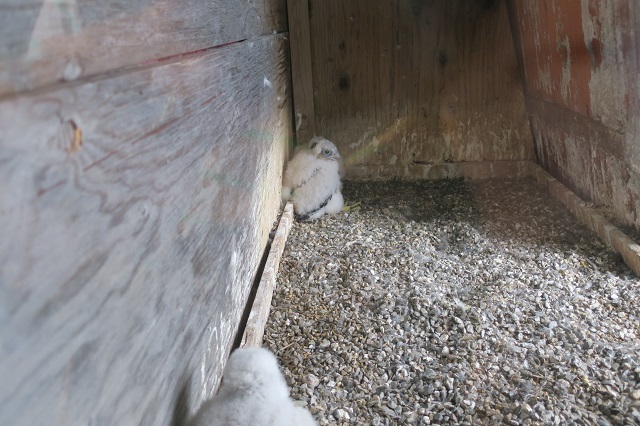 There are live cams set up in several nesting locations, including the Custom House, so that you can follow along with the progress. Watch the live streams: