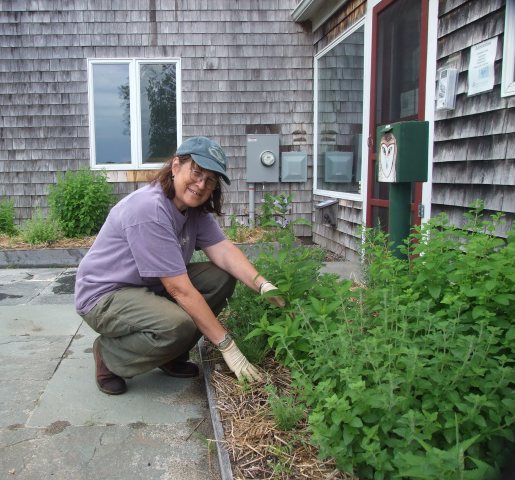 If you have ever been to Felix Neck Wildlife Sanctuary on Martha's Vineyard during the summer, there's a good chance you had an encounter with a mosquito, or 1,000. Turns out, these pesky insects love the wildlife sanctuary just as much as we do.
It's one thing to have them on the trails, but each season they take over the Nature Center, where we host programs for kids and adults of all ages. The mosquitoes lurk in the tall grass that surrounds the front of the center, just waiting for the door to open so they can make their grand entrance.
Enough was enough, and the team at Felix Neck, led by sanctuary director Suzan Bellincampi, decided to do something about it. First step: remove the unruly grass and replace it with gravel all around the building. Then Sue, a long-time volunteer and garden maven, suggested installing an anti-mosquito, or mosquito-repellent, garden. Or, as we like to call it, a "scented garden."
The Makings of Scented aka Mosquito Garden
Scientifically, we know that mosquitoes are attracted to the carbon dioxide we breathe out. So unless we stop exhaling, mosquitoes will keep on coming. We also know that, in an effort to create a more "natural" mosquito repellent, many manufacturers have turned to nature's bounty for scents that have been suggested to ward of these little buggers.
Taking a cue from Mother Nature herself, we decided to go right to the plant source that provides repellent properties to all those off-the-shelf products. Our volunteer built some raised beds and installed plants that are believed to have anti-mosquito properties. In our scented garden you will find:
Lemon Balm
Eucalyptus
Marigold
Garlic
Lemon Verbena
Basil
Sage
Scented Geranium
Nasturtium
Catmint nepeta
Sweet Annie
Lemongrass
Rosemary
Fennel
The season has just begun, but we have already noticed a decrease in the number of mosquitoes indoors. Is it because of the garden? Or was removing the grass enough to do the trick? There's still much to learn and observe before we can deem the experiment a success.
Regardless of whether or not it really repels mosquitoes, we now have a lovely, scented garden that visitor can see, smell, and touch. Seems like a win-win situation to us!