Our Sincere Appreciation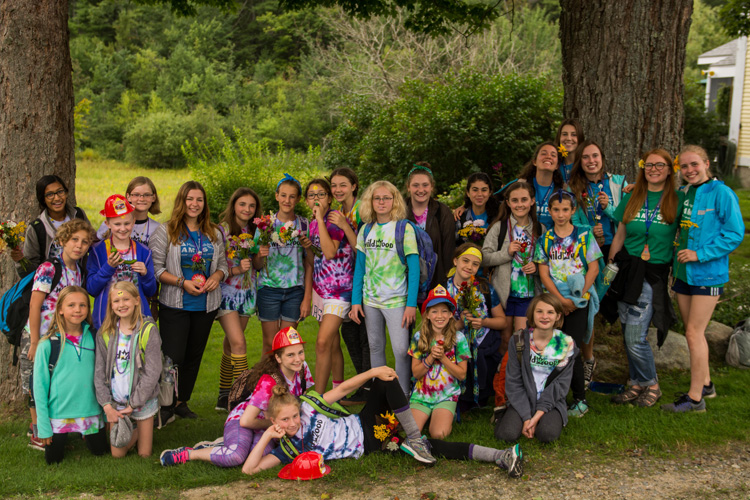 We have so much to be thankful for at Wildwood this year. It was a year filled with fun and games, new and old faces, new and old traditions, and lots of laughter and smiles. Best of all, it was a year filled with generosity and support from our amazing Wildwood Friends & Family.
For the second year in a row, we received a grant from the Edith W. and John A. Dockray Charitable Foundation for the Hubbard Pond Campers Program! We are so grateful for their support, which allows us to continue to provide opportunities for kids and families from under-resourced communities in Lowell and Cambridge to come to Wildwood, tackling all possible barriers to the transformative experience of camp.
Thank you to the 254 families who donated to Wildwood in the past year. Your gifts supported our day-to-day operations, improvements to our facilities, and camperships. Will you join them?D
Thank you especially to the following people and organizations who donated $25 or more between December 1, 2017 and November 30, 2018:
Dan & Melissa Albert
Irina Badayan & Mark Leblanc
Laurie & Raymond Ball
Linnea Bardarson & Joel Wolfe
Blythe D. Berents
Jennifer Bingham & Anne Marie Fabriele
Kristin Boudreau & Kesler Roberts
Kyle Branin
Jay Brewer & Maya Bazar
Bright Funds Foundation
Jennifer Cameron & Robert Walsh
Lisa & Peter Cash
Lucy Chie & Justin Campbell
Maria Isabel Chiu
Jeff Coccoluto & Jenny Braiman
Dwight & Laura Cooper
Lauren & Robb Corduck
Mary Elizabeth Cranton & Scott Cranton
Mary Dockray Miller & Michael Miller
Jennifer & Timothy Dorsey
Ryan H. Dorsey
Edith W. and John A. Dockray Charitable Foundation
Matthew & Jennifer Ender
Anne Engelhart & Doug Durant
Lori Etringer
April Evans & David Douglas
Brant Firestone & Rosemary Barrett
Jeffrey Fruithandler & Lynne Nightingale
Sandra Gaudet
Lorna Gibson & Jean Hess
Kristen & Rick Godin
Timothy Goodger & Monique Ardell Goodger
Gordon Hardy & Alice Dunn
Jennifer Harris & David Condon
Harvard Pilgrim Health Care
Heather Hill
Amy & Simon Horsburgh
Kate & Michael Hurley
Robert Hutchinson & Elizabeth Callanan
Lou Jordano & Carolyn O'Brien
Janet Lane & David Armstrong
Gordon & Sandy Ledgard
Andrew Levinson
Jennifer Lewis-Forbes & Andrew Forbes
Mary-Margaret & Michael Little
Brenda Mahnken & Robert Greenberg
Kimberly Mastis & Christopher Meola
Brian & Kim McLeod
Katherine McVety & Jonathan Feinberg
Christopher Meissner & Alexis Vasquez Meissner
Kelly & Jeffrey Moriarty
Vanessa Hunnibell Moroney & Ray Moroney
Welch & Natalie Narron
Michelle Oishi & Marc Mamigonian
Jenny Outman
Aimee Pease Fox & Matt Fox
Valerie Perkins & Stephen Ervin
Cris Ratiner
Ann & Gant Redmon
Jonathan Rubel & Naomi Sofer
Melina Salerno & Kathy Sanders
Nicole & Erich Salomon
Tina Scioletti
Edith & Christopher Shipley
Nancy & Stephen Sofen
Robert Speare & Martha Worthy
Meredith Stensaas
Naline & Jim Stewart
Beth Sullivan & James Perrine
Liam Sullivan & Susan Lacefield
Frances Waltman
Christopher & Carrie Wiley
Amanda Zoellner & Bryan Fink
Anonymous
And thank you to 180 additional donors whose combined gifts came to over $1,400!
Here's to an even more amazing 2019 to come!