Best wishes to all Wildwood families as 2015 comes to a close and the countdown to Wildwood camp 2016 begins. Thank you all for your support of Wildwood this past year, all of which helped us have an incredible summer of camp. During this time of the year, I like to take a moment to consider the things that make camp special, and why so many campers return to Wildwood each summer.
Camp encourages everyone (campers and staff alike) to step a bit outside their regular comfort zone and discover self-confidence and problem-solving skills. Wildwood also gives campers the opportunity to develop close new friendships with other young people who might not have otherwise come together. One camper this summer remarked that they enjoyed, "…spending time with people with interests different than my own. I might not have even met them if they lived in my hometown."
For those reasons, and so many others, we are committed to providing the best possible experiences for all new and returning Wildwood campers in 2016. Next summer's campers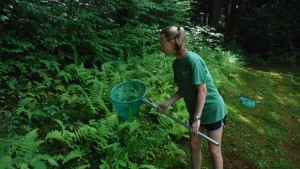 can expect to see more of what makes Wildwood overnight camp so special: responsible and devoted staff, a caring community, and a strong focus on natural history education. Have a great holiday season and New Year and I look forward to seeing you all back at camp!