The 2021 diamondback terrapin nesting period is over and Wellfleet Bay's terrapin monitoring teams* are looking forward to the well-deserved break until all those nests begin to hatch! The hiatus will last anywhere from as little as 60 days to as many as 90 before hatchlings emerge or any late-hatching nests are opened to determine their outcomes.
Solid Numbers
Nest numbers ranged from steady to above last year's results: 68 nests were protected at the sanctuary and 125 at Lieutenant Island, comparable to 2020.  Eastham had 197 protected or marked nests, a nice jump from last year (170), and our two sites in Orleans—Henson's Cove and Nauset–had 13 and 6 protected nests, respectively.
Busy Predators
But the predators had success, too. This year raccoons seemed especially active. The number of nests eaten at the sanctuary, which usually enjoys a relatively low rate of depredation, was more than double—22 versus 10 last year. Eastham reported 106 depredated nests compared to 45 in 2020. Sites in North Wellfleet, especially Indian Neck, experienced losses to predators on a regular basis.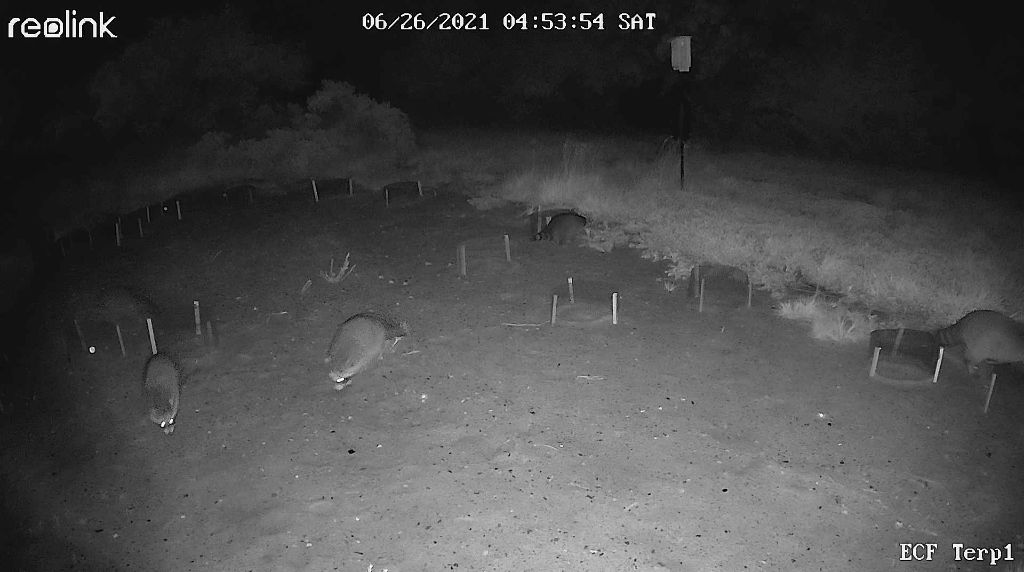 Sanctuary director emeritus Bob Prescott, who oversees the terrapin program, says while raccoons are nothing new at the sanctuary, in some years they've based themselves at the campground instead of the turtle gardens. He speculates that at Lieutenant Island raccoons may have taken over some territories from foxes, which have been reduced in number by mange.
So, for now, we keep our fingers crossed the raccoons and foxes will take a break too, and that our protected nests can also withstand thirsty plant roots, ants, fly larvae, and the other dangers that lurk as those eggs develop and, we hope, hatch!
*Some volunteers will continue to monitor the predator excluders–the small cages we place over the terrapin nests– to make sure they remain intact for the next 2-3 months.