I'd never done anything remotely resembling bird banding in my life. My education and my career are in French language, culture, and literature. Until I started at the banding station several years ago, I had never even held a bird in my hand. What made me think I could extract a bird safely from a net, put it into a cotton bag, and deliver it to the banding station? I had no idea, but I was intrigued and knew it would be a unique experience.
On the surface, the volunteer responsibilities are clear enough: get up at 3 a.m. (at least in my case), help set up the 25 mist nets at sunrise, extract birds safely from the nets, deliver them to the station unharmed, take down the data provided by the banders, remove and pack up the nets. In reality, it's much more complicated.
Even putting up and taking down nets is a challenge. Done incorrectly, twisting the nets or dropping one, becomes a major headache. You could end up spending the next several hours removing leaves, twigs, grasses from the delicate net strands without actually making a hole. Thankfully, I've never dropped a net but it's one of my nightmares.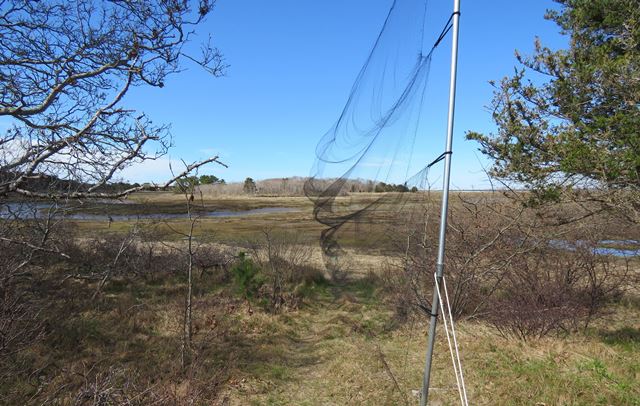 But despite the stress, checking the mist nets is the most satisfying, focused, and enjoyable part of the volunteer job. It involves walking a total of 4-7 miles per shift, trying to keep up with people who are all 20 to 40 years younger than I, extracting the birds successfully, bringing them back to the station, and accurately recording the data the banders call out. Recently at the end of our shift, James Junda, who oversees the banding station, said to us: " We had 75 birds today. We were all in a groove." High praise indeed and very much appreciated by all of us.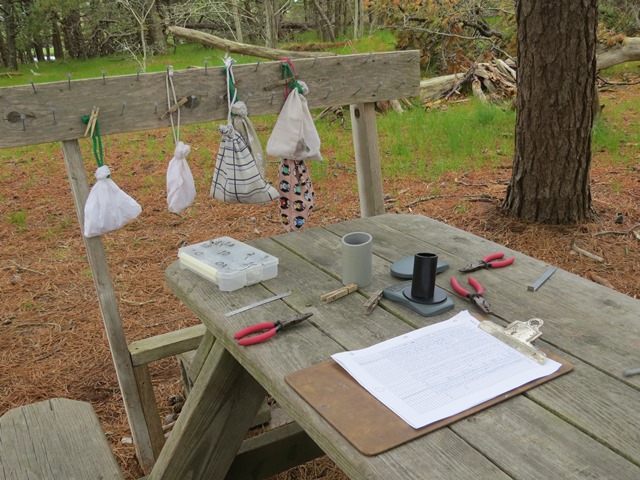 As a scientific research project, licensed bird banding has protocols that must be followed exactly and consistently. It was one of the first lessons we all learned from James Junda, a master bander. We learned by watching, by asking questions, and by repeatedly doing each task under close scrutiny and supervision. Making occasional and easily correctable mistakes was assumed; making irreparable, life-threatening mistakes was not an option.
What saved me from being a total nervous wreck during the first few seasons was that James and Valerie, the assistant bander, were right there with us, watching, guiding, correcting, explaining, and giving advice. As I approach a net, there are still instances when I use my radio to ask for assistance. Knowing when to ask for help requires me to assess a situation accurately and to have good judgment. The ego cannot be involved. It's all about the birds; it's not about me.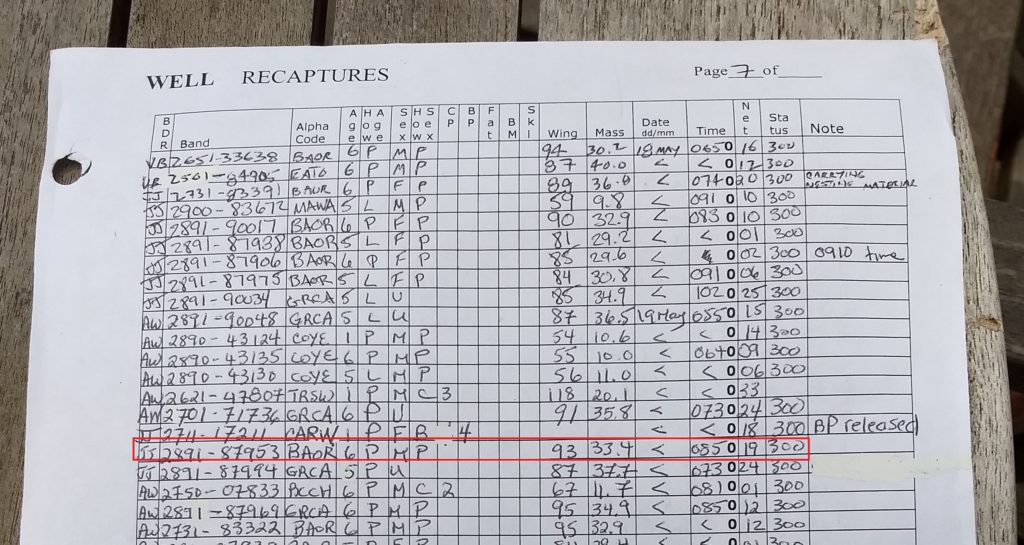 As a bird is removed from the bag for processing, we are ready to write down a lot of key data: the bander's initials, the number of the band that will be attached to the bird's ankle, the species, sex, and various measurements and other observations.
In this example (circled in red in the above photo), the bander was James Junda (JJ), the bird was a recapture (that is, a bird we had already banded at some point), the number of the band was (2891-87953), and the alpha code for the Baltimore Oriole is BAOR. The rest of the data covers age, sex, and size. In this case, the bird's plumage (P) indicated it was a male and at least two years old ; wing chord = 93 millimeters; mass/weight =33.4 grams (28.3495 grams = 1 ounce, hence this BAOR weighed a little over an ounce); date = May 19, 2021 (not visible in this photo); time = 0850; net the bird was caught in = 19; status = 300 (a code that means the bird was processed and flew strongly and well when it was released). It's not important to remember all these data points. But it is important to know the concentration required and the potential confusion when two or three banders are all dictating numbers to one or two volunteers!
Unless you've banded thousands of birds like James and Valerie, it's difficult to ever feel fully confident. At least for me, that means that every shift has its challenging moments that require calm, concentration, good judgment, full responsibility for my actions, and, above all, in my opinion, humility. For me, it's truly humbling to be reminded, for example, that the Wilson's Warbler, weighing a third of an ounce (5-10 grams) has just flown 3,500 miles from his wintering grounds to arrive at Wellfleet Bay.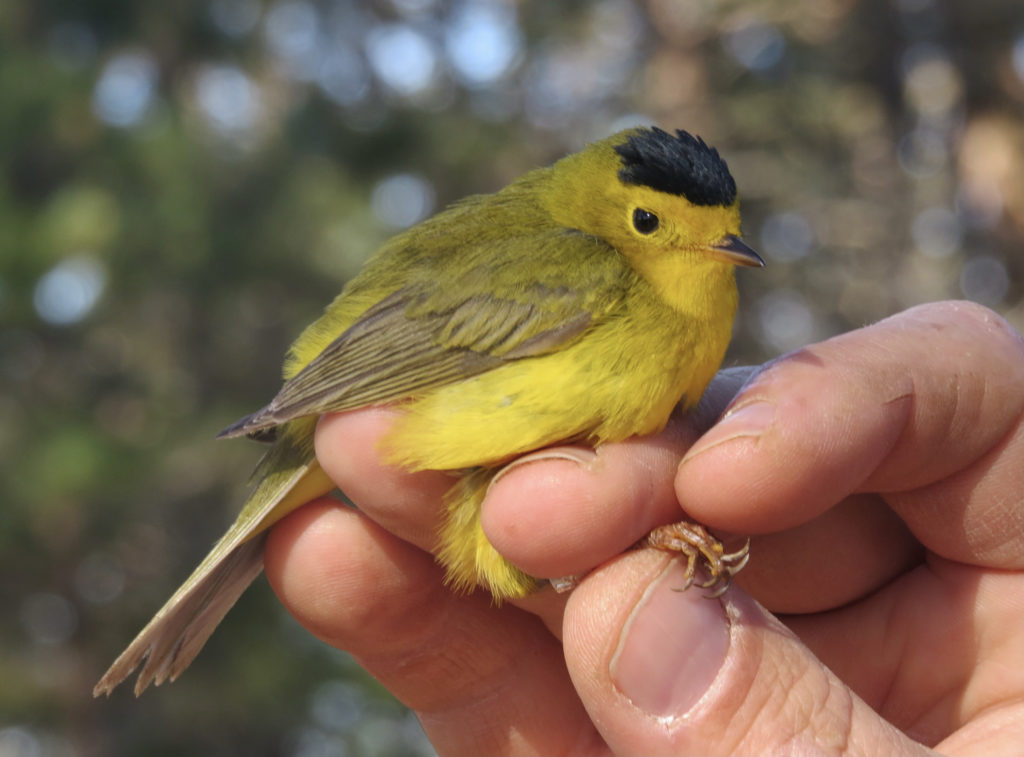 So why do we love volunteering at the bird banding station? As expressed by some of my fellow volunteers, we are all motivated by our desire to learn as much as possible about birds (Todd Christie), by our shared interests as team members (Teresa Corcoran), by the challenges (Frank Mockler), and by the feeling of holding a delicate bird in the hand ("It's pure magic," says Peggy Sagan).
Now that the banding season has come to a close, we can get more sleep and relax until we start all over again on September 1! I dedicate this post to the banders and volunteers who have all become friends and have taught and helped me. See you all in the fall!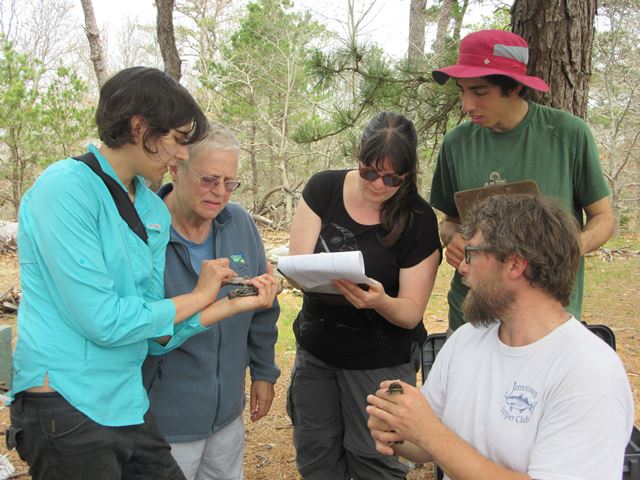 This post was contributed by Jeannette Bragger, who's been a banding station volunteer at Wellfleet Bay since 2016.