Eels, quahaugs, terrapins, sea level rise and coastline change, seals, and sea run brook trout will be among the topics discussed on November 2 the 11th annual State of Wellfleet Harbor Conference. The goals of this FREE conference are to inform citizens about current and ongoing research, monitoring projects, and issues related to Wellfleet Harbor and its watershed; and to identify people's concerns and questions about the health of the harbor.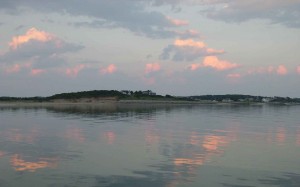 "We want to showcase what is known about Wellfleet Harbor and then learn what new research or monitoring people feel is needed," said Abigail Franklin, the original conference coordinator in 2003 and this year's moderator. When the conference was first developed "our goal [was] to create an opportunity for researchers and the pubic to exchange ideas and information about one of our most important natural resources," explained Franklin.
The conference features both oral and poster scientific presentations with time allotted for question and answer. This year will take both a reflective look at the harbor, as well as project into the future addressing areas of concern and future study, by focusing on subjects such as:
•           Environmental history of Cape Cod and Wellfleet Harbor;
•           The history of the quahaug fishery;
•           Natural history of seals and information on local research;
•           The past and future of sea level rise and coastal change in Wellfleet;
•           Restoration of sea run brook trout in Southeast Massachusetts;
•           Managing the American eel;
•           and the winter slumber of diamondback terrapins in Wellfleet Harbor.
 Download a complete schedule and a listing of speakers from the www.massaudubon.org/wellfleet-harbor-conference.
The State of Wellfleet Harbor Conference will be held from 8:30 a.m.–2 p.m. at the Wellfleet Elementary School located at 100 Lawrence Road in Wellfleet. The conference is free and open to the public. No pre-registration is required. A free continental breakfast is also provided, donated by many generous vendors and local businesses.
Funding for the 11th Annual State of Wellfleet Harbor Conference is provided by Cape Cod Five Cents Savings Bank, Friends of Herring River, Mass Audubon, Mid Cape Home Centers, Town of Wellfleet, and Wellfleet Conservation Trust.
For more information contact conference coordinator Melissa Lowe at [email protected] or 508-349-2615 x107.