The following post was contributed by Wellfleet Bay's coastal waterbird technician Jacey Corrente.
This summer was my first time coming to Massachusetts, let alone the beautiful Outer Cape, and I was excited for what the season would bring.
I eased into my role as a coastal waterbird staff member, gaining familiarity with Piping Plover tracks, determining the difference between an old footprint and a fresh scrape, and learning how to fix a fallen post in the fencing with a rock when you forgot your hammer at the sanctuary!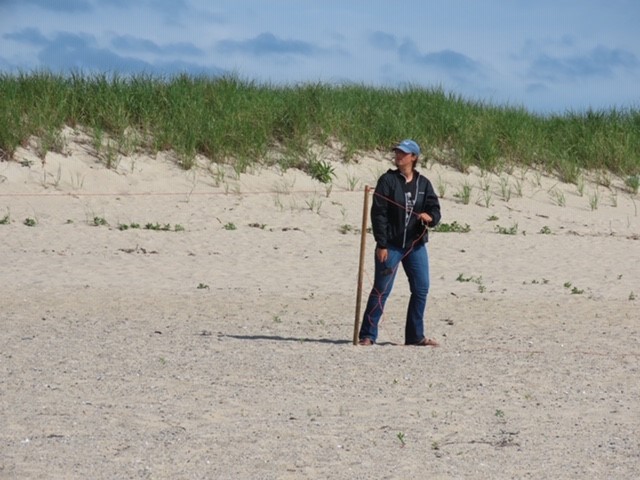 A few weeks in, we were finding nests left and right. To a newbie like myself, the possibility of a nest being depredated seemed unfathomable. How could I imagine such a thing? Things seemed so good! Compared to last year, we had double the number of nesting Piping Plover pairs and for the first time in years, we had not one but two American Oystercatcher nests– one on the sanctuary's very own Tern Island in Chatham, and the other near First Encounter Beach in Eastham.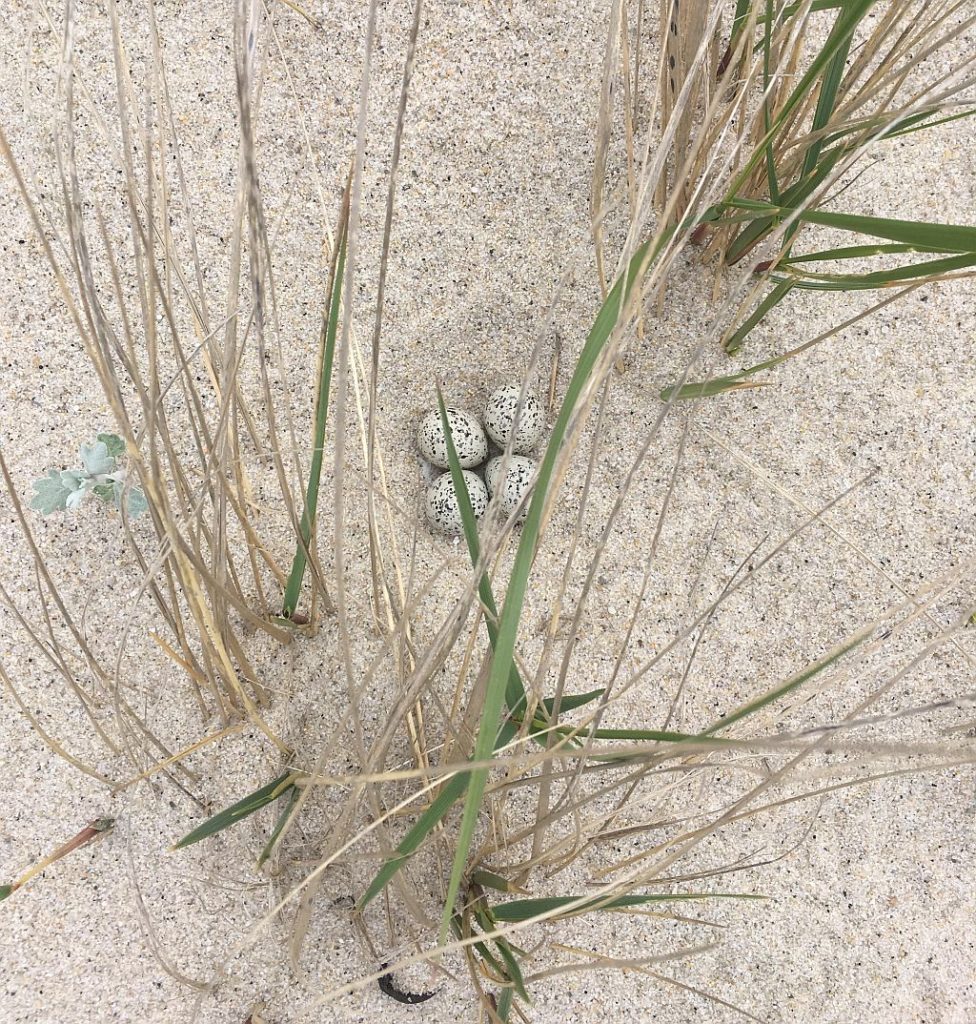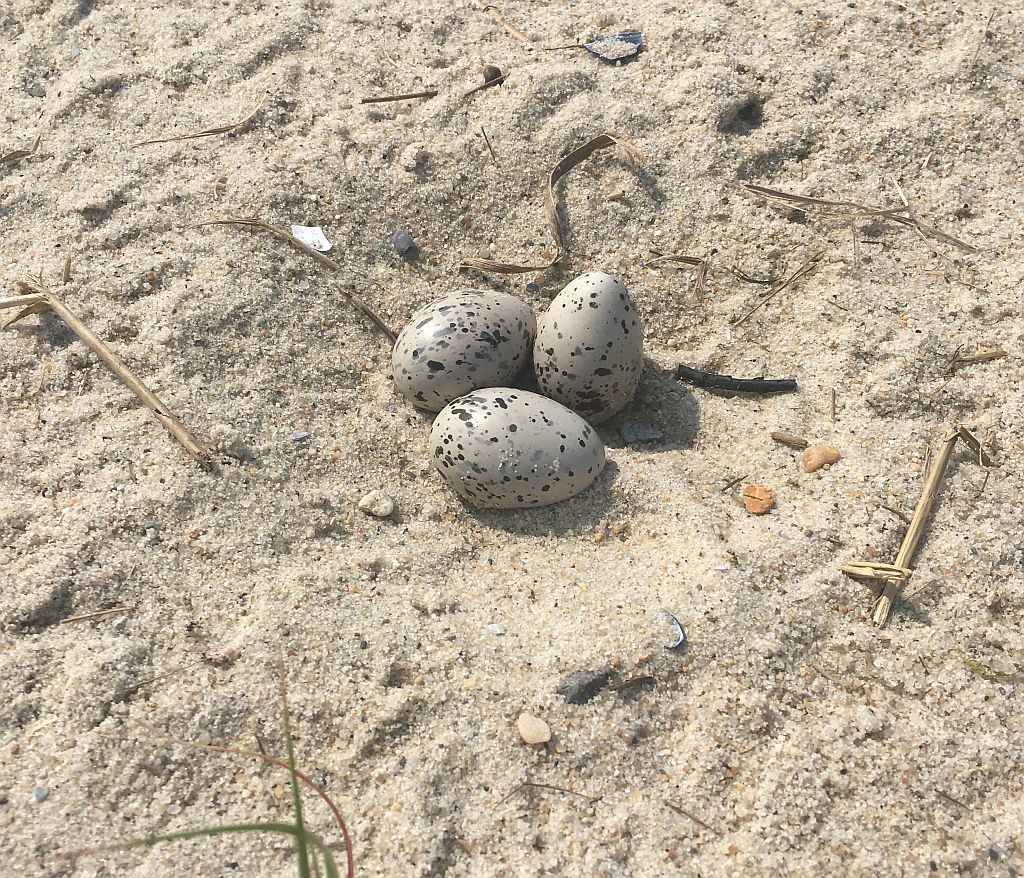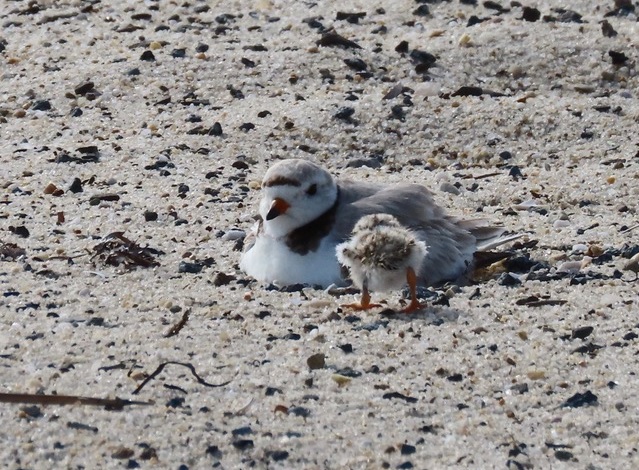 My boss, science coordinator Mark Faherty, kept telling me not get my hopes up because losing nests is inevitable. But the optimist in me thought maybe this year would be different. Perhaps this would be the year with a near 100% success rate!
Was I ever wrong.
It all started on May 10th, when the first of many nests failed. It felt as though nests were persistently depredated by coyote, fox, and, in one instance, man's best friend. Finding crow tracks leading up to an empty nest also became the norm.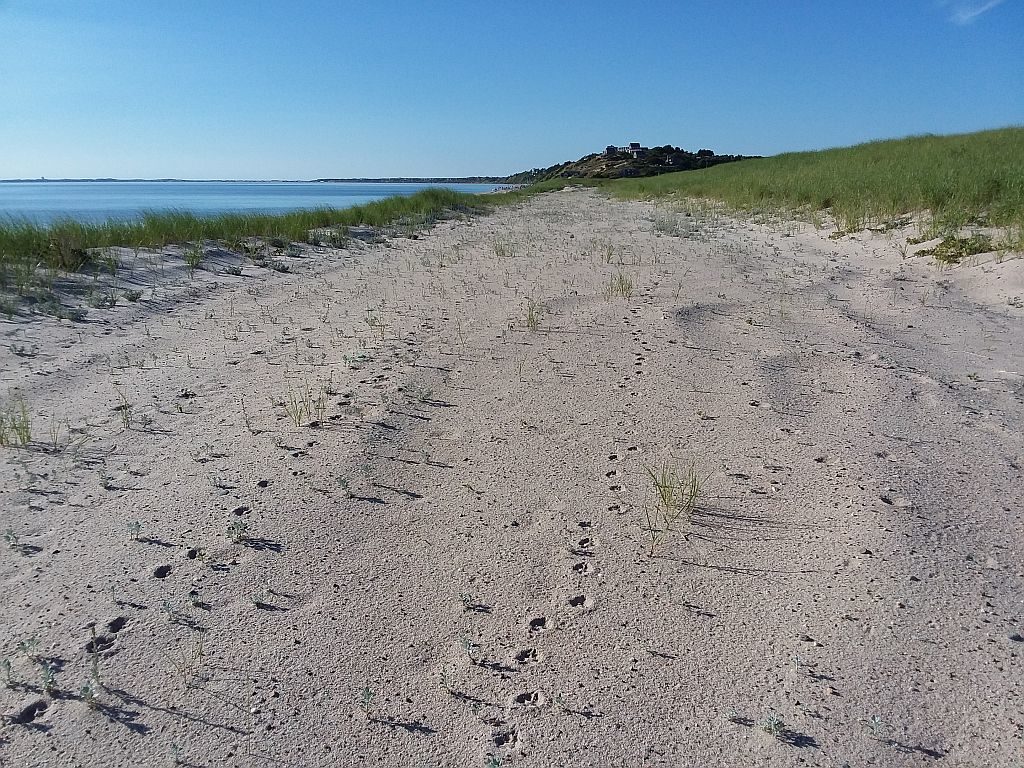 As a shorebird monitor, I visit nest sites from Chatham to Wellfleet and all the up to North Truro every other day. In doing so, it's hard not to get attached.
After finding a nest, waiting for the fourth and final egg to be laid, and then enduring the long 26 days of incubation, your hopes build each time you visit. It broke my heart to see a clutch finally reach four eggs only to be gobbled up within 24 hours.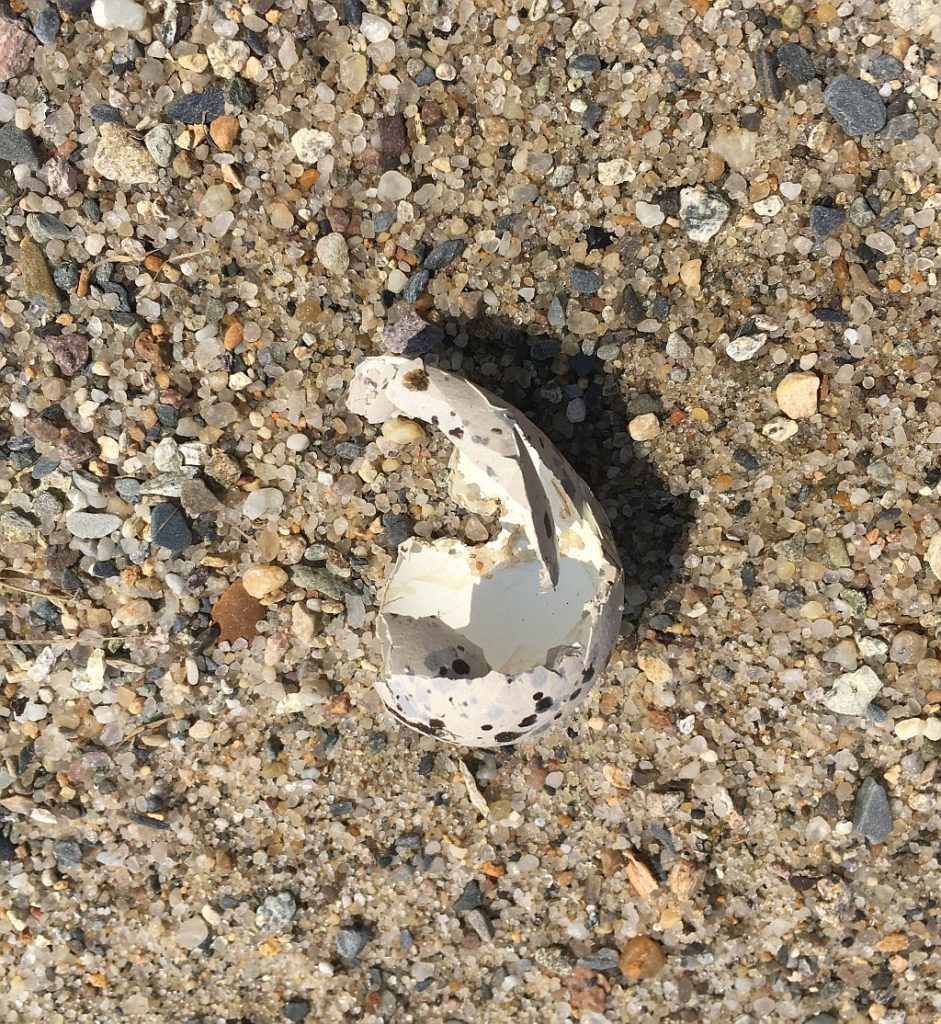 Sadly, the plovers weren't the only ones that faced nesting struggles. The American Oystercatchers didn't have any success this year. When the first oystercatcher nest failed, I no longer questioned nest failure but thought, "What else is new?" But when the second nest failed, I experienced a new form of heartache. An average American Oystercatcher incubates its nest for roughly 30 days. But this oystercatcher pair in Chatham faithfully incubated and tended to the nest of apparently infertile eggs for over 44 days! It was rough for us, but I can only imagine what it felt like to be those birds…
Adding to the distress of our unfortunate season, at Fisher Beach in Truro a vehicle drove through a portion of our fencing, ripping out all our posts, and leaving a nest vulnerable (thankfully, no plovers or nests were harmed).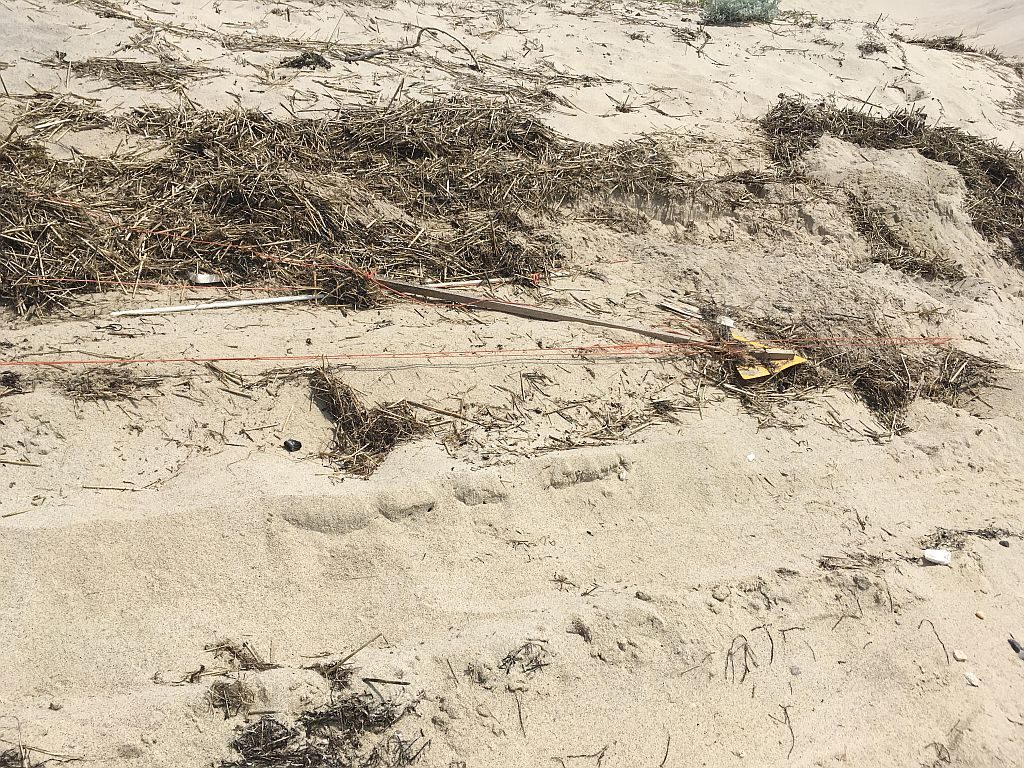 In the midst of this turmoil, Crosby Landing in Brewster became a beacon of hope.
It was here that the first chicks of the season fledged. I remember the day like it was yesterday–two of the four chicks flying over the ocean like pros! A tern colony formed there for the first time in years and expanded, hatching chick after chick. A few weeks later, another three plover chicks hatched just across a narrow channel at the tip of the beach in a brand new location.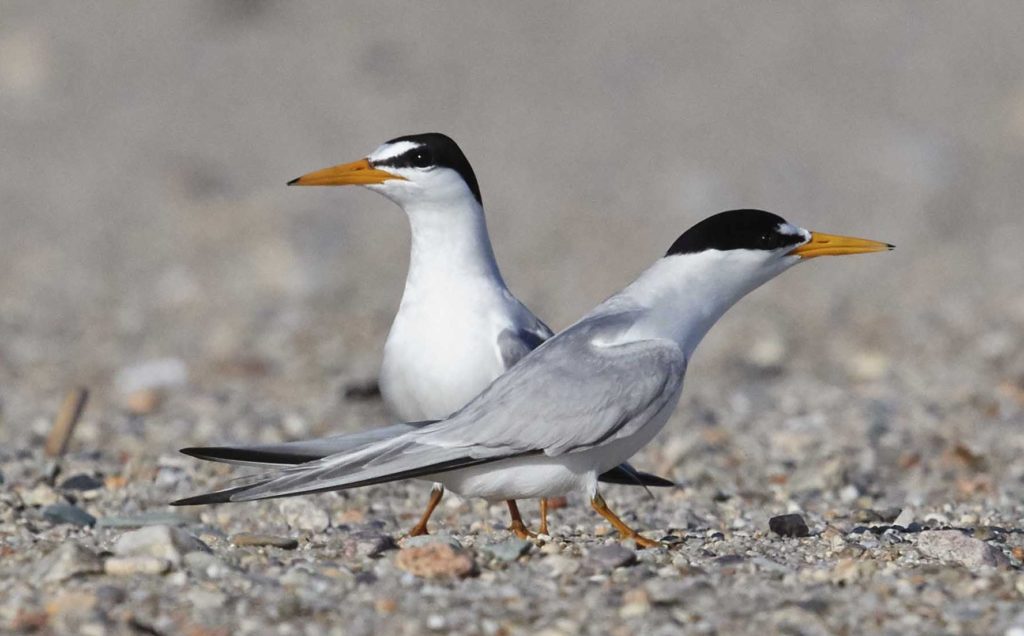 In Chatham, a nest in a new location yielded three plover chicks which are set to fledge at the end of the month, along with the two more chicks at Tern Island. Our luck seemed to be turning around.
And then something very odd happened.
At Corn Hill, four chicks that were expected to fledge in only a week suddenly disappeared. We figured it was coyotes again since a nearby plover nest had been depredated just a few days before. Days went by with no sign of those chicks. They were on the verge of being recorded as officially lost until…
There they were!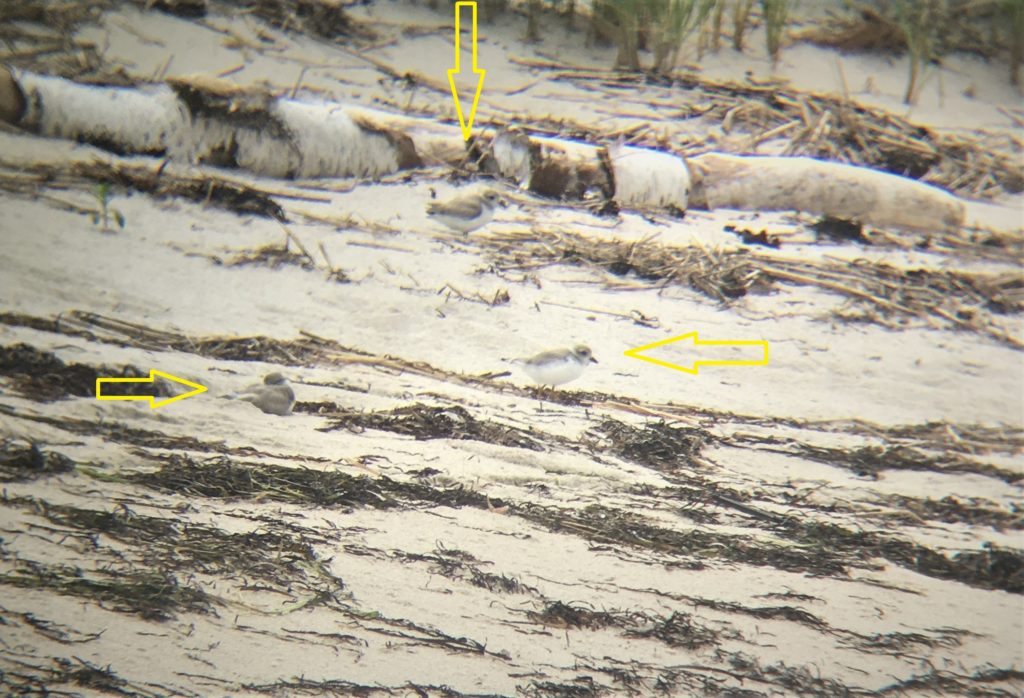 When the first chick came into view, I was totally taken aback. The following questions ran through my mind: Am I hallucinating? Is this really our chick? If so, where the heck has it been for the past week?! Then two more chicks appeared and a fourth further down the beach! A woman tapped on my shoulder and asked what I was looking at in my binoculars. I told her that I monitor Piping Plovers and Least Terns and that we thought our chicks had been eaten until this very moment. I said my coworkers weren't going to believe me and she replied, "I was here, I believe you!" It was a very happy moment and I'm glad I got to share with a friendly eye witness.
Although this year has not been the most fruitful of plover seasons, I am happy that I got to be a part of it. I saw the most adorable chicks, I got to know the Cape a little bit better, but most of all, I was a part of the amazing work that Wellfleet Bay carries out.
Maybe next year's nesting season will bring American Oystercatcher chicks and not just eggs. Or maybe the predators will disperse elsewhere. I hope the 2020 waterbird technician listens to Mark when he informs them that nests will certainly fail and that you have to be prepared for both the heartbreak and joys of protecting Piping Plovers, Least Terns, and American Oystercatchers!