As the 2021 season winds down, it appears Wellfleet Bay's diamondback terrapin nest protection and monitoring program has logged another productive summer—a very hot, humid, and mosquito-ridden summer! A big shout-out to our resilient terrapin teams who monitor sites throughout Wellfleet, Eastham, and Orleans.
We won't know the total number of healthy hatchlings for another few weeks. But we can report that, so far, more than 1500 young turtles emerged from monitored nests at the sanctuary and at Lieutenant Island. That's only a fraction of what we're likely to see when all the numbers are in.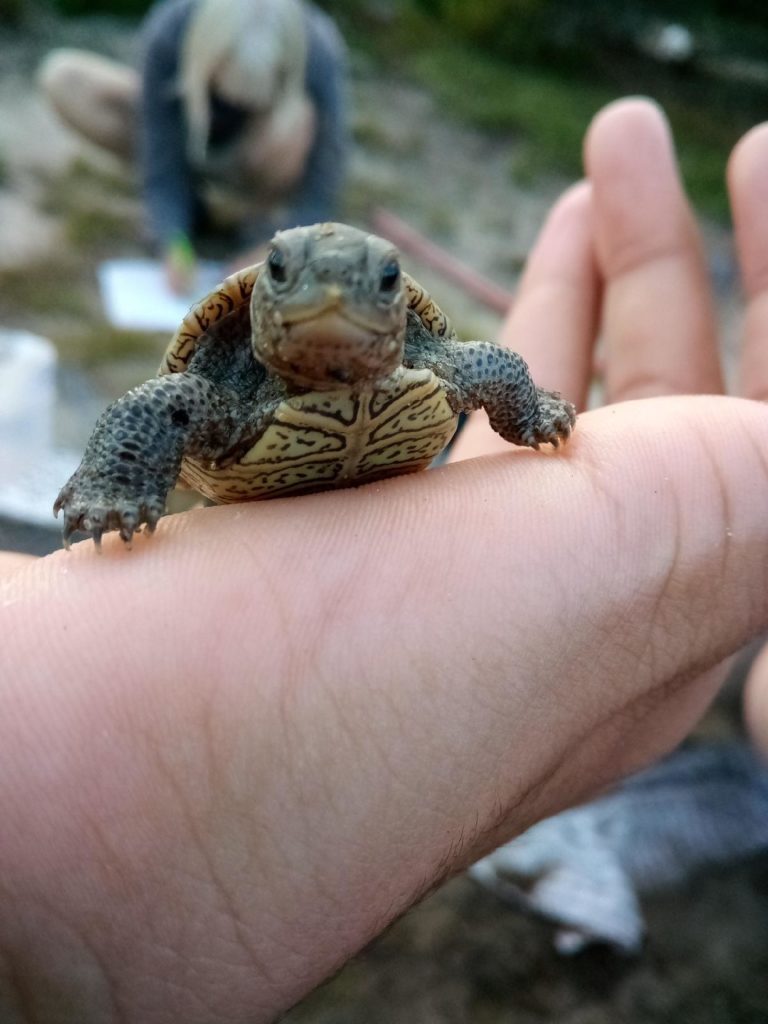 Each terrapin season has its "scrapbook" moments—and here are a few from this summer:
The SOS Day
On September 2nd, just a half hour into their shift on Lieutenant Island and dodging thunderstorms, staffer Jess Ciarcia and volunteers Nancy Munger and Theresa Ruane encountered five hatching nests with about four times as many remaining. So Jess emailed an SOS to the rest of the terrapin team and, like volunteer firefighters, about ten quickly responded.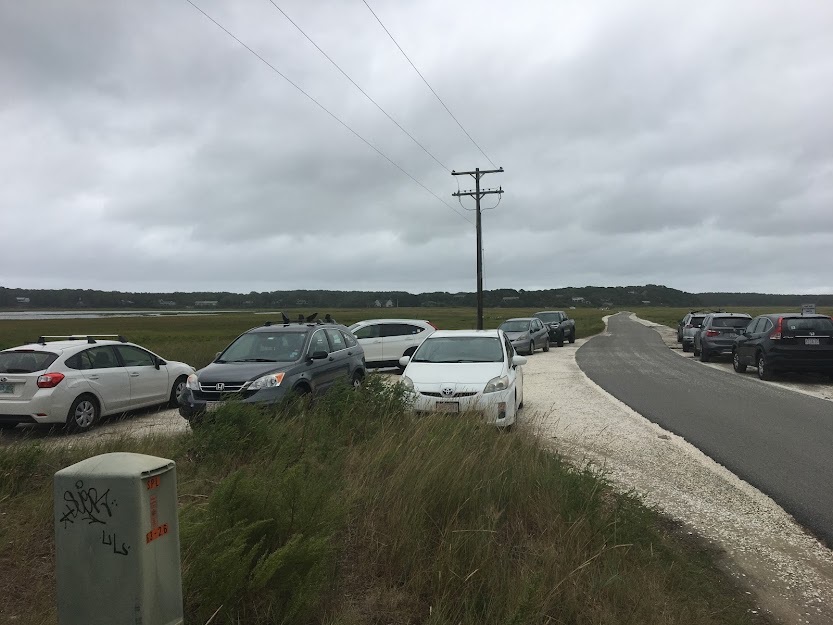 In all, the crew processed 20 nests that morning and a total of 233 hatchlings were released!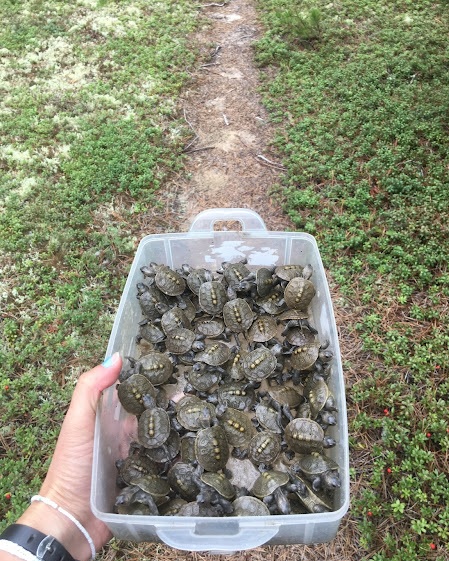 Helpful Neighbors
Volunteer Barbara Brennessel, who monitors nest sites in north Wellfleet, shared photos showing the work of turtle-friendly neighbors near Indian Neck, who not only kept an eye out for nesting turtles, but creatively marked the nests and, in one case, left a note so Barbara and her team could find and protect them!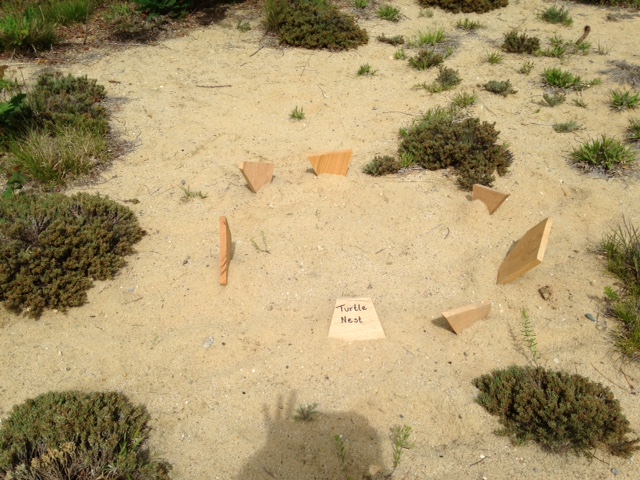 The Really Big Nest
Heather Pilchard and team discovered a 30-egg nest near a main road on Lieutenant Island, presumably one nest laid on top of another since terrapin nests rarely include more than 20 eggs. To get the nest(s) to a safer location, the team had to open it and relocate all 30 eggs to a turtle garden. As Heather noted, "Finding the eggs in the nest was like clowns coming out of a car. They just kept appearing!" Especially exciting: all 30 eggs successfully hatched!
The Safe Nests
The cages—or predator excluders– we use to protect nests are installed about a foot deep into the soil around the nest to deter digging animals, like foxes. Volunteer Steve Griffin captured this picture of one PE holding its ground against a fox dig that had partially collapsed a nest. Fortunately, the PE did its job of protecting the hatchlings.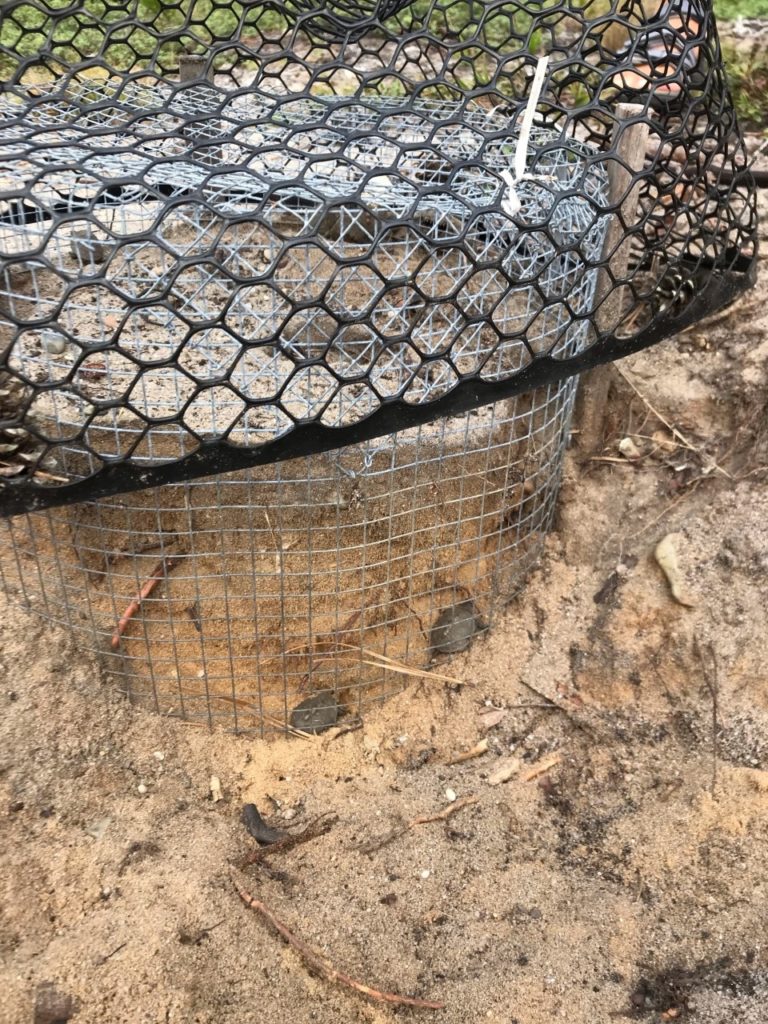 As nests approach their projected hatching dates, crow guards are installed around the predator excluders to keep crows from nipping at hatchlings along the edges of the PEs. We know the crow guards are effective, but volunteer Paul Ward snapped this picture that demonstrates why the guards work.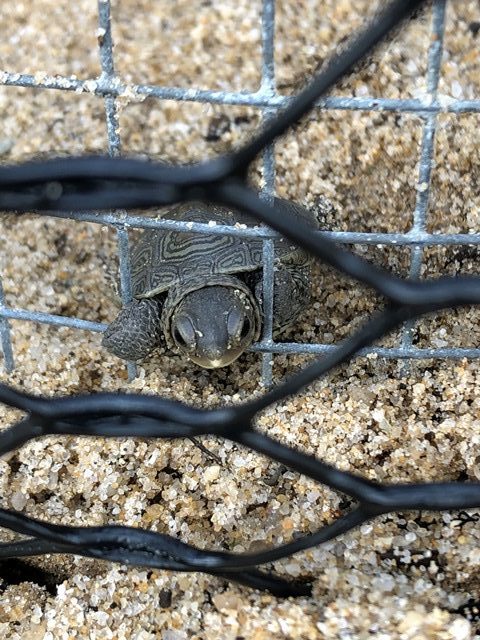 The Night Nest
Sometimes there's "turtle whispering" and then there's a solid educated guess. Terrapin team manager Bob Prescott had just completed an early evening program at the sanctuary when he decided he should check a Nauset Beach nest that was laid on the same day as two others that had recently hatched.
Good decision! Eight hatchlings were out, seven more were in the process of hatching, and one was just pipping the egg.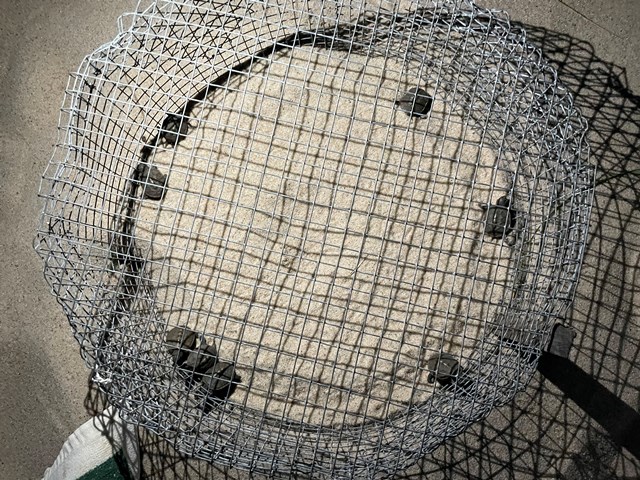 Despite his many years of working with terrapins, Bob says checking a turtle nest in the dark was an unusual experience: "A first—processing a nest by moon light and iPhone flashlight!"