With numerous reports of lion's mane and other species of jellyfish in our waters this summer, we were pretty certain endangered leatherback sea turtles would soon follow. Leatherbacks, the world's largest sea turtle, feed almost exclusively on jellies. And by late summer some of that feeding was occurring in Vineyard Sound, one of the most heavily-trafficked bodies of water in the Cape and Islands region.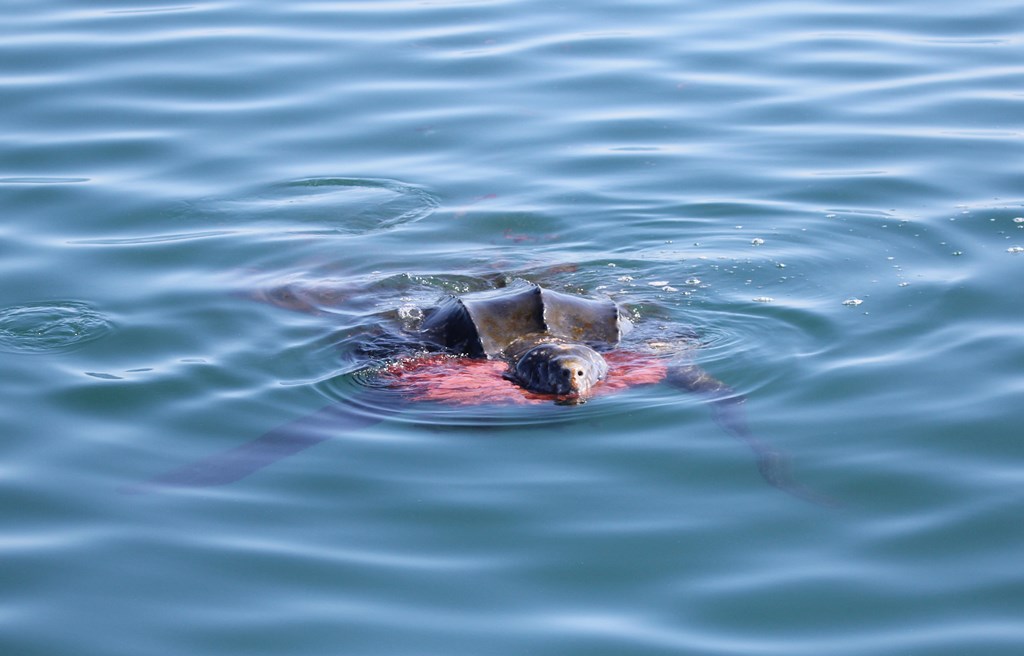 Unfortunately, on September 13, a dead leatherback showing a severe vessel strike wound was reported on West Chop, Martha's Vineyard. It turns out that this leatherback had been flipper-tagged. The tag revealed that the mature female was tagged as she crawled ashore to nest on Chiriqui Beach in eastern Panama, on March 22, 2019. She returned to nest on Chiriqui Beach that same year on April 10th and 20th.
We always hate to see any leatherback killed in our waters, but the death of a reproductive female is especially heart-breaking. And judging from the measurements of her carapace from Panama, 2019 may have been this turtle's first of possibly many reproductive years.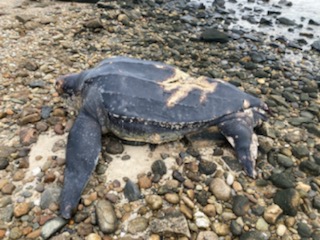 We continue to remind boaters and other vessel operators sea turtles are here and can be difficult to see. We also strongly encourage anyone who does see a sea turtle, alive or dead, to report it to seaturtlesightings.org.
COVID-19 and the Fall Cold-stun Season
Due to COVID-19 safety considerations and funding restrictions, the 2020 cold-stunned sea turtle season will be different and difficult. Just how difficult will depend on many factors including weather, number of turtles, and major COVID-related changes–not just at Wellfleet Bay but also at our partner cold-stun rehab organizations.
Planning for our cold-stun rescue operations started basically with only two certainties: cold-stunned turtles will wash up on Cape Cod Bay beaches and we will not leave them there. Beyond that, we are re-working every step of our protocols, including with volunteers, with sea turtle rehab organizations and among Wellfleet staff. These changes are based on eliminating contact between people, and will be conveyed to sea turtle volunteers in detail soon.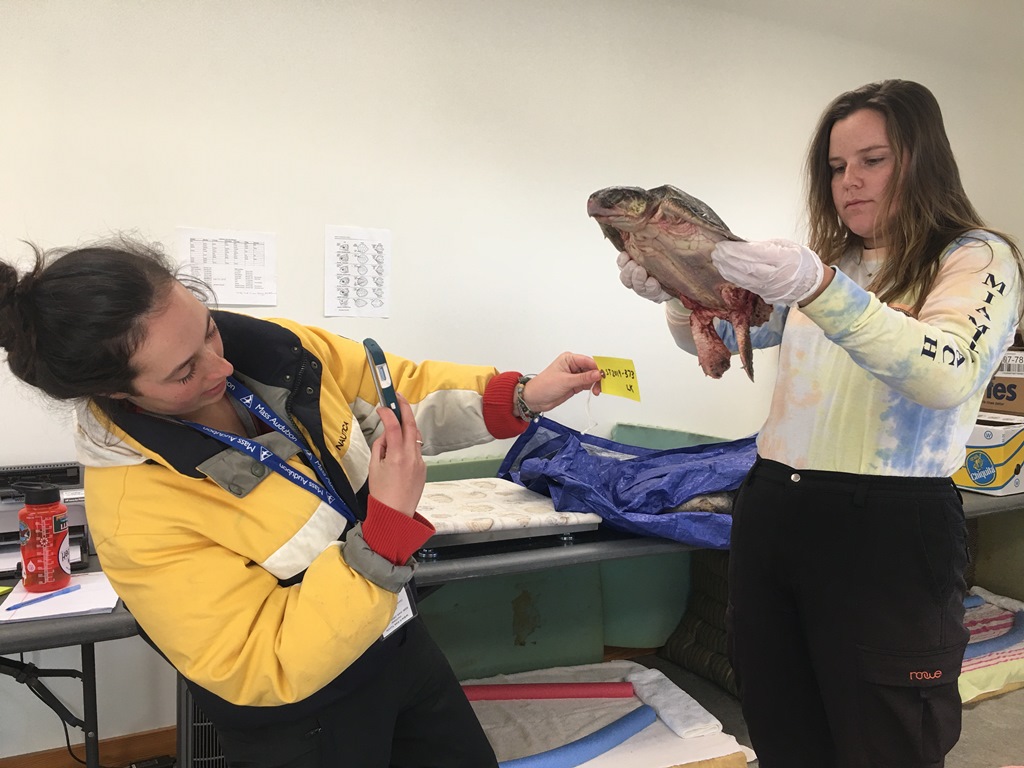 One important, though disappointing change to the 2020 cold-stun season: Wellfleet Bay will not be able to accept any new sea turtle volunteers for the 2020 cold-stun season. We regret this but it's necessary, in part, due to staffing limitations. But there's some good news, too. Our 2019 team members Jess Ciarcia and Jacey Corrente are returning for the 2020 season!
This post was contributed by Wellfleet Bay Sea Turtle Stranding Coordinator Karen Dourdeville.