Sanctuary Director's Message
We're saddened that the threat posed by COVID-19 has required Mass Audubon to temporarily close its sanctuaries to visitors. I know how special our properties are to our members, volunteers, and friends. And Wellfleet Bay is in the truest sense of the word a sanctuary for many, especially during difficult times. And, wow, we are all going through a rough patch right now.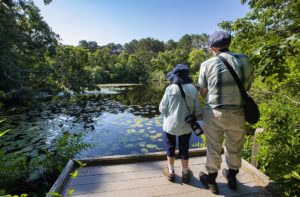 But really, what we are experiencing is beyond compare. In light of that, Mass Audubon made the very hard decision to take these extra measures for the next couple of weeks so we can do our part in helping stop the spread of the coronavirus and keeping all of us healthy.
Not only are these difficult times, they are unprecedented times. In my 25 years working for Mass Audubon, I have never known us to close the sanctuary's grounds and trails to visitors except for major events like snowstorms and hurricanes—or Wild, Wild Wellfleet!
Until our Wellfleet Bay community can resume our normal interactions, I'd like to share a short reflection on one benefit of staying close to home.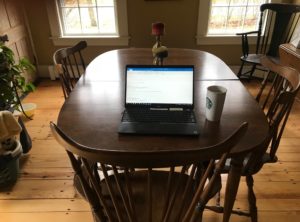 If you're not used to it, working from home takes a certain discipline and focus that takes some getting used to. My temporary office this past week has been in my kitchen. If I'm not distracted by the dust bunnies that need vacuuming or the dogs that demand petting, I find my gaze drifting up from the computer to the birdfeeders outside my window.
Today in between answering emails I noticed: several chickadees (or the same one over and over!), Tufted Titmice, a Song Sparrow, tons of grackles and robins, and one Red-bellied Woodpecker. I also heard, clear through the closed windows, a Blue Jay imitating a Red-tailed Hawk. While not a super impressive list, all of the birds I saw were so enjoyable and relaxing to watch.
I've always been a fan of sit-and-stay birding—choosing one location, slowing down, being patient, and observing life that unfolds around you. Birds are a lovely distraction right now and their cheery songs are a promise of all the good things the spring season has in store.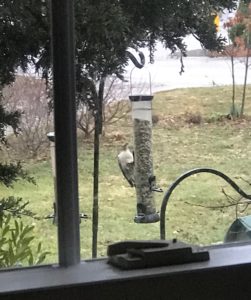 And lo-and-behold, when I looked back at my email inbox this message from one of the Sanctuary's long-time front desk volunteers appeared: "Soooo happy the bluebirds are back in my birdhouse. We, who are living in this beautiful part of the world, sure are lucky people."
Yes, Shirl, thanks for that reminder, we are lucky—for our feathered friends, and our human ones too.
Stay well, everyone. I hope the view outside your window also brings you comfort and encourages you to reflect on all that is good in your life. We look forward to hearing what you observe during this time of settling down and sticking closer to home—and we are even more eager to see you all again in person at Wellfleet Bay in the very near future.
Melissa Lowe
Director, Wellfleet Bay Wildlife Sanctuary