Upcoming programs at Drumlin Farm Wildlife Sanctuary.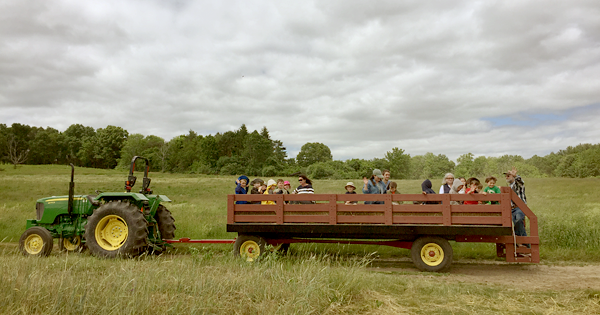 Can you believe that summer is almost over? With only one session left of Drumlin Farm Camp, it's time for all of us here to take a break before the fall programs start.
But that doesn't mean that you can't plan ahead! Take a look at all of our programs  at the farm (and some out-of-state birding trips!).
Here's what's coming up:
Friday, August 19
Friday Evening Hayride and Campfire | All ages | 6 pm
Take a ride in our hay wagon while watching for birds flying at dusk and evening fireflies.  We'll  stop at our campfire for stories, s'mores, and a special nighttime visitor.
Saturday, August 20
Naturalist Walk | Adults | 1 pm
These excursions focus on observing, exploring, and appreciating the world around us. Each walk will focus on one area or habitat as we build our understanding of ecological communities. Pre-registration is not available. Meet us at the Nature Center!
Friday, August 26
Fermentation 101 | Adults | 7 pm
Join us for a visually, aromatically, and gastronomically exciting event exploring all things fermentation.