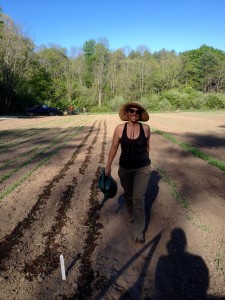 We've had .1 inches of rain in May. The last time we had significant precipitation was April 19. That's five weeks without rain! And the heat and strong winds have magnified the effects of no water. The soil has turned to powder and now we are seeing poor germination in our weekly seeding of arugula, radish and spring turnips.
The waterwheel implement is designed to mark and water holes for the transplanting of seedlings. We are also using it in a raised position to rain water down on direct-seeded parsnips, beans, carrots and spinach. This works for crops seeded in three rows, like carrots, but not in five rows, like arugula, because of the configuration of the wheel. We'll have to invent something to attach to the wheel to direct the water to more rows, or else we'll have to water the five-row beds by hand! But there are not enough hours in the day for that, or even for doing what we're currently doing with the waterwheel.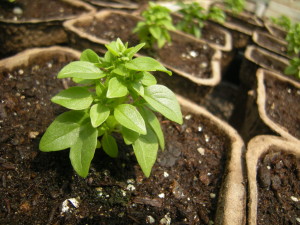 That's because this is one of the two busiest periods of our growing season. Early June is the rush to get all the warm-weather crops planted: tomatoes, eggplant, peppers, melons, winter squash, pumpkins, and sweet potatoes. At the same time we need to keep planting our regular successions of lettuce, basil, broccoli, scallions, cabbage, cauliflower, beets, carrots, spinach and greens. We also need to keep all these crops weeded and now, watered. A good soaking rain would save us so many labor hours!
We are also using the waterwheel in a raised position to water crops that we planted several weeks ago like corn and lettuce. I'm contemplating using it to water our acre of potatoes and our beds of newly-established strawberries. This weather helps put in perspective the years-long droughts of California and Texas—places where farmers wouldn't think of producing crops without irrigation.
CSA distribution begins on June 3, and the Watertown farmer's market opens the following day. We'll start selling crops at our own farmstand on Saturday, June 6. We'll have some produce available, but not the bounty we're accustomed to at this time of year.
See you in the field,
Your farmers