As much as we hate to admit it, summer is coming to a close here at Drumlin Farm. And while the farmers are preparing for the big harvest, which is a little late this year thanks to a long winter, the rest of us are getting ready to bring out our light sweaters and scarves.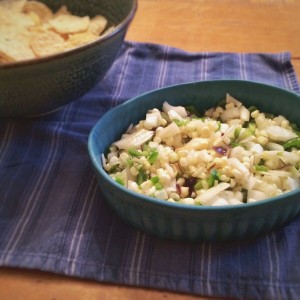 It's probably a little too soon to think about the fall chill, especially in the midst of these heat waves, so here's a nice recipe to help you stay in denial. Sanctuary Director Renata Pomponi gave this corn salsa a try at her home and says it turned out great! Just the right amount of crisp summery flavor and crunch. Best of all, this easy side dish can be made with ingredients found right at our farm stand.
Give it a try and tell us what you think!