As we zoom towards our June 9th grand opening, work on the Environmental Learning Center has been progressing with leaps and bounds! It won't be long until we are able to welcome the public into our wonderful new learning space, but in the meantime, here's a peek at what's been happening.
April began with an auspicious beginning, when we discovered a very rusty but hopefully still luck-filled horseshoe deep in the ground beneath what will become our main garden area. We are definitely saving it to hang in the new building!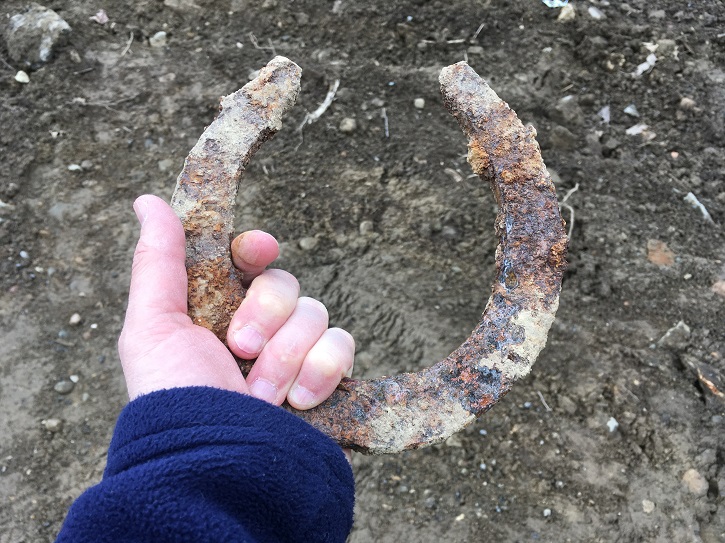 The highlight of the interior work was definitely the arrival of our millwork – stunning birch cabinetry, desktops, and countertops that were installed throughout the building. We love our benches!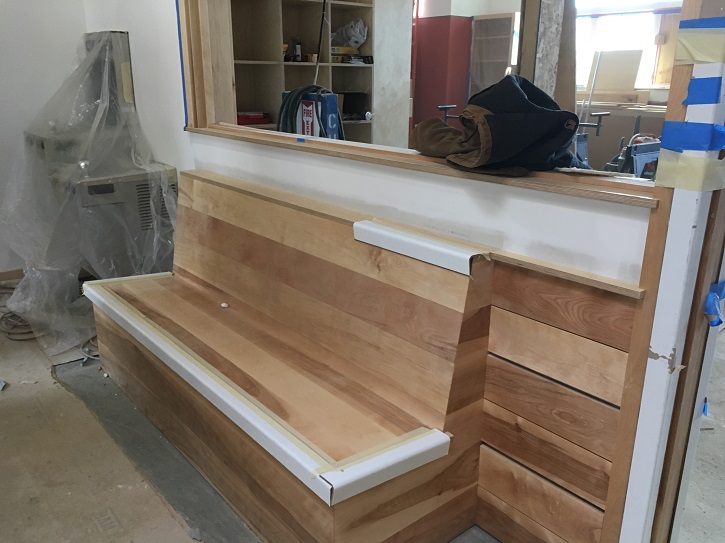 All that shelf space made our ed staff's eyes light up!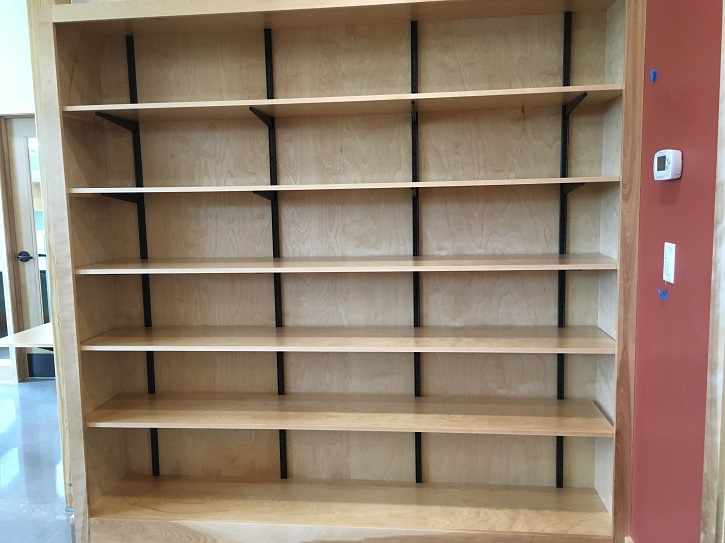 Our favorite feature is definitely the aquarium tanks that line the main greeting area. Look for turtles, tadpoles, or fish coming to this location soon!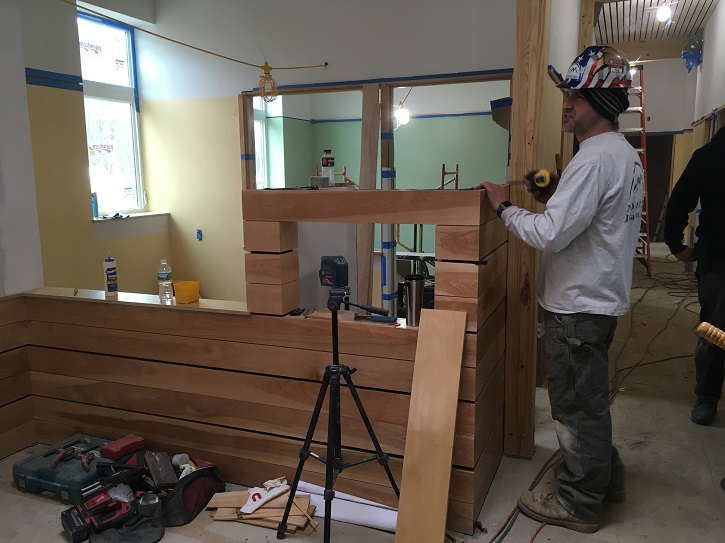 As the painting began, the space took on a warm glow that really made it much easier to imagine the finished rooms. Who wouldn't be inspired to collaborate in a warm rusty red great room like this?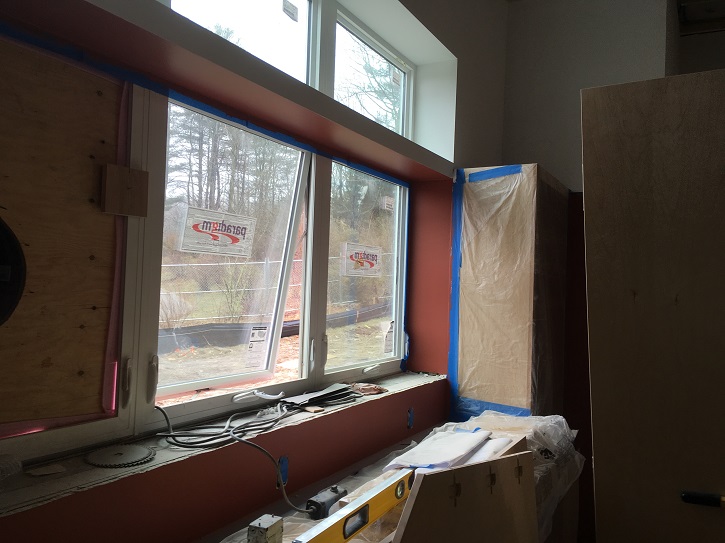 Our FurnCom team has gone above and beyond in finding the perfect furnishings to bring the space to life, as evidenced by the beautiful organic coat rack that feels like art.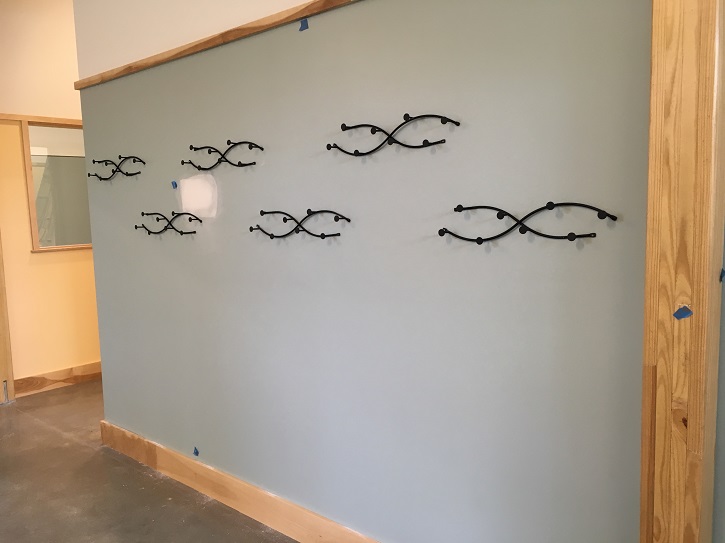 The little surprises that pop up over the course of a long project definitely make it all worthwhile. Imagine our delight when the final polishing of the concrete floor revealed the perfect natural feature for space devoted to environmental education? The concrete contractor offered to fill it in, but of course we immediately said this feature must stay with us forever!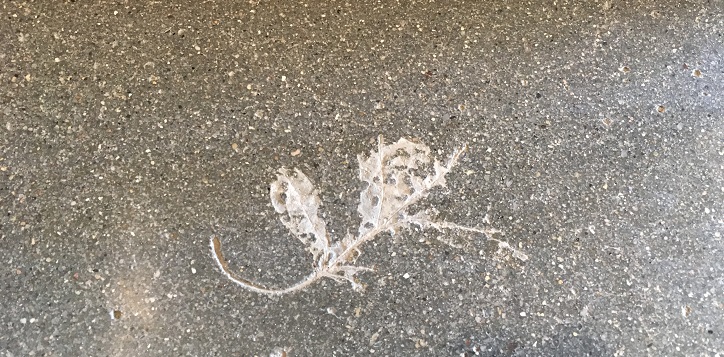 May brought us to the major outdoor components of the project, beginning with construction of the path that will lead visitors from parking lot to the new building.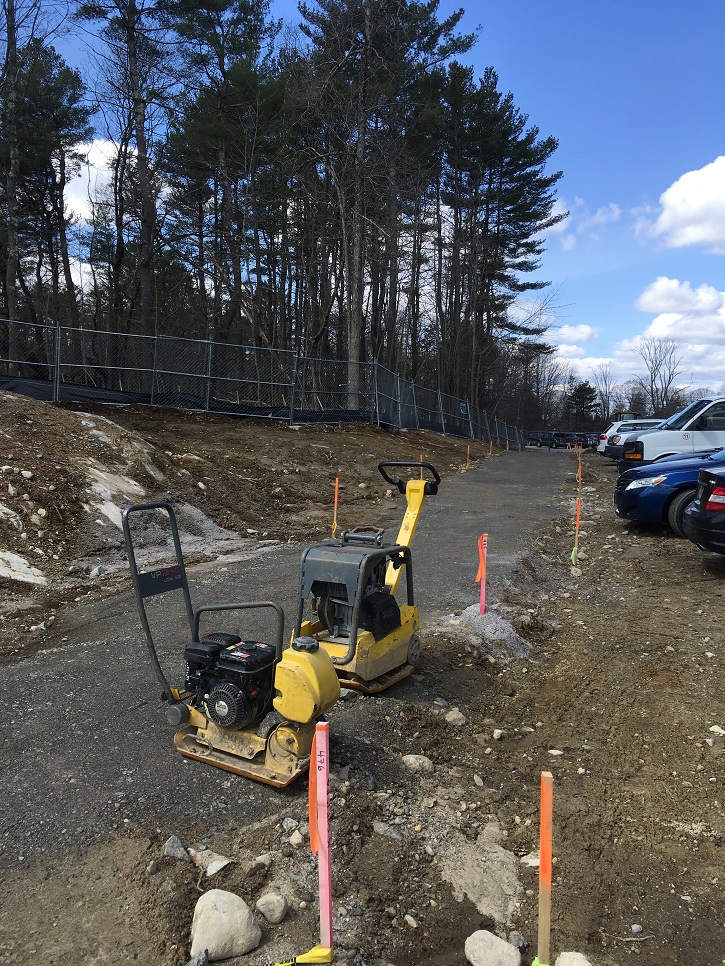 We all got a lesson in how to build a rain garden from the ground up. This beautiful feature in front of the building will channel storm water runoff from the driveway into a channel that allows it to serve native wetland plants as well as to recharge the groundwater.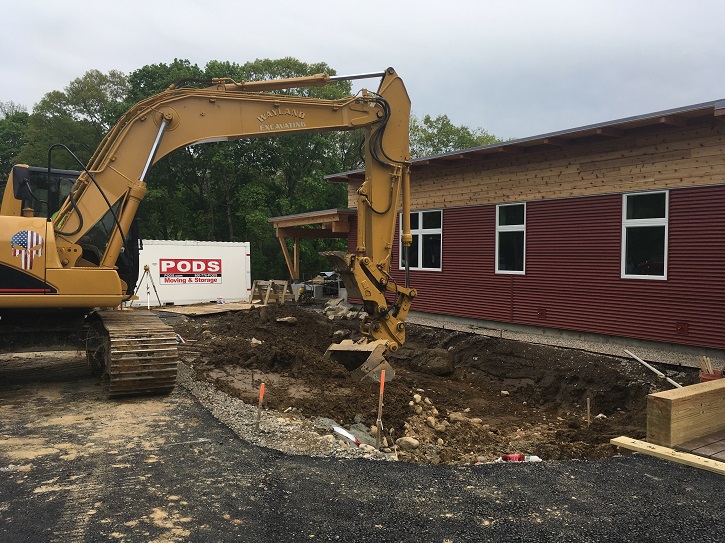 On the roof, our array of 119 solar panels sprung up seemingly overnight, finishing off our most important feature of net-zero capability.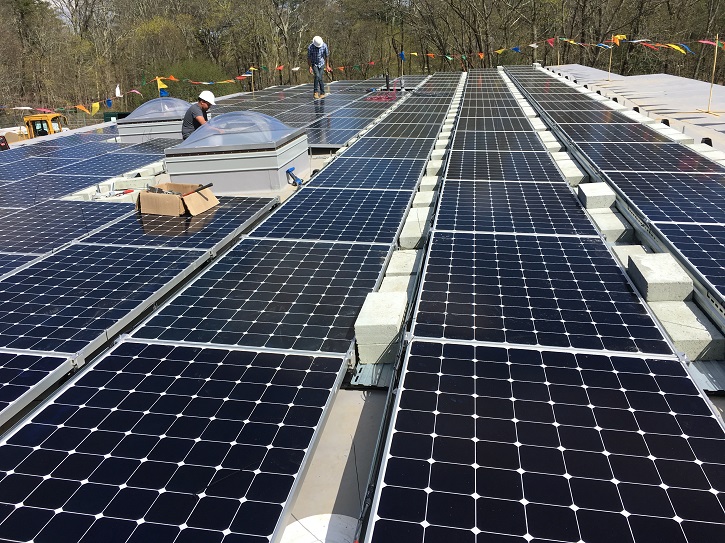 Even though our project is so focused on the future of Drumlin Farm education, there was still a small sense of loss when it was time to tear down the old Ed Building, home to so much discovery and learning over 60 years. Our staff gathered to say our goodbyes with a bittersweet cheer and thoughts of all the good work that is yet to come.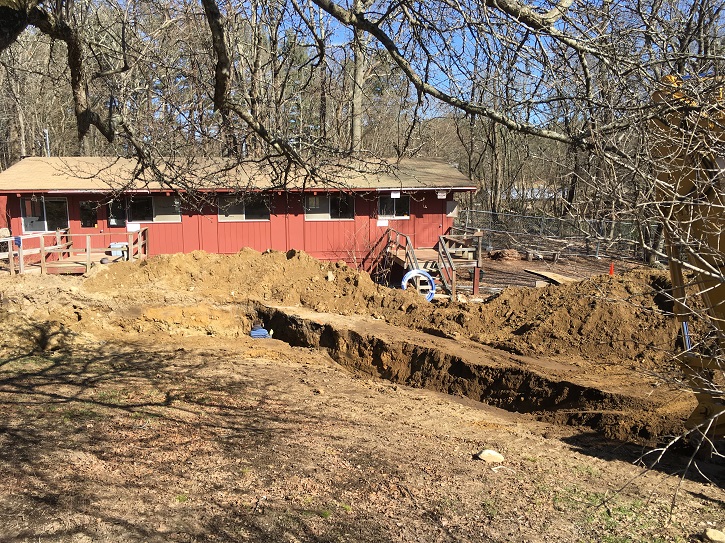 Within a few days, our thoughts were firmly toward the future as the foundation for our new outdoor classroom began to take shape. Sitting on four concrete piers, the Bluebird Pavilion will be larger than the entire previous Ed Building!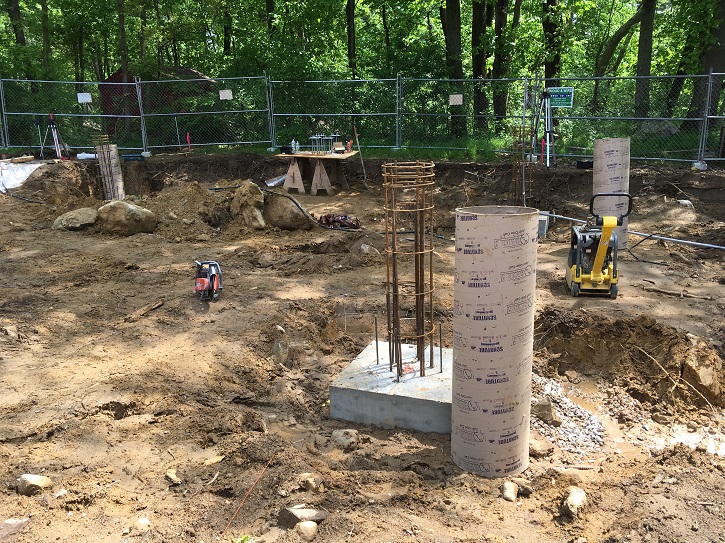 The structure for the pavilion arrived in one huge shipment of enormous beams, designed to hold up a roof that can shelter 10 picnic tables for gathering campers and school groups.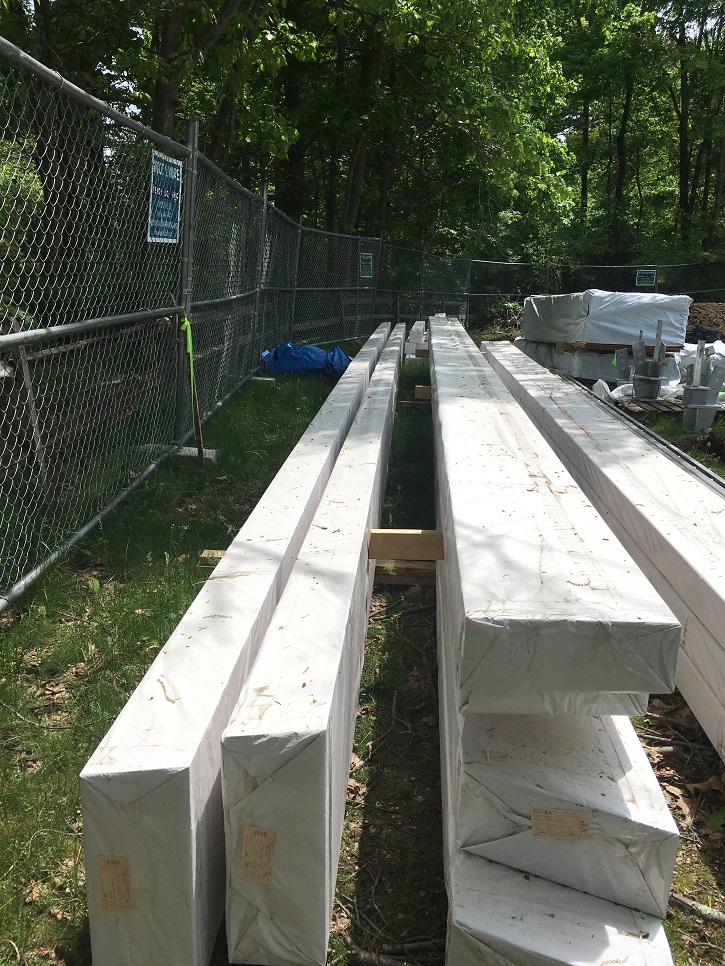 The aluminum knifeplate joints that will connect the pavilion beams to the foundation piers look like modern art – almost too beautiful to use!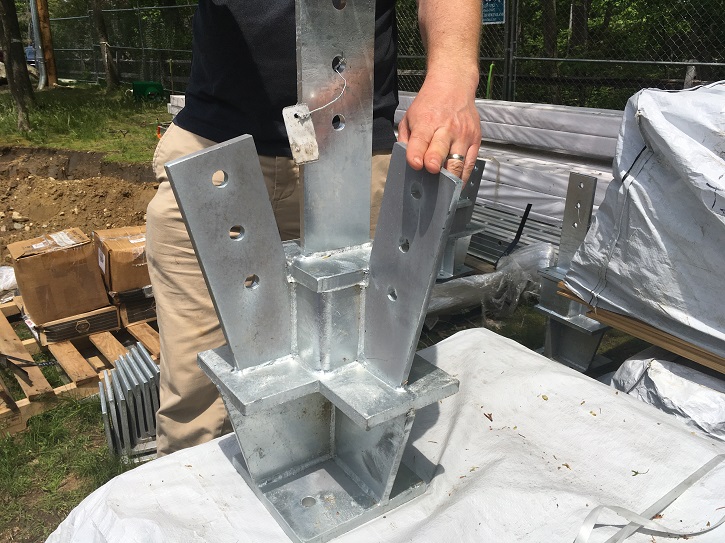 And a day later – it's almost done! Our Chapman crew is working double time to get the pavilion up in time for summer camp.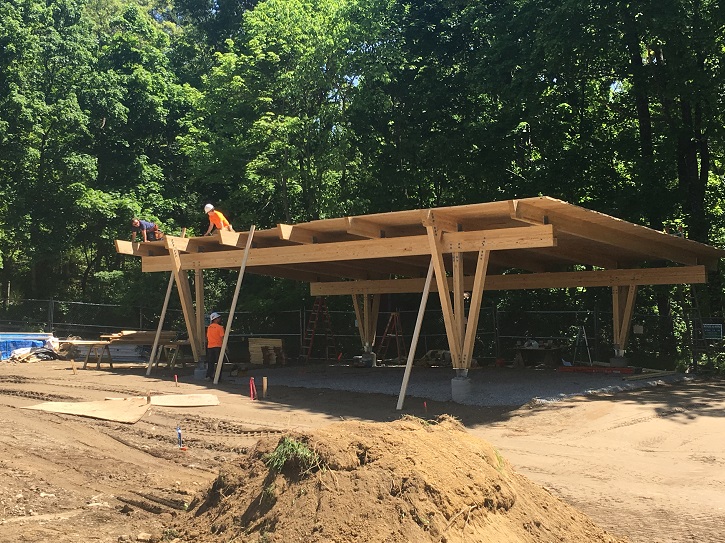 Remember those knifeplate joints? Just as beautiful when they are fulfilling their function!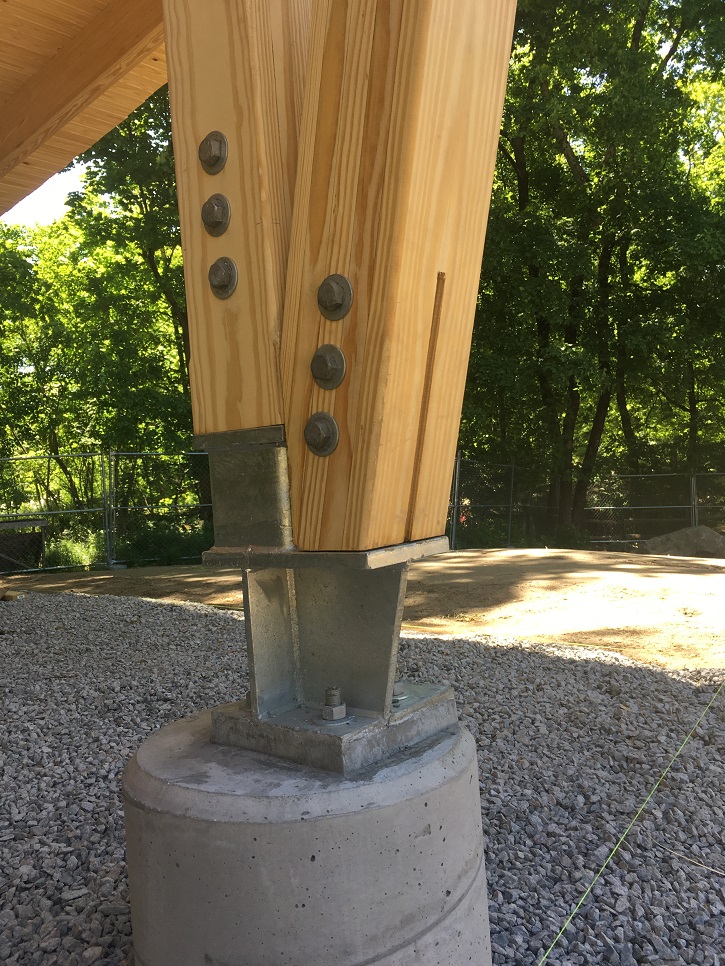 As we enter the final weeks of the project, our staff is getting more and more excited to move in and start working in their new home. We can't wait to see all the innovation yet to come.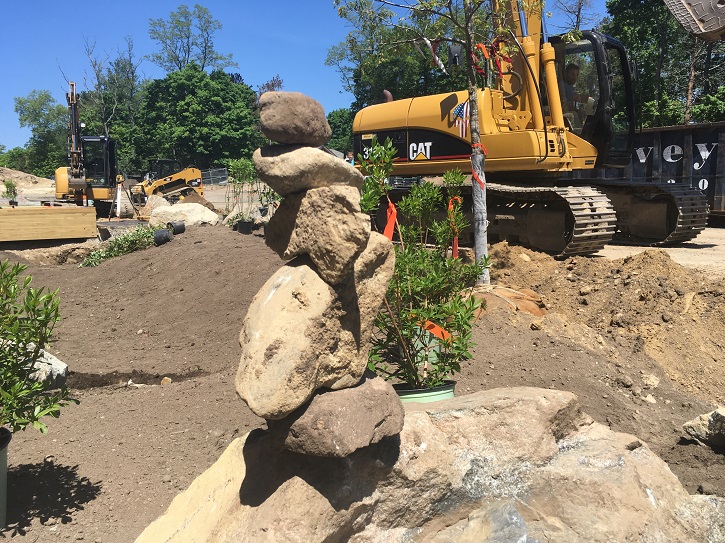 Look for final photos of the finished Environmental Learning Center coming very soon! Our grand opening celebration will be held from 1:30-3:00 pm on June 9th, where we will be offering tours of the building as well as a variety of free educational programs to showcase the work that the building enables. We hope to see you there! If you would like to learn more about the project, or get involved yourself, we invite you to check out our project website at massaudubon.org/ELC.
Renata Pomponi
Sanctuary Director