This Is Just to Say
I have eaten
the plums
that were in
the icebox
and which
you were
probably
saving
for breakfast
Forgive me
they were delicious
so sweet
and so cold
-William Carlos Williams, 1883-1963
And while it would be very annoying to find Williams' apology in word magnets on your fridge on the morning you were anticipating plums, working in the glaring sun today made me appreciate his words in a new way—cold relief during a heatwave! While I haven't had any cold plums lately, last Tuesday we received the equivalent in the form of help from all the campers during Weed Out #1. The heat index on that day was 108, but the counselors kept sprinkling the kids with water, and everyone did a great job clearing weeds from the leeks (pictured below). We got a boost from hearing the kids chattering and their music playing.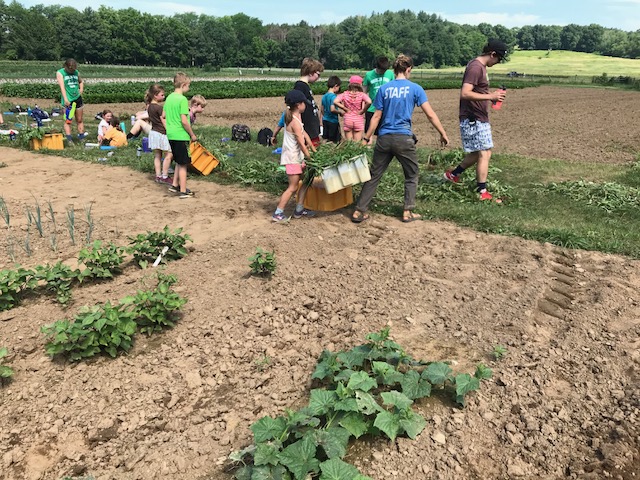 On Thursday, again in the high heat, eight community volunteers helped us weed, plant cabbage and Brussels sprouts, and harvest potatoes for the first time this season. Look for Red Gold new potatoes at the farm stand and in your share. New potatoes are harvested when the plants are still alive and growing, unlike fall potatoes which are harvested after the top growth has died back and the potatoes have reached full size. New potatoes have very delicate skins that might flake off in the washing process. There's no need to peel these tender spuds, and they are perfect in potato salad.
On Thursday evening, we seeded half our crop of fall storage carrots in anticipation of Friday's thunderstorm. Thankfully, it rained on the seeds and the temperature came down for a few days. On Saturday, we planted the second round of watermelons with four volunteers from the community. So, we keep pushing on with help from all sides: volunteers Anne, Sheila and Francesca have been coming in early to avoid the heat and keep us on schedule with greenhouse seeding; Fred has been helping us take down pea trellises and move electric fencing to protect our first round of sweet corn. This week we'll be harvesting string beans, cucumbers, summer squash and spring onions. Peppers and eggplant are starting to bear fruit, which means tomatoes are not far off!
If you'd like to join our Summer CSA mid-season please email CSA Coordinator Veronica Gassert at vgassert@massaudubon.org.
See you in the field,
Your Farmers