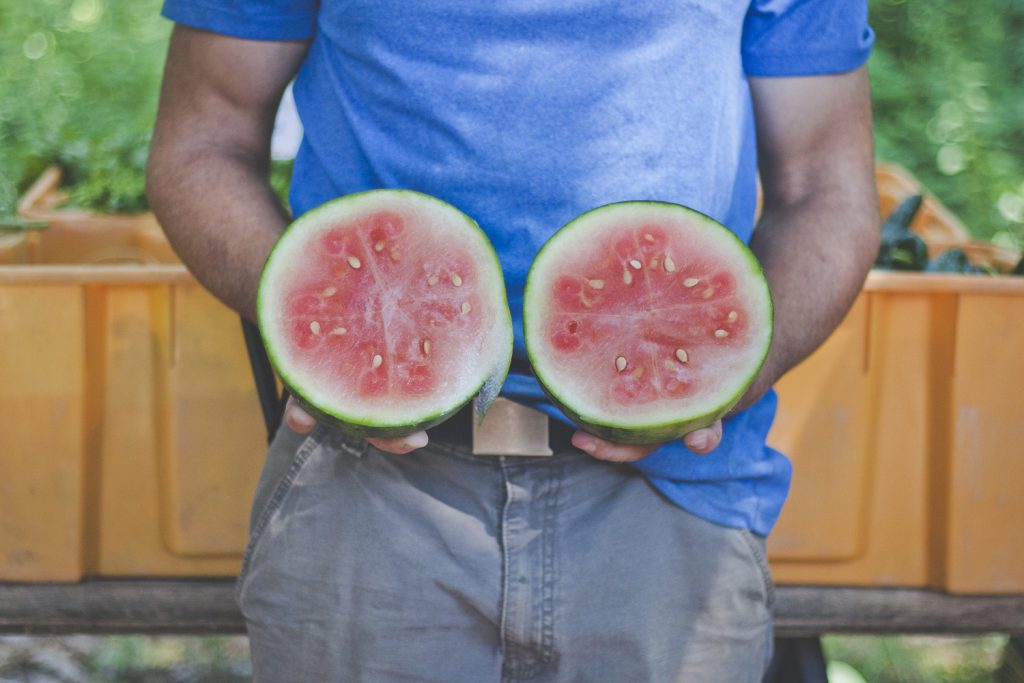 Hello, Watermelons
At the farm stand you will find the pink-fleshed, thin-skinned Little Baby Flower watermelon. It's no sugar bomb, but the words I use to describe it are "refreshing," "tangy," and "yes." Also, try biting into the rind just below the flesh; it's good eating.
Back Off, Crows (And Deer)
We've taken serious measures to protect the watermelons. An electric fence keeps out coyotes and Mylar flash tape wards off crows. They've taken to attacking our radicchio (some of which look more like chopped lettuce than the typical mini cabbage). I can't imagine what the crows are getting out of the radicchio except the satisfaction of knowing most people don't like it.
On another farm, I saw crows dig up and peck apart freshly-planted garlic cloves; this in response to placing orchard netting over tomatoes to keep them out. So, crows—tricksters or vengeance-minded gangsters? It's clear why a group of crows is called a murder! The deer are also starting to eat carrots and take bites out of spaghetti squash. At least that makes some sense. We just wish the deer would eat all of one squash instead of taking small bites out of several.
Weeding and Volunteer Shoutouts
Last Tuesday was the last of the summer's Weed-outs. The groups cleared weeds from the main leek and potato patches. We are so grateful to Drumlin Farm Camp for making Weed-out a part of each session.
Last week, another volunteer group from Global Atlantic Financial weeded and harvested potatoes and over 75 pounds of string beans. Because of their work, we were able to offer string beans to all CSA members the following day—a first!
The public relations firm Denterlein Worldwide brought their whole staff of twenty people to the fields. They weeded carrots and fennel, and picked beans and carrots for market. Thank you, Denterlein volunteers.
Bye, Jill!
This is Jill Banach's last week as part of the Crops Team. She needs to get ready for her senior year at UMass. Jill is even-keeled and reliable, and we'll miss her in the fields and at the wash station where she proved herself to be equal to all we asked her to do. Thanks, Jill, and best wishes for the year ahead!
Your Farmers
Crops Updates are by Drumlin Farm Crops Manager Matt Celona